The UN Security Council just passed a resolution demanding full access to Syrian war victims who are starving because of the ongoing civil war. UN Secretary General Ban Ki-Moon said, "Profoundly shocking to me is that both sides are besieging civilians as a tactic of war."

It's important we show support for this resolution. Food and medicine must be brought to all those suffering. We need to stand together and demand this war end. The nations of the Security Council have to be united in doing whatever is necessary to end the fighting.

We can do more too than we may realize. As the Secretary General said, "funding continues to fall short; I urge the international community to step up its contributions" for Syrian relief.

At the College of Mount St. Joseph in Ohio students are helping to raise funds for the UN World Food Programme (WFP), the lead agency for hunger relief in Syria.

WFP and its partners face the daily challenge of trying to get food to the conflict areas. Millions receive the life-saving food, but many more are blocked by the fighting. WFP negotiates for access with the Syrian government and other forces. This month, WFP finally reached the city of Homs with aid.
Many others though cannot be reached. Sometimes, WFP resorts to airlifts of food. This works in certain situations, such as from Iraq into Northeast Syria, but also adds to the cost. WFP needs about US $ 2 billion this year alone to feed Syria and refugees who have fled throughout the Middle East.
WFP warned earlier this month:
WFP operations in Syria are facing a serious funding shortfall, with a current funding level of only 4 percent of total requirements. Should significant contributions not be immediately forthcoming, WFP will be forced to further reduce food rations in March and April.
One thing we can control is making sure WFP and its partners have enough funds to carry out their mission.

At Mount St. Joseph students use Charity Miles, a free app, to help. The students run, walk or bike and each mile exercised raise funds for WFP, paid for by corporate sponsors. The workout results and fundraising are shared on Twitter and Facebook.
I introduced the app to the school in late 2012 , around the time I started to use it myself. It's an easy way to generate a bit of fundraising but also show that public support and awareness that is so vital.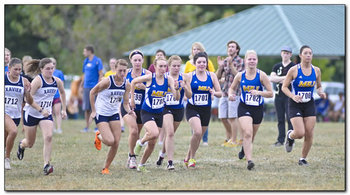 An NCAA cross-country invitational champ at the Mount, Amanda Shelby, is dedicating her training to fighting hunger through Charity Miles.
A teammate of hers, Kelleen Scott, and other students have even set up a community walk which will help WFP, cancer research and other causes aided by Charity Miles. English Professor Jeff Hillard has even made Charity Miles and hunger relief a part of the service learning component to his courses.

These actions continue a humanitarian tradition that goes back at least as far as World War One when the public helped numerous countries threatened with famine. Or with the Friendship Train and the CARE packages of post World War II, when citizens found a way they too could participate in the nation's foreign policy: one based on helping the suffering.

Whether it's colleges, churches or community organizations you can do something to bring peace and humanitarian aid for all Syrians. While these battlefields are distant in miles, you can still be close at hand in bringing relief to the suffering.
Related
Popular in the Community