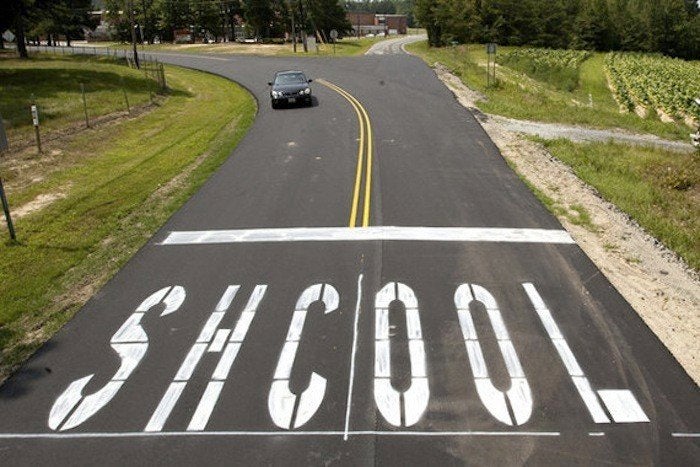 As lazy summer days gradually wind down, many of us are experiencing the social, cultural and economic forces that propel us back to school. Toward the end of summer, vacations come to an end, and parents drag their kids to outlets, malls or Target to buy school clothes and supplies. For educators there is an uptake of activity. Administrators send out reminders about meetings, assemblies, and bureaucratic requirements -- forms to fill out, class rosters to peruse, and course syllabi to complete.
As a college professor, I try to take advantage of time off in the summer to develop new course materials, read about the latest developments in my discipline, and work on current writing projects -- an essay or two that must be sent in by deadline, or a book that has progressed more slowly than anticipated. Even so, the prospect of returning to the classroom for the fall semester continues to excite me, and this after more than 30 years of teaching!!!
The excitement may stem from a more general sense of renewal. In September, my students return fresh-faced and eager to learn. They, too, are excited to return to reconnect with their schoolmates, visit popular campus haunts, or to pop in to see their favorite professors.
Perhaps the enthusiasm for the new school year comes from something more deeply cultural. We live in a child-centered society. We spend billions of dollars on kid stuff -- strollers, cribs, daycare, school clothes and supplies -- and kid activities -- music lessons, swimming lessons, computer games and so on. We schedule our travel when the kids are out of school (summer and extended holidays), which means, of course, that travel rates go up -- airfare, gas prices, hotel rates, and food costs, especially in resort areas. Who among us, after all, wants to refuse a child or teenager the new "in" clothes, time at summer camp, afternoons at the neighborhood pool, a week at the beach, or the acquisitions of the coolest new computer games? Who among us is not excited when our child has her or his first day of school?
For a society that is so child-centric our attitude about education, especially public education, seems sadly ironic. Public school teachers are often vilified in our everyday discourse.
People like to say: those who can -- do. Those who can't- - teach. In the wake of this kind of folk sentiment, public school teachers are often characterized as overpaid, lazy, ineffective and/or incompetent.
In these hard economic times, these attitudes about public education and public school teachers have spread far and wide over the national landscape. If there is a perceived poor opinion of public education -- as well as those who teach -- is it not convenient to cut funds for public education to balance a state budget? Indeed, budgets for public education have been drastically cut in Chris Christie's New Jersey, in Scott Walker's Wisconsin, in John Kasich's Ohio, Tom Corbett's Pennsylvania. In Pennsylvania, the state where I teach at a public university, Governor Corbett wanted to cut the budget for higher education by a whopping 54 percent. To replace the loss in funds, Governor Corbett suggested that several properly situated Pennsylvania universities raise money through Marcellus Shale natural gas drilling. Even though Governor Corbett did not get his 54 percent cut in higher education, Pennsylvania public universities are facing deep cuts in funding. By contrast, companies that extract Marcellus Shale natural gas using the environmentally devastating process of "fracking," will not be taxed at all -- an example of Governor Corbett's priorities!
Those who can -- do. Those who can't -- teach.
As a public educator, I know first hand the impact of a longstanding decrease in public education funding. Consider my university office. I receive students in a run down space with cracked walls, flaking paint, creaky radiators, suspect tap water, and an anemic air-conditioner. My office computer, which I am required to use to do my job effectively, is an outdated 15 year-old model.
The classrooms in my building have recently been retooled for smart teaching, which is a good development, but they are poorly ventilated. The presence of old, noisy and ineffective window units means that on hot late summer days -- next week, for example, the classroom temperature will soar beyond 85 degrees -- an unacceptable environment for learning.
Complaints about these conditions yield limited results. We have tight budgets. We have to tighten our belts. We have to teach more students with fewer resources, which means that many of us will face classes in which students have no place to sit -- except the floor.
Those who can -- do. Those who can't -- teach.
Like those politicians who claim that government should be run like a business, university administrators, under pressure from state legislatures, have applied business models to the university. Each department has to meet its target goals. We have to process certain numbers of students each semester to meet our obligations. If we do so our budgets may be minimally increased, or we might be able to hire a new colleague. This cost-benefit audit model for the university administration increases exponentially the professor's bureaucratic burden, giving us less time for scholarship, making us less effective in our over-crowded classrooms.
From my perspective, the only business model that should be followed in public education is one that seeks to maximize investments in our teachers and students. If you invest in teachers, demonstrating a respect for their profession, giving them time to develop their materials, providing resources to refine their expertise, the return is more effective teaching. If you invest in students by giving them well qualified and well-paid teachers and by providing them a comfortable learning environment, the return is a society that is better educated and more productive.
As we go back to school, it is time to truly appreciate our teachers and support our students. To do otherwise is to submit to the poison of ignorance, which needlessly condemns us to a dismal future.
Related
Popular in the Community