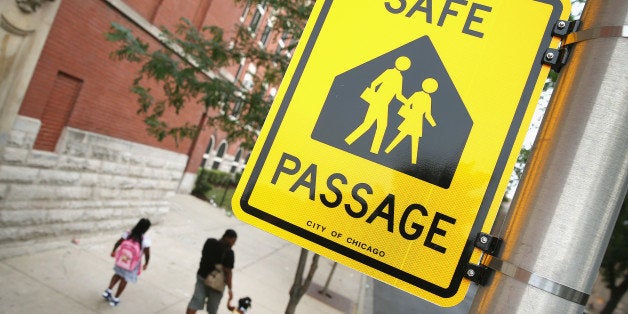 With a new year upon us and the midterms now firmly in the rear-view mirror, Democrats are moving past all of the ink, tweets and hand-wringing that dominated the last few months. Yes, the map favored Republicans, with most key races in red or purple states. Yes, this was a midterm in the president's second term. And yes, this was the lowest turnout since the middle of World War II. For all those reasons, the deck was already stacked against Democrats' favor from the jump.
But, it's clear that more could have been done. Even in the face of such overwhelming odds, ultimately successful candidates are the ones who talk about issues that matter -- both to them and their constituents. This is true no matter the year and no matter the office. It's simple: when you speak to topics that resonate with real people and their families, you put yourself in the best position to succeed at the ballot box. It's all about connecting with voters.
Support for public education is one issue that fits this bill, as it impacts almost every American. Yet, sadly, the subject wasn't addressed nearly enough on the campaign trail last year.
Findings from a recent poll by Democrats for Public Education (DPE) show off-the-chart numbers in support of public schools. Smart candidates, with an eye on the future, should view these results as a roadmap for electoral success. There was particularly strong backing for neighborhood schools, with 61 percent of respondents supporting additional funding. Moreover, if you break down that number, it includes 79 percent of Democrats and 57 percent of Independents. In fact, even 45 percent of Republicans hold this belief.
The DPE poll also showed that roughly 2/3 of Americans agree with traditionally Democratic positions when it comes to education -- especially when it comes to overwhelming support for neighborhood schools and teachers. Yet, unfortunately, too few candidates (either challengers or incumbents) talked up their support for public education last year. They failed to do so, even though this issue echoes both locally and nationally. Across the board, far too many folks ran on cookie-cutter platitudes. Or they hit their opponents in the abstract, rather than focusing on the issues that tangibly matter to their community. Candidates should have been talking up their support for public education and highlighting those instances in which their opponents snatched resources and funding away from neighborhood schools.
Pennsylvania is one place where a candidate's vocal support for public education was utilized to tremendous success. In the Keystone State, Tom Wolf defeated Governor Tom Corbett by a resounding 55-45 percent. A large reason for this big win was Wolf committing to a substantive race anchored in explaining how he'd fix the state. Education made up a core plank in this vision, while forcing the incumbent to address his own contentious record on public schools. Wolf relentlessly hammered Corbett for cutting education funding by a staggering $1 billion. And if you look at the ad spending in the state, Democrats spent $22 million on commercials mentioning education, compared to Republicans who shelled out a mere $2 million.
Here in California, Congressman Mike Honda (CA-17) -- a solid Democrat, former teacher and principal at two public schools -- fended off Ro Khanna's challenge. Khanna was backed by hedge fund executives and venture capitalists who gave millions to Mitt Romney, Ted Cruz and the Club For Growth. Education bubbled up as an issue in this race, and Honda emerged victorious, which can be attributed to a widely-aired TV commercial that laid forth his proposals on education reform.
But the 17th Congressional District wasn't the only silver lining victory in the Golden State. Incumbent State Superintendent Tom Torlakson beat back a challenge from Marshall Tuck, a Wall Street backed "education reformer." Torlakson, a former high school biology teacher, pushed for additional investment in public schools and increased oversight of charter schools. His victory over a well-funded darling of the "reform" movement shows that voters will go to the polls for candidates who support neighborhood schools. Voters don't want to divert public money to charter schools, while increasing high-stakes testing. In light of the recent California Supreme court "Vergara" ruling on teacher tenure, this win for Torlakson is even more significant. I don't believe that frustration with a few bad teachers justifies stripping away workplace protection. While Torlakson moved to appeal the controversial ruling., Tuck celebrated it -- having come out squarely against due process for teachers, even though research shows the importance of experience to a teacher's success.
But to truly know where the electorate stands on education, you can't just talk about candidates and the horse race. You have to look at ballot initiatives and amendments, too. Missouri's "Amendment 3," for example, failed by a massive margin. This proposal would have codified "value-added teacher assessment" into the state constitution -- essentially ending due process for teachers. Voters rejected this teacher performance evaluation by a whopping 76.4 percent to 23.6 percent.
In Hawaii, voters rejected a proposed constitutional amendment allowing the state to spend public money on private pre-schools. In Washington State, voters passed an initiative on class size, choosing to pay for an additional 25,000 employees for their k-12 public schools over the next four years. And in Illinois, voters cast their ballots to increase taxes on incomes in excess of $1 million to help fund public education.
In races where education was the main issue -- such as the Wolf-Corbett and Torlakson-Tuck contests or these ballot initiatives -- the pro-public education candidates and measures fared far better. It's clear voters came out to support their neighborhood schools and teachers. And it doesn't take a crystal ball to realize they'll come out in droves in the future if given the facts during the months leading-up to Election Day.
Looking ahead to this year and beyond, full-throated support for public education should be a no-brainer for Democratic candidates. They should tout their support for neighborhood schools, while pointing out how their Republican opponents want to slash funding and resources. I sincerely hope we see this strategy ingrained into state legislature and municipal races in this year's off-year election... and, of course, in 2016. This is especially important since large GOP-majorities in Congress and their control of many state legislatures will bring only more cuts to education and neighborhood schools in the near future.
Popular in the Community