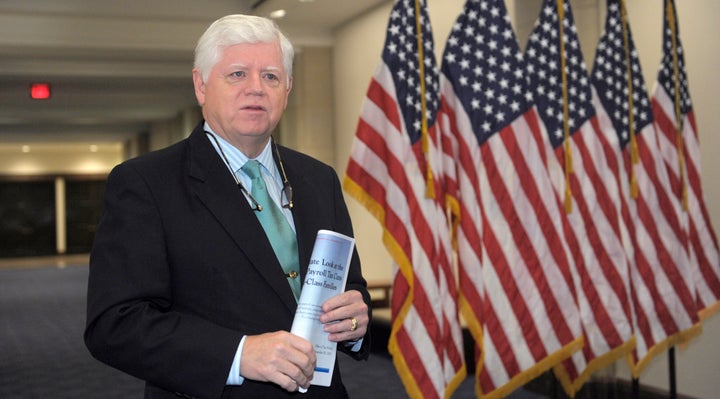 WASHINGTON -- In an effort to show a unified front, five members of a campaign finance reform task force organized by House Democrats reintroduced three separate bills designed to empower small donors through public financing late Tuesday.
"Today, members of the Task Force on Election Reform introduced three thoughtful pieces of legislation intended to turn our electoral process back over to the American people," Rep. John Larson (D-Conn.), the leader of the task force, said in a statement on Wednesday. "Now, through the framework of our Task Force on Election Reform, those members will work together to take the best parts of each proposal, and mold them into one bill that will help rid our campaigns of big money influence once and for all."
The joint announcement, made by Larson and the five bill sponsors -- Reps. Chris Van Hollen (D-Md.), David Price (D-N.C.), John Sarbanes (D-Md.), John Yarmuth (D-Ky.) and Chellie Pingree (D-Maine) -- seeks to emphasize that the proponents of different ideas for public financing will work through the task force to merge their bills into one legislative package.
All three pieces of legislation have as their main feature an alternative campaign funding system that would allow participating candidates to receive money from a public fund that matched small-dollar donations. The idea is patterned after the New York City public financing system, which provides a six-to-one public match for contributions up to $175.
A previous Huffington Post report aired some criticism among task force members of their different legislative approaches. But on Wednesday, three of the lawmakers involved in the joint reintroduction made sure to note their commitment to working together to craft a unified bill.
"I am dedicated to working with the other members of the Task Force on a comprehensive package that ensures that the people who finance our campaigns are the people we represent, and that our democracy gives every American the opportunity to hold elected officials accountable for their actions," Price said.
"Together with the DISCLOSE Act, the Empowering Citizens Act, the Grassroots Democracy Act, and the Fair Elections Now Act will help restore faith in the American democratic process," said Van Hollen, adding in his separate legislation to increase campaign finance disclosure.
"I look forward to working with my colleagues on the Task Force on Election Reform to craft the strongest bill possible to ensure that the voice of every American can be heard in our democracy," Sarbanes said.
Pingree noted the enormous amount of time that lawmakers must dedicate to fundraising, the subject of an earlier Huffington Post report, as one major reason to support these reform bills.
"Politicians need to spend less time on the phone asking for contributions and more time talking to the people they represent," she said.
REAL LIFE. REAL NEWS. REAL VOICES.
Help us tell more of the stories that matter from voices that too often remain unheard.
BEFORE YOU GO
PHOTO GALLERY
Below-The-Belt Political Attacks