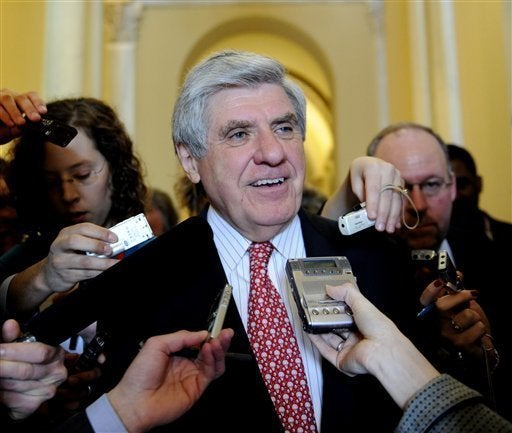 The push to include a public health care option as part of a system-wide overhaul benefited from two major boosts Wednesday. Sen. Max Baucus (D-Mont.), the chairman of the Finance Committee and lead health care negotiator, is "fighting tooth and nail to include that in any final deal," his chief of staff John Selib said at a town hall meeting in Montana, according to the Billings Gazette.
Meanwhile, Sen. Ben Nelson (D-Neb.) backed off his opposition to a public option in a meeting with health care advocates on Wednesday in Nebraska.
Nelson, according to three people in the room, told the group that he was open to a public option, the primary Democratic goal of reform and anathema to conservatives.
"The good news for all sides involved is that he's open minded," said Barry Rubin, the former Executive Director for the Nebraska Democratic Party, who was in the meeting. "He's not closed minded about a public option."
Jane Kleeb, a top Democratic powerbroker in Nebraska, said Nelson's openness to a public option was the biggest takeaway from the meeting.
"He made it clear that he is open to the public option. That's not a line in the sand where he says it must be off the table for him to move forward on health care reform," she said.
Nebraska pediatrician Thomas Tonniges, also in the meeting, concurred. "My understanding was he felt all good ideas should be considered," he said. "He certainly has been supportive of S-CHIP" -- the federally-funded state children's health insurance program. chip...more children having health insurance, just seemed to be very open to any ideas we had.
The meeting included representatives of the American Federation of State, County and Municipal Employees; Service Employees International Union; AARP; the American Cancer Society; the reform coalition Healthcare for America NOW! (HCAN) and the Center for Rural Affairs.
A spokesman for Nelson confirmed the meeting but would only say that he is listening to health care concerns from constituents all this week in Nebraska.
Nelson had previously told CQ that a public option was a "deal breaker." Nelson said that he planned to organization a coalition of Democratic senators to oppose a public option. The coalition never materialized.
Nelson softened that opposition in a subsequent interview with the Huffington Post. He said he would "continue to talk" to Sen. Charles Schumer (D-N.Y.) who'd offered a compromise public option that was unsubsidized and had to follow the same rules private plans do.
But he stopped short of saying he was open to it.
"I'm open to listening to him explain to me how this would work," he said.
Rubin said the meeting with Nelson involved a "very substantive, pragmatic conversation about where we go from here."
Nelson "believes in what President Obama campaigned on, that everybody should have the same access that members of Congress have, the same quality of care that members of congress have," said Rubin. "Moving forward, the question is how do you get from point A to point B."
Kleeb, representing SEIU, remembers the conversation similarly.
"He said he's continuing to support what President Obama said on the campaign trail, which is that everyone should be covered by insurance, and that folks who like their insurance can keep it, but that we have to get everybody covered," she said.
"Senator Nelson will do the right thing on health care," she added. "Nelson, while he may not be a perfect progressive senator, he is good for Nebraska."
On Thursday, a progressive organization launched an attack on Nelson in Nebraska for opposing the public plan. The campaign, run by Change Congress, emphasizes the millions in campaign contributions Nelson has taken from the insurance industry.
The campaign calls on Nebraskans to sign a petition calling for Nelson to back a public plan and to pledge not to donate money to him unless he forswears special-interest contributions.
"We want to make sure Ben Nelson knows that some of his local fundraising support will dry up if he doesn't take a stand against special interests," said Adam Green of Change Congress.
Kleeb and Rubin dismissed the campaign, both noting that Omaha is the national headquarters of the insurance industry. Both made the same analogy, that refusing insurance money in Nebraska would be like turning down auto-industry money in Michigan or orange juice money in Florida.
Green, however, isn't backing off.
"Saying in private that he's 'open' to a public option gets Nelson back to where he was before publicly opposing the President's plan and getting called out for taking millions from health and insurance interests who feel threatened by competition. If Nelson's truly willing to take on special interests, he should firmly support the public option and co-sponsor Sen. [Dick] Durbin's [D-Ill.] Fair Elections Now Act." he said.
The attack on Nelson got his attention. He responded within hours of the campaign launch with an assertive rebuke:
NELSON: NEBRASKANS BEWARE OF MISLEADING FUNDRAISING GIMMICK

May 28, 2009 - The office of Nebraska's Senator Ben Nelson today warned Nebraskans not to fall for a misleading fundraising gimmick by a special interest group called Change Congress. The group has issued a press release concerning Senator Nelson and said it was sending mailers to Nebraskans.

Senator Nelson's spokesman Jake Thompson issued this statement:

"There's no doubt Senator Nelson understands the insurance industry's important role providing health care for millions of Americans. After all, he's been an insurance executive, an insurance industry regulator, a governor who created a children's health insurance program, and today he represents Nebraska, arguably the insurance capital of the world.

"But let's look at this group closely. They claim, 'Ben Nelson said he may not support Obama's plan.' Can they send us a copy of the plan? No, because President Obama hasn't offered a specific plan yet. Next, they ask if people are ready to change Congress and 'take on special interests' and 'only donate to politicians who prove they are willing to do that.' Then, they promote an election law proposal they're lobbying for.

"So, let's get this straight: These people are endorsing something they haven't seen, criticizing Senator Nelson for something he hasn't done and using health care as a fundraising gimmick--to lobby for unrelated special interest legislation. These people have a political agenda that has nothing remotely to do with helping Nebraskans get and keep affordable, high quality health care. Their effort is silly, sad and sophomoric.

"Nebraskans are far too smart to fall for just another special interest group grabbing a hot issue and misrepresenting both the president and Senator Nelson to raise money to lobby Congress.

"Here are some facts about Senator Nelson and health care:

· During his presidential campaign and recently President Obama has said Americans who like their private insurance will get to keep it, or have the option to join another plan.

· Ben Nelson agrees and he's eager to see more details from the president, and he wants to make sure that the 85 percent of Nebraskans who have insurance today will continue to have the option of staying with their existing plans.

· Senator Nelson believes that all Americans should receive health insurance and agrees with President Obama that those who currently have health insurance should be assured that it won't be taken away from them.

· Senator Nelson is spending much of the congressional break in Nebraska this week meeting with Nebraskans, listening to them discuss health care and reform ideas. He's listening to patients, providers, employers and others. He looks forward to hearing from many more Nebraskans on ways to strengthen, broaden and provide stability in America's health care system."

And Green responds in an e-mail, complete with hyperlinks: "Ben Nelson's spokesperson is flagrantly lying -- saying Nelson never opposed a public option that he clearly opposed, calling public financing of congressional campaigns 'special interest legislation' when it's sole function is to curtail special interest influence, and calling a 'donor strike' which asks people NOT to give to Nelson unless he fights special interests a 'fundraising gimmick.' Nelson should apologize for his staff lying to Nebraskans."
Popular in the Community