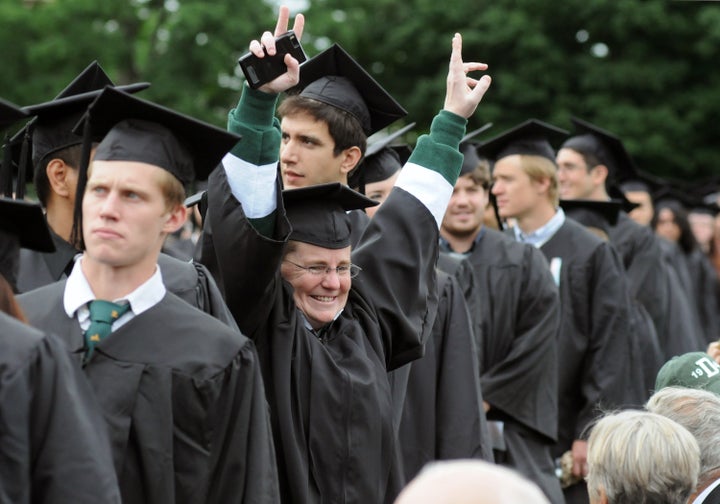 President Obama recently called on the nation's governors to invest more in education, including public higher education. "Countries that out-educate us today," he told the assembled governors at the White House, "will out-compete us tomorrow."
The president also observed that budgets at the state and federal levels are about making tough choices. I agree. In late October 2008, for instance, when it looked as if our financial system might collapse, President Bush and the Congress made a choice: They authorized a massive infusion of federal dollars to rescue many of the largest financial institutions in the United States that were deemed to be "too big to fail."
Today we face another moment of decision. Our vast and vaunted network of public institutions of higher education is being severely threatened by the relentless onslaught of slashed budgets in state capitals across the country. It is time for our leaders to show foresight and courage by recognizing that public higher education is simply too big -- and far too important -- to fail.
Consider these facts: The nation's public two-year, four-year and post-graduate colleges and universities enroll roughly 15 million students. They educate about 70 percent of the college students in this country, award 60 percent of the Ph.D.s, and conduct more than 60 percent of federally funded research. About 200 large public research universities -- a category that includes my campus -- comprise less that 10 percent of the four-year colleges and universities in the country while enrolling over half of the college students nationwide.
In a December 16, 2011, open letter to President Obama, Mary Sue Coleman, President of the University of Michigan, wrote:
American higher education -- particularly public higher education -- is one of the monumental achievements of our country... responsible for America's knowledge security -- an intellectual wellbeing that advances health and medicine, business, social science, the arts, public policy and national defense.
Why on earth would an enlightened, forward-looking society put such a remarkable system of higher education at risk? But that's exactly what we're doing right now.
Writing in The Chronicle of Higher Education, Paul Courant, James Duderstadt and Edie Goldenberg calculated that state support of public universities, on a per student basis, is at its lowest level in 25 years. According to these authors, state budget cuts as high as 20 percent to 30 percent threaten "to cripple many of the nation's leading state universities and erode their world-class quality."
Last year alone 40 states reduced their higher education budgets. States now spend about one-fifth less per public college student than was spent a decade ago. State funding per-student in the University of California system has been cut in half over the past 10 years, from approximately $18,000 in 2002 to $9,000 per student this year.
As recently as the mid-1970s, the U.S. was the clear frontrunner in the percentage of 25-34 year olds with some level of college attainment -- whether two years, four years, or beyond. Based on the most recent data from the Organization for Economic Cooperation and Development, the U.S. (with 41 percent) now ranks 16th among 36 developed countries in college attainment, behind South Korea (63 percent), Canada and Japan (56 percent), and many other countries including Russia, Norway, New Zealand, Sweden, Australia, France and the United Kingdom.
Our country has overcome dire circumstances in the past by making the right choices at the right time. And we must do so again.
One hundred and fifty years ago, during the terrible crucible of the Civil War, Congress passed and President Lincoln signed the historic Morrill Act creating the remarkable system of public land-grant colleges and universities that spurred economic growth and has provided for upward mobility ever since. We made similar choices by passing the GI Bill in 1944, followed by the Sputnik-inspired National Defense Education Act of 1958, and the landmark Pell Grant program in the 1965 Higher Education Act, which opened the doors to economic opportunity and upward mobility for all of our citizens, not just the privileged few.
Derek Bok, former president of Harvard University, once issued this challenge: "If you think education is expensive, try ignorance." Our nation simply cannot afford to give ignorance a try and see what happens. That's a short-sighted choice based on a misguided, penny-wise-pound-foolish attitude. Our ability to compete and win in the 21st century global economy requires a highly educated workforce. Instead of more cuts, we need an emergency plan to rescue and revitalize our public higher education system.
In a democracy, the choice is ours.

REAL LIFE. REAL NEWS. REAL VOICES.
Help us tell more of the stories that matter from voices that too often remain unheard.