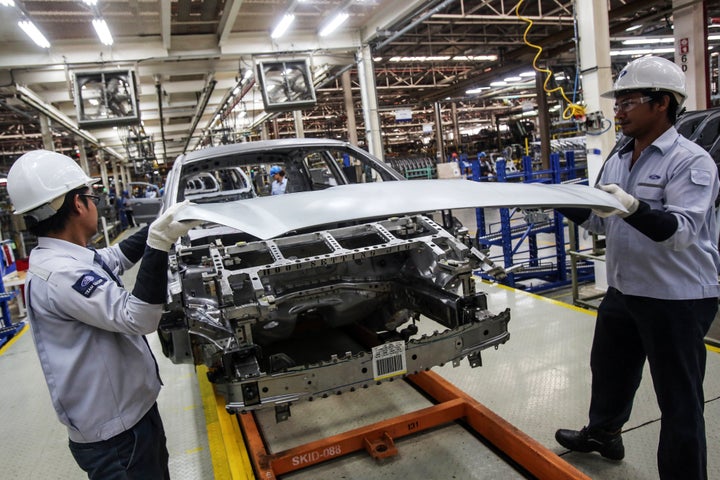 Americans have grown more supportive of labor unions in recent years, according to a Gallup poll released Monday. The poll found that nearly 6 in 10 Americans say they approve of labor unions, the highest approval rate since 2008.
Gallup has been surveying American opinion on organized labor since 1936. Approval has jumped five percentage points in the last year alone, and 10 percentage points since 2008. Desire for more union influence is also up. Thirty-seven percent of Americans say they want unions to have more influence, while 35 percent want to see unions wield less influence. By comparison, in 2009, only 25 percent of respondents said they wanted more influence, and 42 percent wanted less.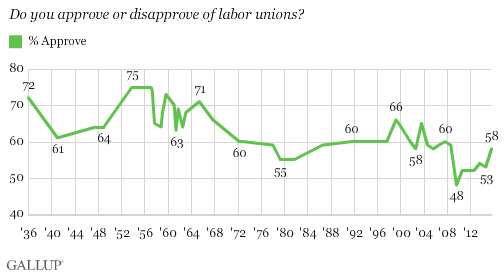 Americans' overall perception of unions has declined over the past several years, and reached its lowest point in 2009, in the wake of the Great Recession. Gallup suggests that views on labor suffered as a result of the government bailout of the two of the Big Three auto companies: General Motors and Chrysler. However, the latest poll results indicate that perception of unions has been mostly restored to where it was prior to the recession.
Respondents who identified as Democrats were almost twice as likely as self-identified Republicans to approve of labor unions, the poll found, and more than three times more likely to want unions to have more influence. Millennials, defined as those between the ages of 18 and 34, are more pro-union than any other age group.
Although a majority of Americans support organized labor, most remain pessimistic about its future. Fifty-three percent predict unions will become weaker in the future, and only 21 percent predict they will become stronger. Twenty-three percent said they think unions' influence will remain unchanged.
The Gallup poll surveyed 1,011 American adults via live interviews over landline and cell phone from Aug. 5-9.
CORRECTION: This article previously misstated that all of the Big Three auto companies took a government bailout. Ford did not.
Popular in the Community