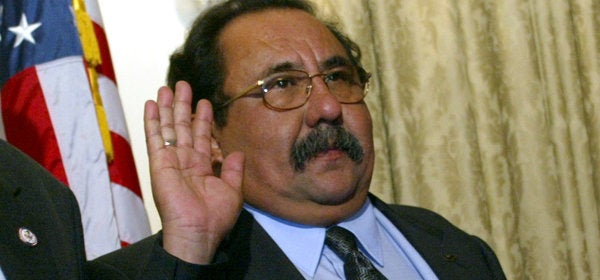 The robust public option is eight votes short of the 218 it needs to pass the House, Rep. Raul Grijalva (D-Ariz.) tells HuffPost.
Grijalva, as co-chair of the Congressional Progressive Caucus, has been counting support for a public option tied to Medicare rates -- the so-called Medicare plus five -- over the last few weeks.
"We anticipate that we're at 210," he said. "We feel that the momentum is all on the robust Medicare plus five public option."
Grijalva said that "25-plus" Democrats have said they will vote no. "Some of those no's are no regardless. It has nothing to do with the public option," he said, putting the number of those firm no-votes at 18 or 19.
There are 256 Democrats in the House. With 25 or 30 no votes, that leaves only about 15 to 20 members still to decide. Progressives need roughly half of them.
He says that backers of the public option are focusing on those persuadable Democrats rather than negotiating with members who will vote no.
"Why are we spending valuable time compromising on an issue when, at the end of the day, they're going to vote no?" he said.
On Tuesday night, House Speaker Nancy Pelosi (D-Calif.) told the caucus she was forging ahead with the robust public option, but needed to be sure there were 218 votes. Democrats plan to huddle again on Wednesday evening.
UPDATE: Howard Dean has been running a parallel whip operation. See where your representative stands by Dean's count here.
UPDATE II: Blue Dog Rep. Jim Cooper (D-Tenn.) supports a public option with negotiated rates, which the progressive caucus opposes. He was asked by HuffPost if he would oppose the bill it had a stronger public option. "As the president said this weekend, he'd like to see a public option but he's not insisting on it," he said. "This is not, you know, a dominant issue."
Rep. David Wu (D-Oregon), another public option skeptic, said the Speaker has proposed a compromise that he is looking at warmly, which focuses on states that have low Medicare reimbursement rates. The Institute of Medicine would be tasked with finding a solution to the reimbursement disparity and their recommendation would become law unless both chambers of Congress passed a resolution of disapproval. "I can live with this," he said, but then clarified that he was still only supporting the more conservative public option.
What if the Speaker pushed the option tied to Medicare rates?
"We'd have to talk," he said.
UPDATE III: Wu spokesperson Julia Krahe takes issue with the characterization of Wu as a public-option skeptic, and says that he fully supports a public option but is concerned that tying it to Medicare rates will shortchange doctors in certain states. "He's talking with members to see what can be done to make sure the public option that's in the final bill has fair reimbursement rates for doctors who operate in low-cost/high-quality states," she said.
Popular in the Community