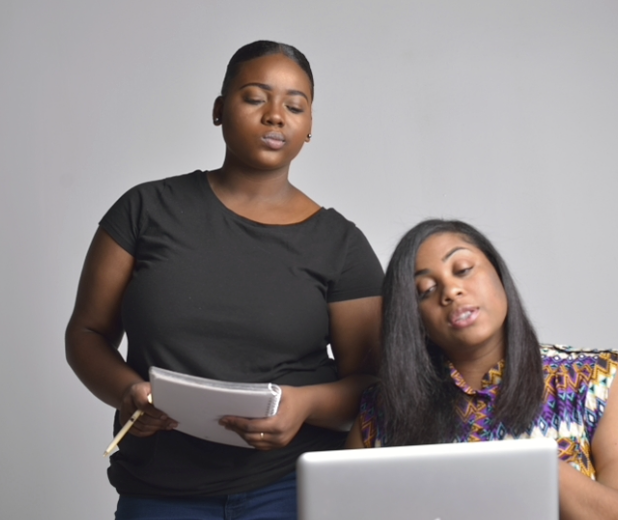 I was a little hesitant to write this article at first, because after all, I am a publicist. Deterring (or delaying) incoming clients is the exact opposite of what most people in my profession actually choose to do.
My hesitance didn't stem from a place of fear regarding the information I'd be sharing, but rather the fear that some people might only pick out the perceived negative parts—and run a mile with them. But fear never helped anyone, so here goes...
Public relations IS important, I repeat, public relations is important. Due to the number of calls, e-mails and social media inbox messages that PR firms like mine get daily requesting consultations, I'm sure that this is a pretty popular consensus. But get this, not every person or brand is ready for a publicist. Why? I'll give you my top 3 reasons.
1) You don't have a budget for PR services. You are in love with your brand—I totally get it! When you hire a publicist, they want to fall in love with it too! Yup, you've burned the midnight oil many nights building your brand, developing your idea or polishing your talent. Your ideas/talent are rich, but if they haven't magically left your brain (or paper) and turned into cash, you've been burning the midnight oil for free. It's okay to put your nose to the grindstone for your business/brand for no immediate return on the investment of time, because after all, your project is your baby.
Once you've reached the point where you feel the need for help, unless you've got a field of friends just waiting to come and trade work for pizza, you've got to hire that help. Monthly PR retainers vary depending upon industry, location and current level of visibility. Some PR firms offer complimentary consultation calls and will follow up with a proposal outlining their fees and services. If you've had two or three of these meetings and can't invest the money at the time, there is no shame in knowing where you stand—even if it's on the corner of "Not Yet and Not Now." In the meantime, do your research to find a PR firm that offers DIY workshops or à la carte services. Even if they're not located in your city, several firms offer video workshops and follow along workbooks.
2) You don't fully understand or haven't owned your brand space. This one is simple and to-the-point. If you have a brand, but don't know all of the ins and outs of your business, talent or idea, you may not be ready to embark on the "face to the world" journey. Picture it, you've got a fully developed idea/business/talent and have gone the distance to get a logo created, website built, etc. You feel packaged, but you really don't have the nitty gritty details down to a science. There is nothing worse than being on the spot and unprepared with anyone—let alone a reporter, journalist, potential sponsor or even an investor. Don't believe me? Catch a random episode of The Profit and see what happens when you've got a "good thing" but don't know your stuff.
I'll break it down a tad more. If you have an awesome app idea that you hired someone to develop (because you aren't a techie), the least you could do is learn basic tech lingo—so that you're not lost in the sauce when people ask you about it. If you're a musician, know the basics of music. For Pete's sake, don't show up to a radio interview and not know the difference between Michael Jackson and Michael Bolton—oh and be prepared to perform a cappella. Lastly, if you're an expert speaker on a specific subject—know current stats relevant to what you do. Trust me, people will ask.
3) You don't have time to dedicate to your own business or talent. Sure, your business idea is great or your talent really is up there with the industry greats. I'm not doubting that at all. As a newcomer to any industry or task, a good foundation is necessary to build on top of. In the beginning phases of your brand launch, guess what? The foundation is built by YOU. If you hire a publicist or firm, naturally your expectation is for them to take what you've built and help you to push it to the forefront of the pack, right? This only works if you—as the talent or business owner have proper time to dedicate to growing your brand. Yes, it is your publicists goal to secure media interviews and appearances for you—but you have to understand that even though you've hired a publicist, there's still work to be done that only you can do. If you don't have the schedule flexibility to make it to live radio interviews or to jump on a quick call with a media outlet for a feature—or even attend highly coveted red carpet appearances, it may be an indication that your life hasn't caught up with your dreams coming true. Tell yourself the truth—you know deep down inside when you're not holding up your end of the deal.
It is an honor when someone entrusts their brand to a public relations representative, but in return your publicist needs for you to be available for the things that they line up. The world is huge, but trust me, word travels fast about clients that no-show or constantly reschedule appearance opportunities.
What next? Do your research, internally and externally.
I'd like to go on the record saying that I love all things PR—including the challenges. I wanted to give some insight from the non-consumer point of view of the PR machine—so that no one wastes precious things like time and capital only to learn that they weren't PR ready—or that they didn't have a full understanding of some of the most frequent scenarios (I've experienced).
Popular in the Community