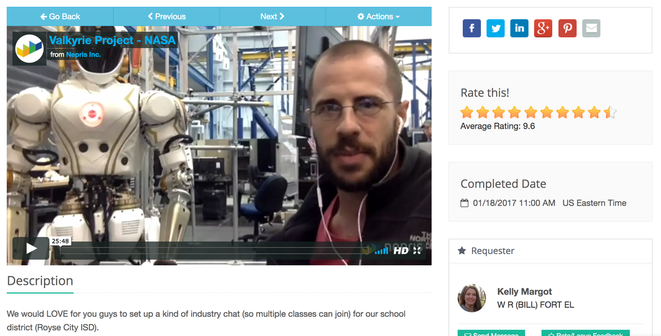 Imagine for a moment that you're a teacher or an entrepreneur with a new idea or new tool for helping students learn and teachers teach. With some 13,500 separate school districts in the country, many with unique needs, interests, burdens and political considerations, it's essentially impossible to sell your idea district to district.
Even worse, when a single district – or even an entire state – picks up your education advancement, the isolated nature of local governance means a neighboring district may know nothing about it. So, your better way to slice bread, to use the old expression, may never spread. Or, at best, it may spread very slowly.
That slow adoption, district to district, may be partly responsible for an appearance that our schools are stuck – not making the giant technology and research-driven advancements we've all be promised.
But, in many cases, innovations are hidden more than stalled. And some of them are ground-breaking and perhaps even revolutionary. They've just been isolated – working well in a place but outside the spotlight that can help good ideas spread.
What's especially interesting about some of these innovations from around the county is not just that they're working but how they're working in secondary ways – ways their founders may not even have intended – to change school culture, upgrade student habits, coalesce community engagement and leverage technology.
Here are five education innovations being used in classrooms right now in Illinois, Washington, Texas, Louisiana and Alabama – ideas and teaching technologies that are worthy of spreading.
Positive Behavior Modification
Illinois – Hero K12 – Enforcing student discipline has been an important issue since the first school house was built. Something as seemingly simple as getting to class on time or following a dress code can have a big impact on student academic performance as well as teacher morale. Traditionally, class and school tardiness have been matters of discipline with multiple infractions leading to punitive action.
But a few districts and schools have flipped that paradigm by using a technology platform that rewards being on time and other performance-positive behaviors instead of simply punishing outliers.
At Riverside Brookfield High School outside of Chicago, for example, Vice Principal David Mannon told me, he's been able to cut the number of kids who are late for class in half in a single year by deploying Hero K12 – which assigns points to students for good behavior such as being on time.
Fewer students late for class has had obvious impacts such as safer schools with fewer kids in the hallways and fewer classroom interruptions. But the real benefit, Mannon said, was a change in students' attitudes. "Before, kids who did the right thing felt un-rewarded," Mannon said. "There was plenty of bad in the system but little to no reward."
With Hero K12, students who get to class on time and demonstrate other desirable actions such as showing respect to classmates and guests and trust in peers and teachers, are awarded points they can redeem every week for rewards such as candy, gift cards for Chipotle, Dunkin Donuts and pizza, movie tickets and so on.
The students have even requested that the program be expanded to include out-of-school conduct too. They want things such as volunteering at a blood drive or attending school events to accrue points. And teachers have started awarding points, Mannon said, based on class-wide academic successes. If for example, 85% of a class completes an assignment on time, the whole class earns points.
"Teachers love it," Mannon said, "because it cuts down on their classroom management time and allows them to address attitude and behavior with rewards." The result is a complete change in school culture – one of less top-down enforcement and more self-motivation. And there's plenty to love about an education environment where students actually like doing good.
Louisiana – Nepris – You may have heard of a popular, school-focused awareness campaign called "If you can't see it, you can't be it." The idea is that students can't find and engage with careers that they can't see, that are not real to them. So, if you want students to think about being a rocket scientist, for example, they need to see actual rocket scientists.
And while it may be plausible, even easy, to connect students with NASA engineers in Houston or Pasadena, it's considerably more of a challenge in say, rural Louisiana. Or Hawaii. But teachers there are using NEPRIS to bring professionals and other career leaders to students.
"The number one disconnect between traditional school models and technology careers is that students don't see the relevance of the coursework," Sabari Raja, Co-Founder & CEO of Nepris told me. "If you look at the data," she said, "kids as early as fifth grade are making career decisions without understanding what the world of work looks like."
And with online platforms helping people do everything from find love to find dinner, the Nepris platform helps teachers and schools connect with career and STEM experts and practitioners, digitally. And, it's not only STEM. Nepris connects schools with authors, artists, and athletes too. Since their launch in 2014, they have recorded, archived and made available thousands of conversations from classroom engagements with more than 20,000 professionals.
That's cool and clearly helpful but not the sole benefit.
"What we did not realize," Raja said, "And what we're seeing in states like Louisiana is that there are intermediaries between experts and schools in many of these communities – organizations such as workforce development agencies, chambers of commerce, community colleges." And while these institutions all have a vested interest in education and career attainment, they were not connecting to schools in a coordinated way.
With Nepris, students can have instant access to world-class experts but also see local ones, people in their own communities, so the idea of doing something as a career is not a remote concept – even when you can see it.
Easy Augmented Reality in Early Learning
Texas – Alive Studios – Edinburg, Texas is less than 10 miles from the Mexico border and, not coincidentally, has a high number of English Language Learning (ELL) students, especially in primary levels. Getting those early learners up to English proficiency is essential to successful academic and social progress.
In Edinburg, teachers are using Alive Studios's easy, augmented reality lessons that use 3-D zoo animals to teach English spelling, vocabulary and pronunciation, as well as math concepts, in their pre-k and kindergarten classrooms. In one study of classrooms with 90% ELL students, kindergartners went from being able to recognize and pronounce fewer than 10 letters to recognizing and pronouncing all of them in 26 days.
Words won't do well in describing what Alive Studios is doing and how students react – but this video on their homepage may.
"One of the pain points for superintendents these days is the smothering cost of remediation; specifically, the money and time spent on trying to get 4th-8th graders proficient at grade level," said Kaye, the CEO and Chief Zoo Keeper of Alive Studios. "Of course, this is a worthy effort, but it is a never-ending race unless we address the source of these problems. Too many of our pre-k to 3rd graders are lacking a solid foundation of reading and math to build upon. As a matter of fact, 67% of American 3rd graders are getting handed into 4th grade without being proficient in reading."
With the level and depth of engagement that augmented reality offers and the success that ELL programs are enjoying with it, it's no reach to see the benefits of the technology anywhere students may be struggling with language and math basics. And even where they are not. In fact, the idea is already spreading; pre-k programs in Philadelphia are scheduled to begin using the technology this summer.
(Writing) Practice Makes Perfect
The pedogeological challenge, though, is not in assigning the writing but in grading it. If a high school or middle school teacher spends just five minutes reading, giving feedback and grading a writing assignment, doing that for five classes of 20 students will take that teacher more than eight hours of non-teaching time. There's just no way to grade writing with multiple choice.
In such an environment, meaningful comments and criticisms can be rare and the opportunity for multiple revisions based on that feedback can be virtually non-existent. That reality means students have few opportunities to practice writing and when they are asked to write, it's almost always in a high stress, one-time-for-grade format.
But an outgrowth of the machine learning that allowed computers to grade standardized essays, Revision Assistant, has turned that technology loose on the writing process – giving feedback based on benchmarks while the student is writing. The result is that students are able to practice more, learn from their revisions and corrections, anticipate common mistakes and attempt multiple revisions before submitting a final assignment.
"We found that students that get real-time feedback to their writing make revisions many, many more times than those who don't," Elijah Mayfield, who came up with the idea and technology and is now VP of New Technologies for Turnitin, told me. "And that learning by doing and practice has translated into more confident writers and better writing scores," he said.
As before, the added benefit may be just as significant, Mayfield said. By deploying real time writing feedback, English teachers have more time to teach and make higher-quality suggestions to individual students because they're not having to focus on routine, predictable and correctable errors. "It's absolutely changing the way English teachers are teaching in their classrooms," he said.
"One of the challenges that teachers face, especially in writing-heavy classes, is giving students meaningful and timely feedback," Kelly Ogan, a Language Arts teacher at South Kitsap High School in Port Orchard, Washington told me.
"While we do not use Revision Assistant as a replacement for the teacher, the program certainly offers support in the area of feedback. When my students are writing to a Revision Assistant prompt, I circulate around the room observing the process," she said. "I know students are reading their feedback and trying to address the suggestions and improve their writing because they often ask me clarifying questions regarding the comments they are getting. While they still need a teacher present, the digital comments they receive give them a starting point for revision, and they give me a starting point into individual mini-conferences with students."
Gamified Learning That Works
Alabama – Stride – Getting students to do academic work on their own time has been both a key to comprehension and retention and a Holy Grail of schooling. For most of us, work outside of classroom hours was often served up as required, graded homework.
But educators in Alabama are getting impressive results with students who actually want to do school work outside of school with a gamification and personalized learning platform from Fuel Education called Stride. The idea is pretty simple and been around since at least the 1980s – that making learning that was fun, rewarding and felt like playing a game instead of studying would get student to do more of it.
In Stride, students can earn "coins" which they can redeem for gaming time while a variety of content ensures students are engaged and an adaptive question engine helps them focus on key academic lessons. Students can also compete with classmates and among classrooms for points, badges and other awards.
Importantly, Stride is online so it can be accessed anytime, anywhere on a variety of devices and, as a result, school leaders in Washington County, MD reported that 37% of all the work done in Stride was done outside school hours. That's a big deal because, according to a 2016 study, after using Stride for three years, the percentage of elementary and middle school students scoring in the Average to High ranges on standardized tests jumped an average of 12% in reading and 10% in math.
But again, it's not just the boost in at-home learning and test scores. Stride also has built-in assessment mechanisms that let teachers gauge progress and track student performance in real time – giving far more information and far better information to teachers about how each individual student is progressing.
Edna Billingsley, Principal and McIntosh Elementary School in McIntosh, Alabama told me, "Stride supports students who need extra help, those who need additional challenges, and even our teachers... After I started promoting the Stride games and contests, the students got more involved and discipline issues diminished because every free moment got to be a Stride moment."
These are not the only education innovations that are working in public schools – in reality there are hundreds. Maybe more.
But highlighting just these five in places as diverse as Texas, Alabama, Washington and Illinois should make it clear that many schools are not mired in tradition or adverse to change. Technology is in place and working in classrooms from coast to coast – and with some pretty impressive results. What's need though, is more attention to the tools and technologies that are working so they can spread. a
Related
Popular in the Community