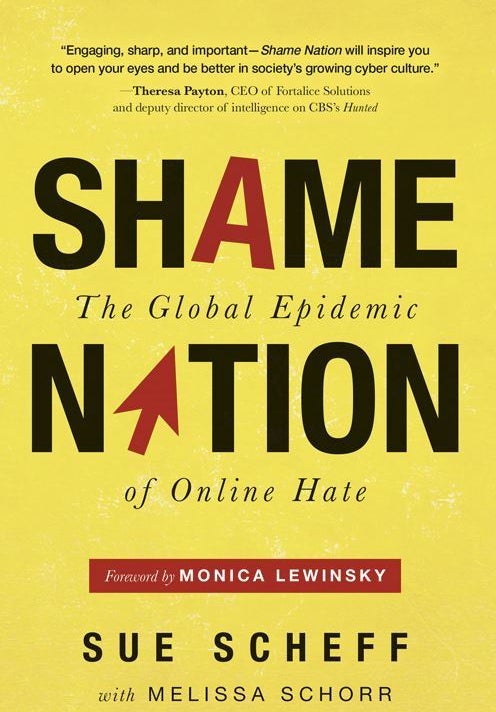 In SHAME NATION which goes on sale October 3rd, leading internet safety expert and author Sue Scheff details how cyber-shaming has become a global epidemic — and what we can do about it.
"You are one single keystroke away from your life being destroyed"—Sue Scheff
From public and online shaming, to trolling, cyber-lynchings, revenge porn, sexting scandals, email hacks and much more, Sue Scheff offers the latest insight as to why people publicly shame each other. She equips readers with the tools to protect themselves from what has now become the new Scarlet Letter!
If you think it's just kids being mean online, it isn't! According to the Pew Research Center, 73% of American adults have witnessed online harassment, and 70% of young Americans say they have been victims themselves.
Experts predict that as many as 40% of all Americans will be digitally shamed — Hate Crimes in Cyberspace
Every day, with the thousands of tweets, posts and images we mindlessly share, we are putting ourselves at risk of suffering permanent damage to our reputations, our careers, and our futures.
33% of young adults say they have sent or posted a sexually suggestive photo of themselves — The National Campaign to Prevent Teen Pregnancy
Half of hiring managers have decided not to hire a job candidate based on their social media content and that includes college students who might post pictures of themselves drunk or behaving badly —2015 Career Builders survey
Drawing from the expertise of more than a dozen top experts spanning fields including legal, public relations, crisis management, psychology, cyberbullying, and online reputation management, SHAME NATION presents:
The alarming rise and severity of online attacks
The psychology behind mob mentality, anonymous attacks, shaming and more
The insufficient protections our current legal system offers for victims to fight back
How to avoid the online mistakes that put you at risk
How to protect yourself (and others) from online attacks
How to handle a cyber-nightmare should one occur
The real professional, psychological and technical challenges of recovering from an attack
Specific proposals for advocating for cyberbullying laws and ramping up enforcement; pressuring tech companies to improve community standards; and emphasizing digital citizenship for people of all ages.
Just because you can post and make comments online doesn't mean that your posts and comments are appropriate. Hiding behind a digital device and publicly shaming people is wrong, hurtful and unnecessary. If you find it humorous, it isn't. Let's not forget Lori Drew, the woman who shunned and shamed teenage Megan Meier into suicide.
Negative commenting on celebrities lives is so wrong. You don't know them. You may not like their clothing, looks or ways they parents, but frankly folks, it's not our business. Posting photos of someone naked in a gym or commenting on someone who doesn't have the perfect figure is not appropriate.
SHAME Nation is a book for everyone to read and understand that posting online requires civility and responsible digital behaviors. Without it, we will become more an uncivil society than we already are. NOW is time to become digitally responsible.
Calling all HuffPost superfans!
Sign up for membership to become a founding member and help shape HuffPost's next chapter
This post was published on the now-closed HuffPost Contributor platform. Contributors control their own work and posted freely to our site. If you need to flag this entry as abusive,
send us an email
.