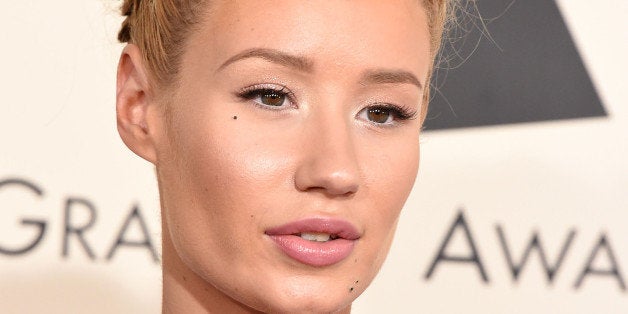 Every day we hear more stories about bullying, cyberbullying, racism and hatred. This public shaming and hurt has gone way too far.
Last week Iggy Azalea was shamed by Internet Trolls about her body.
A few days ago E! network's "Fashion Police" cohost Giuliana Rancic made racial stereotype comments about actress Zendaya's hairstyle at the Oscars on Monday's show.
Among the numerous stars who came Zendaya's defense: Selma director Ava DuVernay, Kerry Washington, Chloë Grace Moretz and Kelly Osbourne who is rumored to be thinking of leaving "Fashion Police" because of this.
Rancic made two on-air apologies to Zendaya and anyone else who was offended by her comments. Zendaya graciously accepted Rancic's apologies, but the bigger question is: why did Rancic make a racial stereotype comment at all?
There were people on Zendaya's Instagram page who made horrible comments to her and about her because they could hide anonymously behind a computer screen or smart phone. The fire was fueled by Rancic's comments.
And, it's not just celebrities who are on the receiving end of all of this. A 14 year-old Weston, FL high school student is the target of racism by his French teacher because of his name and ethnic origins. The student, born and raised in the U.S. is being called "Rag Head Taliban" by his teacher who has given him failing grades; which have since been changed to well-deserved "A"s after his father complained to the school.
Then there is the story of a student whose family just moved to the NY suburbs. Because of her name and ethnic origins, she is being bullied by fellow students. Her mother was called to the school only to be questioned about what profession her husband is in and what his work affiliations are.
In episode 11, season 5 of "The Walking Dead" the series' first gay male character, reunites with his boyfriend. They share a kiss after discovering the other is still alive. According to BuzzFeed and Uproxx, some "Walking Dead" fans tweeted homophobic comments after the episode aired.
Stereotyping, hatred and racism have gone beyond epidemic proportions.
Recently, Anne Collier, Co-Director of ConnectSafely, wrote an excellent article on public shaming that not detailed how adults behave online, and how their behavior is affecting our children. "The need to address digital public shaming is getting more urgent. People are getting hurt. Second chances are going away. We can't afford to let our children grow up believing online harassment and public humiliation are just the way things are" stated Collier.
France's government is looking to adopt a tough new stance on online racism, anti-Semitism and other hate speech that would allow authorities to shut down offending websites amid a recent rise in hate crimes in the country.
Stereotypes, can influence our attitudes and behavior in ways that we are unconscious of. They can cause deep harm even if not actively "intended" to harm. In order to end stereotypes and to understand how they shape our interactions with others despite our best intentions, we first have to acknowledge that they exist.
Racism can manifest itself in terms of individual behavior through hate crimes. Hatred of any kind is damaging to everyone, even to people who are not direct targets of bigotry and prejudice.
What can we do? We must erase the fear and hatred of other people, ending divisions in our society. It eats away at society and damages everyone, creating violence, suicides, war and economic suffering. We must unite with those who are different, stand together and eliminate these core issues facing the world today.
NO MATTER™ who you are, what you look like, your sexual orientation, your beliefs ... we are ALL the same, we are ALL people, NO MATTER!
No one is born with hatred and intolerance. We all deserve to be treated with respect and tolerance NO MATTER how we wear our hair, NO MATTER what our race, religion or sexual orientation is, or what we personally believe in.
Words and intent have impact. Whether meant in jest or as racism, words hurt!
•Think before we say things
•Think how our words can affect others
•Think before we post online
•If we can't say something nice to or about someone, we shouldn't post it online either
In order to stop public shaming, we should all be held accountable and be role models to our children, our peers and others. Lead by example and show words of kindness can and do make a world of difference.
We must honor our differences and respect and celebrate our similarities.
Popular in the Community