It seems that no matter how many nude events I attend, I spend weeks beforehand feeling anxious -- wasting so much energy on negativity, feelings of insecurity about body image, or wanting to look my best nude. Hosting my first-ever All-Nude Book Launch Party in NYC was no exception. But, just like all of the other nude gatherings of like-minded people, once I was there and the first wave of awkwardness had passed, I forgot all about needless insecurities and fear. Poof! Just like that, it all disappeared.
I watched guests check in from the back salon area at Bold and Naked Yoga where I was putting my makeup on and taking my clothes off. I started to relax when I saw a few familiar faces from the BodyPaintingNYC nude event I attended this summer, and I started feeling inspired and curious about who, exactly, these people were who had come to help me celebrate the launch of my new book Switch: Time for a Change as well as freedom, authenticity, and sexual expression.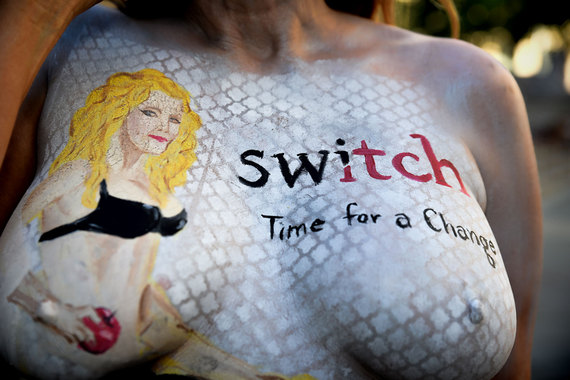 Photographer: April Anderson
After the guests were settled in, and the wine and food were served, I heard my introduction; it was showtime for my first nude public speaking event.
Standing nude on stage in front of a room full of nude people, I immediately felt relaxed and excited. The guests were clearly curious about my book and story. After my speech, I gave a short and fun bondage and fetish demonstration with a few of the guests who volunteered, and then Joey Kim performed her sensual erotic performance. There were also free gifts for guests, thanks to NYC's Condomania, who joined the fun to hand out samples of their assorted intimate lines of condoms.
As the events of the night unfolded, I started meeting the guests and signing books, and no matter who I talked to, I realized the same thing: Everyone at the party that night also had an amazing and inspiring story.
One gentleman had flown halfway across the country to attend the party. He claimed, "I wouldn't have missed it for the world." You see, he too had been on his own Hero's Journey by losing everything and finding the courage within to start over and successfully rebuild his life after 50. One brave woman I spoke with told me, "I have never been to a nude event, but when I read about your nude book launch party, I had to come. I just knew this was a once-in-a-lifetime opportunity for me. I had to go for it, and I'm so happy I did. I feel so empowered!" Another woman who happened to be physically confined in a wheelchair spoke freely to me about her passion and dedication to feminism and her work to support the rights and safety of sex workers.
Looking into the eyes and hearts of the beautiful people that night, I forgot about being nude. I spoke to a friend this week who asked me, "So, were most the ladies at the party shaved down below?" I stood there and thought about it, and then replied, " I have no idea." I hadn't even noticed. The thought of staring at or judging other people's bodies had never even crossed my mind because the point of the whole event was freedom, not insecurity. We were all there to make a statement to the world that bodies are nothing to be ashamed of, and with none of the social barriers that clothing provides, we spent the evening making real emotional connections with one another.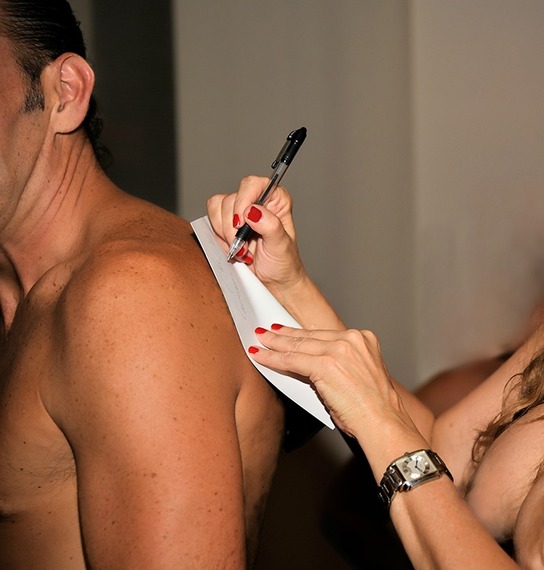 Photographer: April Anderson
That's the thing about freedom, sexual freedom included: When you don't have it, you spend so much of your time and energy wishing for it and working for it, but when you have it, the only thing to do is to enjoy it, be thankful for it, and do your best to share it with others who want it too.
I am so grateful for the people at my book launch event, and I am proud to say that we spent the evening in laughter, in encouragement, in happy defiance of society, and in empowerment -- and the openness of public speaking in the nude made it even better.
PHOTO GALLERY
7 Ways To Make Friends Post 50
REAL LIFE. REAL NEWS. REAL VOICES.
Help us tell more of the stories that matter from voices that too often remain unheard.