 When states cut funding to public higher education, universities usually raise tuition. That's nothing new. What is new is the trend of administrators deciding to seek more out-of-state students to shore up their revenue.
States have long been slicing away higher ed appropriations, which has declined nationwide since 1985 and has led to a 559 percent increase in the cost to attend college. However, there's only so much they can raise tuition. Now state colleges are increasingly looking for non-residents, who pay a tuition bill sometimes as much as three times higher than in-state residents who are subsidized by state dollars.
But people are less than thrilled out west.
The University of California has steadily increased the amount of out-of-state and international students admitted over the past three years. In 2009, 11.5 percent of freshmen at UC campuses were non-Californians, but that increased to 23 percent for the fall 2012 semester.
This comes after the UC system admitted 43 percent more out-of-state and international students in the 2011-12 academic year. In the fall of 2010, 86 percent of their admissions were California residents. According to preliminary figures, that number is down to 76.5 percent in the fall of 2012. They also went from admitting 71.6 percent of Californian applicants in 2010, to 65.8 percent. Meanwhile out-of-state and international admits slowly increased from 51.4 percent and 53 percent respectively, to 53.9 percent and 61.3 percent in 2012.
After the average percentage of nonresidents enrolling at the University of California nearly doubled in two years, state Sen. Michael Rubio (D-Shafter) proposed the California Students First Act, which would cap undergraduate enrollment of non-residents at 10 percent for the UC system. It'd be much more restrictive than the University of Colorado's 33 percent cap. In the past, South Carolina lawmakers sought a 20 percent cap.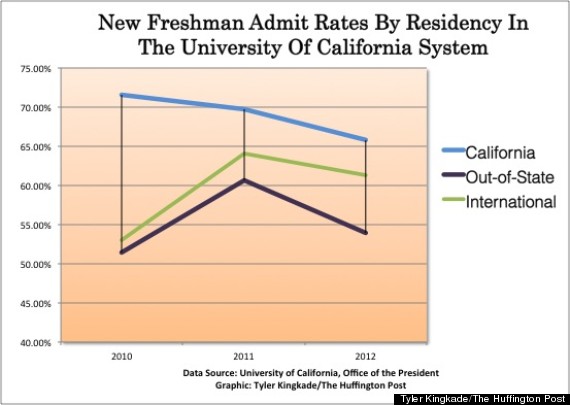 There has been a national trend of an increase in admissions of foreign students graduate programs, especially those coming from China or the Middle East. The Institute of International Education in partnership with the U.S. Department of State's Bureau of Educational and Cultural Affairs found there are currently 32 percent more foreign students studying in the U.S. than there was a decade ago.
Colleges are active in going after those students, like in the case of the University of Colorado-Boulder, which is now recruiting overseas for the first time.
Administrators argue it's not just about funding. Bringing in students from other cultures, whether it be from another state or another country, enhances the college experience, they say. Yet, recruiters are not going after poor students in rural China, or low-income minorities in Kansas; these are the students who have the ability to foot the higher out-of-state tuition bill.
National Bureau of Economic Research data shows two decades ago, nonresidents at public research universities were in the minority, with most flagships having less than a fifth of their population coming from out-of-state. A brief survey of current enrollment rates suggests a different story today.
Take a look at the percentage of out-of-state students at major public universities around the country in the slideshow below: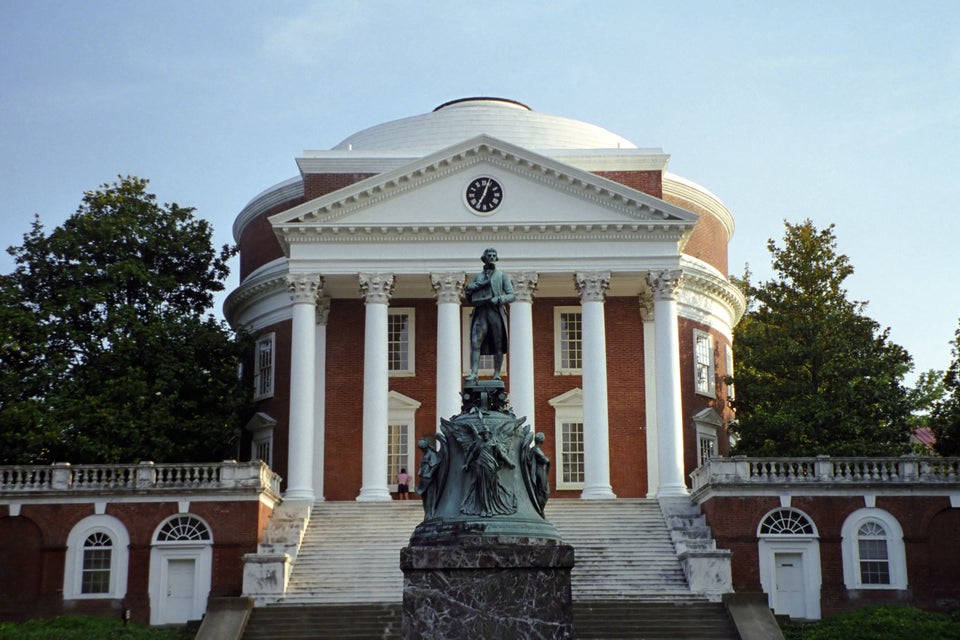 Out-Of-State Enrollment Numbers At Public Colleges (Numbers From The College Board Unless Otherwise Noted)
EDITOR'S NOTE: Information in the slideshow on percentage of out-of-state students enrolled comes via The College Board, and are based on the school system's flagship campus as of 2011-12, unless otherwise noted.
Related
Popular in the Community