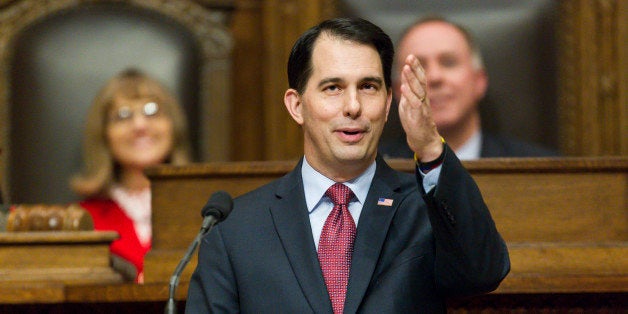 If proposals by two Republican governors are approved, public universities in Illinois and Wisconsin could soon experience sweeping layoffs, program eliminations and possible campus closures.
This month, Illinois Gov. Bruce Rauner (R) and Wisconsin Gov. Scott Walker (R) unveiled budgets with deep spending cuts for public universities. Rauner's proposed 2016 budget contains a 31.5 percent, or $387 million, reduction in funding for public universities. Wisconsin's 2015-2017 budget would shrink state funding by 13 percent, or $300 million over two years, the largest reduction in the state's history.
The steep cuts are perplexing to some school officials because the improving economy has helped public universities in other states recover some of the funds they lost during the recession. Over the past decade, lawmakers from both parties significantly reduced public university spending across the country.
Tuition increases aren't on the table in either state, meaning universities would have to make up the difference through layoffs and cuts to programs on campus. Walker's budget requires a tuition freeze for all public state universities in addition to mandatory spending cuts. According to Illinois Board of Higher Education Executive Director Dr. James L. Applegate, his state's universities aren't expected to raise tuition either. The University of Illinois system instituted a tuition freeze a month before the governor unveiled his budget.
It's unlikely administrators will take salary cuts to close the budget gap, so instead, officials predict, lower-level employees on campus will likely be targeted for job cuts.
"All institutions of higher ed are very, very people heavy," professor Jennifer Delaney of the University of Illinois at Urbana-Champaign told The Huffington Post. "The bulk of our budgets go to people, so a cut of this magnitude would certainly impact [staff]."
"The majority of spending by colleges and universities are on personnel -- faculty and staff," David Bergeron, vice president of postsecondary education at the Center for American Progress, said in an email. "The combination of a budget cut and tuition freeze will result in cuts to those."
Small schools in both states would also face serious challenges. Though large universities like the University of Wisconsin-Madison will probably see a greater percentage drop in funding, small universities don't have deep reserves or as many alternate sources of revenue such as grants and sponsorships.
Declining enrollments and sustained funding reductions have already left many of both states' schools with no reserves. This year, University of Wisconsin-Superior instituted layoffs and eliminated academic programs. According to the Milwaukee Journal Sentinel, some legislators are even considering closing campuses because of anticipated funding shortages.
While Rauner proposed larger cuts, Walker's plan proposes altering key parts of the public university funding system. The budget creates a public authority run by the 18-member University of Wisconsin Board of Regents. Under Walker's plan, the legislature would cede control of tuition and tenure to the board and abolish shared governance, the state statute that allows students, faculty and administrators to make decisions over university rules and operations.
The governor claims that this system and proposed block grants will give universities more room to make their own financial decisions.
"With the increased flexibilities UW has been seeking, UW System will be able to plan for this reduction and manage it over the next two years and four months," said Walker press secretary Laurel Patrick. "The proposed block grant model gives UW financial certainty for long-term planning and stability, and the annual increase to the proposed UW block grant helps to offset costs."
But some policy experts and UW staff believe that Walker's proposal could hurt universities by giving the board appointed by the governor too much power. Currently, 11 of the 18 members of the Board of Regents were appointed by Walker, with several more slated to leave and be replaced before the governor's term expires.
"If there is a push to change tenure, like eliminate it, in today's world you'd have to change state law," Noel Radomski, director of University of Wisconsin-Madison's Center for the Advancement of Postsecondary Education told The Huffington Post. "However, if this public authority goes through, there would be state policies, one would be on tenure, or it might be combined with some policy items, and a majority of this board could make changes."
"Withdrawing investments in higher education hurts everyone, including those that don't attend college," Bergerson said. "Further cuts, paired with the proposed tuition freeze, will result in fewer college graduates entering the state's workforce. This will drive up the wage premium paid to college graduates but drive down the wages for everyone else."
Both governors downplayed the severity of the cuts.
"Illinois is the fifth most populous state in the country, and number four in support for higher education, which remains true after these savings," Rauner press secretary Catherine Kelly told The Huffington Post.
"[Democratic] Gov. [Jim] Doyle cut the University of Wisconsin by $250 million in the 2003 budget, but did not give them the tools to manage their budget," said Patrick, Walker's press secretary. "Rather, [Doyle] allowed the UW System to raise in-state tuition by up to $150 million."
Some university advocates believe those statistics are misleading. Radomski said that in 2003, the $3.2 billion deficit that Doyle inherited made cuts necessary.
"The economy is on the upswing, we had a surplus, and then [Walker] decided to do a tax cut," Radomski said, referring to a bill the governor recently signed. "I think the difference there is this fiscal economic environment is much better than it was then."
Illinois public university officials plan to lobby the Democrat-controlled state legislature to scale back the governor's proposed cuts. Democrats in both states have already vowed to oppose the plans, and some Republican legislators have said the cuts to universities are too extreme.
Before You Go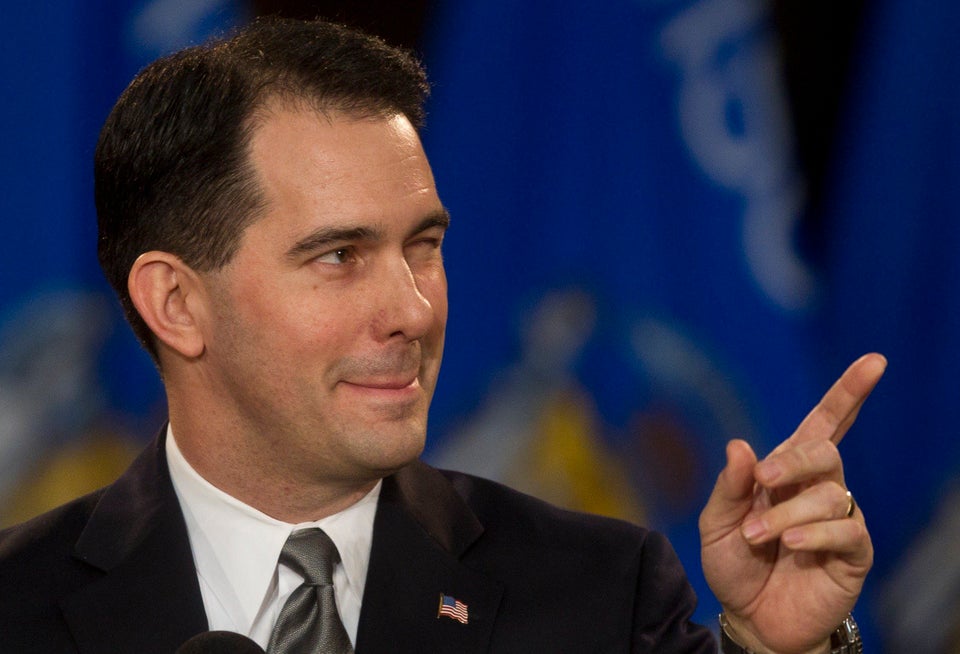 Scott Walker Pointing Fingers
Popular in the Community