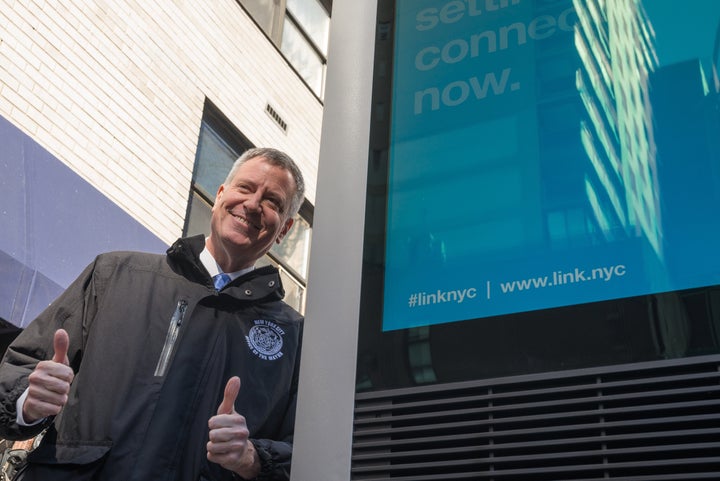 The New York Civil Liberties Union is disappointed in a new public Wi-Fi service.
LinkNYC provides "super fast, free" Internet connections to people throughout New York City, but as the NYCLU pointed out this week, it also retains the personal data of anyone who connects to the service. Even if you don't live in New York City, the concerns are worth taking to heart as more urban centers roll out Wi-Fi services.
"CityBridge, the company behind the LinkNYC kiosks that have begun replacing phone booths in Manhattan, retains a vast amount of information about users -- often indefinitely -- building a massive database that carries a risk of security breaches and unwarranted NYPD surveillance," the NYCLU said Wednesday in a press release.
The release mentions the recent kerfuffle over Apple's refusal to unlock an iPhone for the FBI. In a sense, the issues are similar: Should innocent people sacrifice privacy for the sake of security? You can imagine the argument. If a would-be terrorist is dumb enough to communicate via public Wi-Fi, shouldn't the police be able to access that information if it helps stop a crime?
Jen Hensley, general manager of LinkNYC, told The Huffington Post that the company would never sell a user's private information and that law enforcement doesn't have unfettered access to the data.
"CityBridge would require a subpoena or similar lawful request before sharing any data with the NYPD or law enforcement, and we will make every effort to communicate government requests to impacted users," Hensley said.
And Natalie Grybauskas, a spokeswoman for New York City Mayor Bill de Blasio, told HuffPost there are privacy protections in place on the public Wi-Fi system.
"New York City and CityBridge have created customer-first privacy protections to ensure our users' personal information stays that way -- personal," Grybauskas said.
"We will continue to work to ensure legitimate concerns are addressed," she added.
For now, though, take the NYCLU's warning as a reminder that "free" doesn't necessarily mean "no strings attached." If you're worried about the government accessing your data, you should refrain from using government-backed Wi-Fi.
Maybe it won't always be this way.
"Internet access is not a choice, it's a modern-life necessity," Mariko Hirose, senior staff attorney at the NYCLU, said in the press release. "The city's public Wi-Fi network should set the bar for privacy and security to help ensure that New Yorkers do not have to sacrifice their rights and freedoms to sign online."
This article has been updated to include comments from LinkNYC and the New York City mayor's office.
The Huffington Post is on Amazon Echo! Catch up in the morning with our Flash Briefing or get the top headlines by enabling the HuffPost skill in the Alexa app.
Related
Popular in the Community