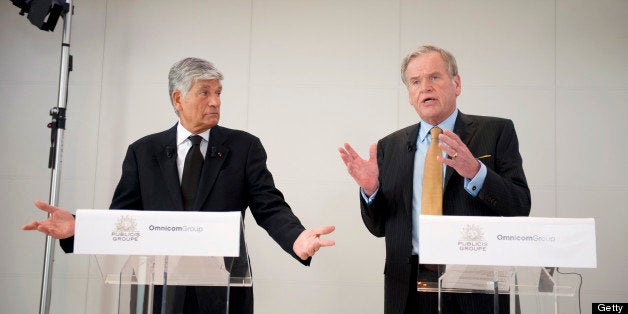 * Shares in WPP, Interpublic, Havas leap on deal news
* Competing agencies will seek to poach big advertisers
* Conflicts possible in tech, telecom, autos
* Publicis, Omnicom say can manage conflict risks (Recasts)
By Kate Holton and Leila Abboud
LONDON/PARIS, July 29 (Reuters) - A plan to merge Publicis and Omnicom into the world's biggest advertising group has begun a scramble by rivals to poach their blue-chip clients worried the new agency might face conflicts of interest.
Without any defections, the Franco-U.S. giant would bring the accounts of major competitors in a number of industries such as Apple and Samsung, or Coca Cola and PepsiCo, under one roof.
Publicis boss Maurice Levy and Omnicom's John Wren spoke to some of their biggest clients before the $35.1 billion deal was announced on Sunday, and made further calls on Monday to reassure them they will be better served by the new group.
But rival chief executives from London to Paris and New York, including WPP boss Martin Sorrell, were already scouting on Monday for accounts to poach from the soon to be formed group, industries sources said.
Under the planned deal, the French and U.S. groups will form a giant that will have the necessary scale and investment firepower to cope with rapid changes brought by technology on the advertising business.
Rival ad groups have a rare opportunity to swoop as contracts between major advertisers and agencies often include clauses that say they can be renegotiated in the case of agencies being bought or sold.
"It's good for us and other independents," said David Kershaw, CEO of ad group M&C Saatchi. "It shakes out more people that want great creative and global capability but they don't want to be involved with one of these behemoths, and also who feel uncomfortable having their competitors within the same group," he told Reuters.
The merger will bring together Publicis brands such as Saatchi & Saatchi and Omnicom's BBDO Worldwide and DBB Worldwide, which could create new client clashes.
Levy and Wren said they did not expect any major problems with big advertisers defecting to rivals, with the Frenchman describing the reaction from clients as "extremely positive".
"We're going to work extremely hard to resolve any client conflict issues with creative solutions," said Wren, adding that he expected only roughly 1 percent revenue losses due to potential contract losses.
Shares in rival ad groups leapt on Monday, in a sign of their perceived opportunity and the prospects for further consolidation in the industry.
Shares in WPP, currently the world's biggest ad agency, opened up over 4 percent before settling back to be up 0.6 percent at the London close. Interpublic was up 8 percent on the New York stock exchange while France's Havas was trading 5 percent higher.
"The deal should boost competitors' stock prices in the near term, with billions of overlapping business up for grabs and the industry consolidation story now having a greater sense of urgency," said Steve Soranno, an equity analyst at U.S.-based firm Calvert Investment Management. It has $13 billion under management, including shares in Omnicom.
Don Elgie, the chief executive of the insight and digital communications group Creston, said he expected to see a fall-out from the tie-up.
"Communications groups are nothing without their clients," he said. "You could see massive swings in terms of clients moving around.
"They can't have talked to all their clients (and also) no client is going to give a cast iron reassurance until they see how the thing shakes out."
Three senior European advertising executives interviewed by Reuters said areas of conflict within the new company could include the consumer goods, tech and automobile sectors.
For example, Omnicom works for PepsiCo and Publicis handles Coca Cola. In telecoms, Omnicom handles U.S. leader AT&T and Publicis its rival Verizon.
Technology blue-chips are also an issue: Omnicom works for Apple and Microsoft, Publicis for Samsung and Google.
BMW sales chief Ian Robertson said he had some concerns.
"We may be affected in some way in some country but it's too early to say," he told Reuters. "Ideally, clearly we (would) have that independence from other manufacturers. But in a world which is now connected and there are so many mergers of this type, maybe that's something that is not an ideal position."
Renault and Nissan were amongst the first big advertisers to say they welcomed the deal.
"Renault and Nissan are both major global clients of both Publicis and Omnicom. We welcome the direction taken by Publicis and Omnicom to create a best-in-class communications, advertising, marketing and digital services company and will continue to work with them," a Nissan spokesman in Britain said.
As the two ad groups begin a round of meetings with shareholders, the one area they are likely to focus on is the advantage they will get in negotiating the pricing for ads with the tech giants of Facebook or Google, and investing in new software and data mining tools.
"Consolidation may help regain pricing power in a very competitive industry," Morgan Stanley analysts wrote. (Additional reporting by Rhys Jones and Paul Sandle in London, Andreas Cremer in Frankfurt and Liana Baker in New York; Editing by David Stamp)
Calling all HuffPost superfans!
Sign up for membership to become a founding member and help shape HuffPost's next chapter