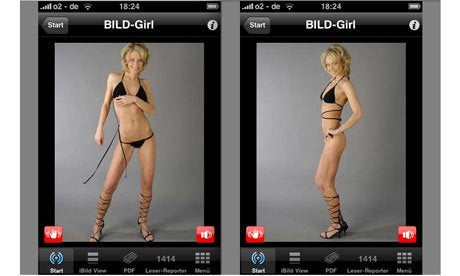 The Guardian is reporting that Apple has requested for German publisher Springer to censor one of its iPhone apps which allows iPhone users to "undress" a model. The "Shake the Bild Girl" app features a girl dressed in a winter parka, jeans and a scarf -- each time you shake your phone, she sheds a layer until, voila, there's a nude girl on your phone. In keeping with Apple's "no nipples" policy, the company has requested that the girls in the app keep their bikinis on.
The Association of German Magazine Publishers (VDZ) has asked the International Federation of the Periodical Press to issue a complaint with Apple over their request to Springer -- as the VDZ CEO put it, "Today they censor nipples, tomorrow editorial content."
Apple has long banned "adult-only content" from iPhone app stores, but the company has been remarkably inconsistent about applying the rules. In February, without warning, Apple removed 5,000 sexually suggestive apps from the App Store, including apps that featured only bikinis or lingerie and no nudity. Not included in the purge: Playboy and Sports Illustrated's swimsuit apps. Meanwhile, lesser-known developers' salacious creations got pulled.
For users who cannot live without naked women on their phones, their best bet may be Google's Android phone, whose open platform enables companies to operate outside the official Android Market. One company, MiKandi has actually launched the first mobile store for porn -- details here.

Calling all HuffPost superfans!
Sign up for membership to become a founding member and help shape HuffPost's next chapter