For the first time, Sunset Park will be hosting its own Puerto Rican day parade this year. A long tradition in the neighborhood, Sunset Park residents usually celebrate with music and dancing later in the day hours after the big parade in Manhattan ends. This year's festivities in Sunset are being organized by community groups, with El Grito de Sunset Park spearheading efforts to make the day's celebrations official with a parade and a festival in the park.
El Grito de Sunset Park's founder, Dennis Flores, figured that organizing the festivities with a permit and careful planning this year would help keep outside agitators at bay: the police.
Previous years have been marred by incidents of police brutality and harassment. Going back as far as 2004, and earlier, the police have cracked down on blue, red and white clad revelers who show up along 5th ave in Sunset. People wave their Puerto Rican flags. They dance. Cops, of course, don't like it and try to regain control--by force.
Last year a big melee erupted after cops started to arrest people for no apparent reason. Officers from the 72nd precinct began to physically push people off the sidewalk and bang their nightsticks on storefronts as they tried to move a crowd of onlookers away. El Grito and other neighborhood groups have been filming the police, or cop-watching, in the neighborhood for years. Flores and his team, who use state of the art video equipment, like GoPros mounted on their chests, had their cameras rolling. Some of the video can be found here.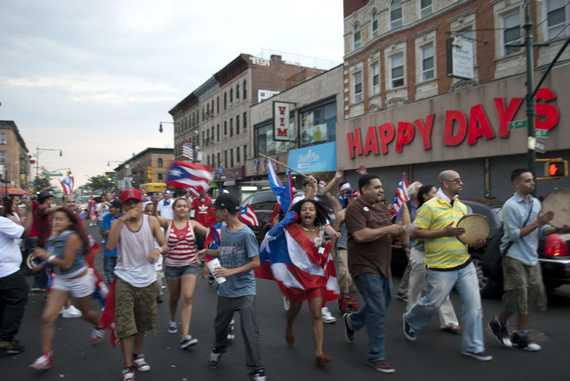 For Sunset Park, the culture of police brutality is pervasive. In the less than 12 months since the Puerto Rican day altercations, other cases of police brutality in the neighborhood have made local and national headlines. Last September, a police officer from the 72nd precinct was suspended when video shot by El Grito showed him kicking a young man in the back. Not even a week later video emerged showing a pregnant immigrant woman being thrown belly-down onto the street by another cop from the 72nd, igniting even more controversy in a city that would soon see tens of thousands marching in the streets.
Jason Del Aguila, a youth advocate and member of El Grito for the last five years, points out that police officers involved in those incidents were also involved in the melee the night of the Puerto Rican day parade in June. "One of the officers was involved in kicking a street vendor in the back last year, too. That was for 'El Grito de Dolores', a mexican celebration. They had their own street fair, they were vending, time was up and police were rushing them... they escalated that and then kicked him in the back when he was down."
Del Aguila is referring to the case of a family of street vendors who were being harassed by cops to close up the minute a neighborhood street fair was officially supposed to finish. In the video, a young Mexican immigrant named Jonathan Daza (rightly) tells his sister she doesn't need to give a probing officer any more information as cops harass the family to move quickly. The cop moves to arrest Jonathan and a scuffle breaks out. Cops jump on top of Daza and then one brave cop plants his boot in Daza's back.
In yet another incident that took place just six days later, Del Aguila says a cop also involved in the parade melee was in the middle of high profile case involving a pregnant immigrant woman, Sandra Amezquita. Aguila describes the scene where a mother and father came out to defend their son, who had been a continuous target of cops from the 72nd, outside of a restaurant. "This officer harassed the son of the pregnant woman who was slammed down. That's why they came out like 'what's going on?' and boom, she gets slammed." The video shows Amezquita being thrown down by a cop who then puts his knees on her back, similar to the recent footage of a Texas cop who put his knees on a teenage pool-goer. "The rest of the family comes out and they get beat up too. They got hit just for asking."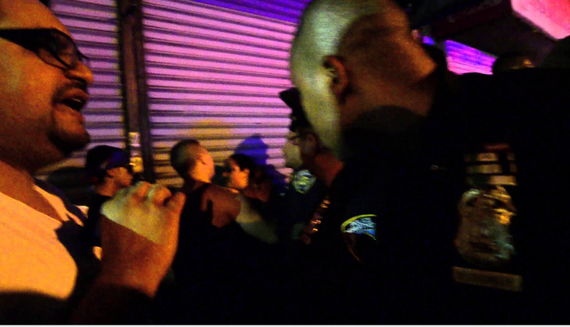 Flores, Del Aguila and other neighborhood groups allied with El grito have been adept at cop-watching, pressuring politicians and organizing townhalls for the community. A huge town hall organized in Sunset drew hundreds of residents to speak directly to top NYPD officials. They've also been organizing with neighborhood tenant rent-strikers and parents. Recently El Grito threw its support behind a young man wrongfully (and brutally) arrested and charged for filming the police.
Enrique Del Rosario was filming cops during last year's Puerto Rican day celebration in Sunset when he was assaulted and arrested by a pack of cops involved in that big melee that El Grito was also filming. Del Rosario, a 17-year old Dominican kid from the neighborhood, was hit with charges of assaulting a cop--serious charges. Cops have been known to arrest and charge people they rough up as a sort of cover for their own actions. What better way to rationalize or distract from police brutality than to claim your victim attacked you? After 10 months of court dates, with El Grito picketing outside Brooklyn Criminal Court, charges were finally dismissed earlier this year after cops admitted that the officer who was set to testify against Del Rosario wasn't even present at the incident in question. The family is now suing the city.
Flores, a pioneer of cop-watching in New York going back around 15 years, tried to obtain NYPD surveillance footage of the night of the Puerto Rican day incident by filing a Freedom of Information Act request, known as a FOIA or FOIL request. His request was denied and his follow up appeal was also denied. The NYPD claims the footage cannot be found. This is partly why Flores and other activists around the city are skeptical of police body camera reforms for a police department that isn't even willing to be transparent with footage it now has.
While the Daza, Amezquita and Del Rosario incidents have shone a light on the 72nd precinct's abuses, some local elected officials have continued to try to undermine El Grito's growing influence in the community. Flores says that councilmember Carlos Menchaca has been breaking promises to hold officers in that neighborhood accountable. One of the most notorious officers in the 72nd, Elvis Merizalde, was given a monthly award by none other than Menchaca himself shortly after Flores and other residents had come to Menchaca about his abuses. Merizalde was involved in the Amezquita arrest and the Puerto Rican day fracas. Flores also thinks that Menchaca is trying to turn some of Sunset Park's Mexican immigrant community against him. Menchaca is Mexican-American and Flores is Puerto Rican.
Recently, Menchaca has been quietly throwing money at another group of organizers to put together another event, Boricua Fest, to take place the same time as El Grito's parade and festival. Flores says Menchaca allocated over $32,000 for the rival festival, which had last taken place in 2012 by the Brooklyn Piers, to "pit us against each other and then devour us with his gentrifying plan--and then to be done with us."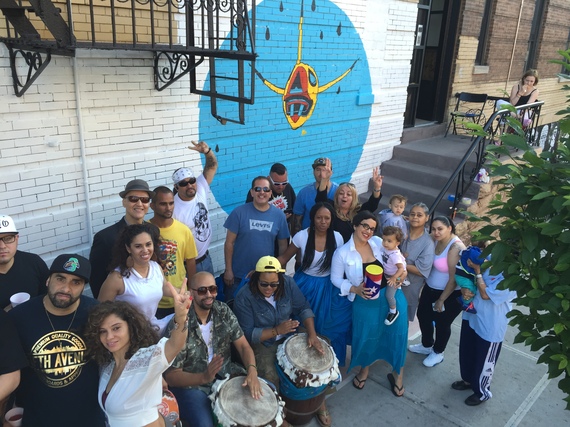 "For so long have the members of the community been criminalized, whether they're Puerto Rican, Mexican or poor. This was a natural unifying issue for them--the police brutality and criminalization." Del Aguila explains that organizing the Puerto Rican day parade, permit or no permit, was an important step to unite the neighborhood. "The community will be out and will celebrate. All the other flags in the neighborhood are excited that we're doing this. It's brought a lot of the nationalities in the community together. We've all seen injustice is injustice. Only together can we create justice. We understand it's not exclusive to one nationality--but we sure as hell will celebrate it."
"El Grito really pays hommage to Gritos of the past. It is a testament to anti-colonial struggles in Latin America", Flores says. El Grito de Dolores, which the street vendor family was celebrating last September when cops attacked, began in 1810 when a priest in the Mexican town of Dolores rang his church bells to gather his followers and announce the beginning of a revolt against Spanish rule. It would mark the beginning of the Mexican War of Independence. El Grito de Lares, which inspired Flores, announced the beginning of the Puerto Rican revolt against Spanish rule in 1868. "El Grito is a war cry", Flores explains. "El Grito de Lares was a revolt of many races--African, indigenous, even Irish Puerto Ricans--standing up and speaking out against oppression."
This year's first official Puerto Rican day parade and festival looks to be the start of something big in Sunset Park. Not only has the neighborhood shown a resilience to standing up to police brutality, organizers are angling to stay one step ahead of the cops by building community networks. Neighborhood-owned businesses like National Towing & Autobody, Danny Rim & Tire Shop, the BoothNYC, Hold Your Own, Deadline, 5th Ave Skateboards, Cotton Hustle, Scars of Desire Tattoos and Casper's Cuts are all sponsoring and supporting the parade. Artists like Alma Moyo, Abrazos Orchestra, Meg BK, Artista Rosario and Sound Boy Cartagena are scheduled to perform.
It all starts this Sunday, June 14th at 5pm in Sunset Park on 5th avenue and 59th street. There is a fundraiser Friday at Trinity Lutheran Church. You can also support the parade directly online.
Popular in the Community