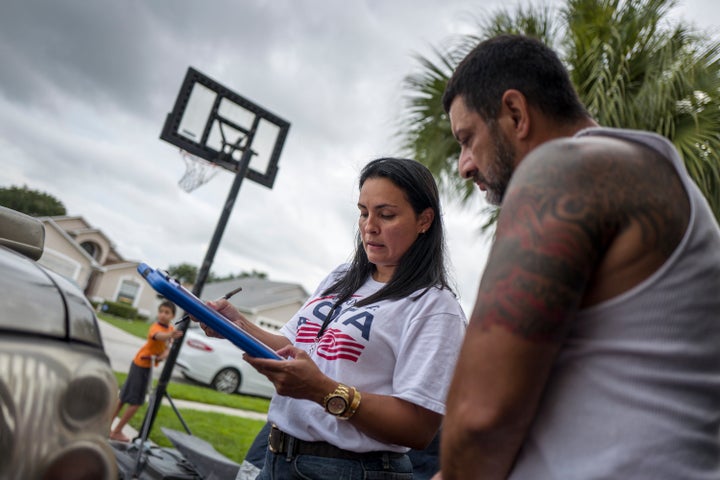 KISSIMMEE, Fla. ― Near the end of the Florida voter registration form, there's a section for party affiliation that often trips up the wave of Puerto Ricans who have recently moved to this critical swing state.  
The section asks would-be voters to select an affiliation: The options are Republican, Democratic, none at all, write in something else, or leave it blank. But back on the island, Puerto Ricans don't have the same political parties. And according to advocacy group organizers and volunteers working on registration efforts, the labels of American governance often prove perplexing.
"They'd have this look of confusion as soon as they got to the party," said Viviana Janer, a Democrat who chairs the Osceola Board of County Commissioners, of the days when she did voter registration. "Some of them will ask you, 'What party is the president?'"
Even if the newly settled Puerto Ricans are unfamiliar with the terminology of American politics, however, they stand to be an incredible force within it. They could even decide the presidential election this November.
Puerto Ricans represent one of the fastest-growing constituencies in one of the most influential swing states. There are over 1 million of them in Florida, more than double the number 14 years ago, and thousands more arrive each month, fleeing the fallout of a debt crisis back home. The Orlando region, including Kissimmee, has the largest Puerto Rican population in the state.
On the island, people are politically active ― Puerto Rico has far higher voter turnout than the 50 states ― and as U.S. citizens, they are eligible to vote on the mainland as soon as they resettle here. While their lack of familiarity with party names may give Republicans an opening, the Democrats seem more likely to benefit from their presence. And that's for one reason above all else: Donald Trump.
The presumptive Republican presidential nominee is squarely on the mind of many coming from the island ― including Gabriel Aleman, a 19-year-old who moved to Florida from Puerto Rico two months ago. When he and his father registered to vote last week outside an Unidos Supermarket in Kissimmee, located in a strip mall with a barberia, a nail salon and a pizza shop, he said he wasn't sure whom he would support for president because he doesn't follow politics much. But he does know a bit about Trump.
"Not good things," Aleman said. He and his younger brothers laughed.
A question about Trump also prompted laughter from Yamirka Almodovar, a 40-year-old who moved to Florida from Puerto Rico six years ago but plans to vote this year for the first time. She was visited at home last week by a staffer from Mi Familia Vota, a nonpartisan outreach group that's registering people to vote. 
"He's a crazy man," she said of Trump, joking that he might need psychiatric help. "No, he needs love. He needs God in the heart."
Juan Santiago, 69, who left Puerto Rico 15 years ago and sells flowers outside the Unidos, is a Hillary Clinton supporter who has voted in every election he could. He doesn't speak much English, but he didn't need translation help for his opinion on Trump: "No good. He's crazy."
Opposition to Trump among Puerto Ricans here isn't casual. It's pervasive. Ninety-one percent of Puerto Rican voters in Florida said they had an unfavorable view of him ― 76 percent said "very unfavorable" ― in a survey released in April by the pro-immigration reform group America's Voice and the polling firm Latino Decisions. The same poll reported that just 38 percent of Puerto Rican voters in Florida had an unfavorable view of Clinton. (Latino Decisions does polling for the Clinton campaign.)
No good. He's crazy.

Puerto Rican voter Juan Santiago, when asked his opinion of Donald Trump
Trump wasn't hugely popular with voters on the island, either ― he won about 14 percent of the vote in the Republican primary there, losing to Florida Sen. Marco Rubio. (Although Puerto Ricans can't vote for president in the general election, they are part of the parties' primary process.) Clinton received 61 percent of the vote in the Democratic primary.
More broadly, Puerto Rican voters tend to lean Democratic, as compared to the more pro-Republican Cubans who have historically dominated Florida's politics (although Cubans have recently been shifting toward the Democrats). The Puerto Rican population in Florida has increased 110 percent since 2000, a rate that could put them on track to be the largest Latino-origin group in the state, according to the Pew Research Center. And as they grow in numbers, they could change Florida politics entirely.
"It will probably take a couple of years, but once we get there, we'll be unstoppable," said Vivian Rodriguez, president of the Democratic Hispanic Caucus of Florida. "The sleeping giant will be awakened."
The goal this election cycle is to rouse it more quickly.
But there are a few hurdles first. One is that party affiliation question. Florida is a closed-primary state, so if voters don't select a party, they can't vote in the primary election for local offices, which is coming up on Aug. 30.
Another is that Puerto Rico has a very different culture around elections. There aren't as many of them, for one thing, and Election Day there is the equivalent of a national holiday. People take off work ― unlike in the United States, where one's job can get in the way of getting to the polls.
The style of campaigning is different, too. In Puerto Rico, there are caravanas, where candidates ride in mini-parades of cars with flags and music. There aren't yard signs and the candidates themselves go door-to-door, said Daliah Lugo of the community organization Puerto Rican Action Initiative and the voter outreach group Boricua Vota.
"It's not as quiet, our style, let's put it that way," Lugo said. "Our style is a little louder."
To help with the political assimilation, the advocacy group organizers are trying make things a little louder. Boricua Vota organized flash mobs with music in Kissimmee and a caravana in 2014. And there will be more caravanas this year. The Democratic Hispanic Caucus of Florida is planning to run them all over the state: in the Jacksonville, Tampa, Orlando and Miami areas. The Osceola County chapter of that caucus is holding its first Hispanic Voting Festival on Sunday in Kissimmee, where they'll distribute information on how to vote.
The more usual tools of American political organizing will also be rolled out: canvassing, phone banks and voter registration drives. Mi Familia Vota is aiming to register 33,000 people in Florida and expects 15,000 to 17,000 of those individuals will be Puerto Rican, said Esteban Garces, the organization's Florida state director.
Mi Familia Vota has about 40 people in the field statewide, working 25 to 30 hours a week. Four of them were stationed outside the Unidos Supermarket one afternoon last week in near-100-degree heat, wearing white Mi Familia Vota shirts and asking people if they had registered to vote. Most said they had already. Some said they couldn't because they weren't U.S. citizens or had a felony conviction. Others walked by without interest. But in the first two hours, organizers collected around 25 registration forms, sometimes by walking with people to their cars as they filled in the blanks.
After those first hours, two staffers moved to a neighborhood nearby with a large Puerto Rican population, many of whom were not at home or not answering a knock on the door. One man who answered said he supported Sen. Bernie Sanders (I-Vt.) but also liked Clinton. Another woman, Yolanda Zapata, 55, said she had been a Clinton fan since Clinton's days as first lady.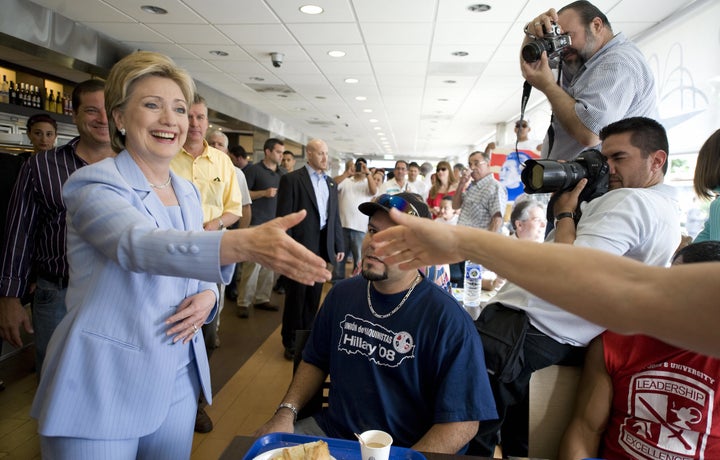 Clinton isn't resting on her reputation with Puerto Ricans though. Her campaign has been active in targeting the community in Florida, touting her long history with the island and her stance on the debt crisis there. She supported PROMESA, the bill signed into law last week that allows Puerto Rico to restructure its debt. Clinton visited the island as first lady, as well as during both of her runs for the White House: in 2008 and last year. She also represented a significant Puerto Rican community as a senator from New York.
Trump doesn't have the same history. And his position on the pre-eminent issue for the island ― what to do about its debt ― creates problems as well. He has said he opposed a bailout, but he's also argued that Puerto Rico has to restructure its debt.
The Trump campaign did not respond to a request for comment about its efforts to win over Puerto Rican voters. But most signs suggest that it's being done by the Republican Party and not the candidate himself.
The state GOP has increased its Latino outreach efforts considerably since 2013, when an autopsy of the 2012 presidential election urged the party to do better with minority voters, said state party spokesman Wadi Gaitan. Among its 75 staffers statewide, the party has Puerto Rican staffers on the ground in Central Florida, and it does events focused on Latinos, he said. The Florida GOP has also had some success with candidates who have Puerto Rican roots: In 2014, Rene Plasencia and Bob Cortes defeated Democratic incumbents for state House seats.
Meanwhile, the Libre Initiative, which is nonpartisan but associated with the conservative Koch brothers' political network, is increasing get-out-the-vote efforts. Libre has an office in Orlando where it runs phone banks and also holds naturalization and English classes. The latter are popular with Puerto Ricans ― a few people came straight from the airport for an English class last week, said David Velazquez, the group's East Coast regional director.
But for the Libre Initiative, too, Trump is an albatross. The group has distanced itself from the presumptive Republican nominee, with its executive director saying it will focus on Senate races instead, as well as policy issues like fewer regulations, limited government and immigration reform.
Whether Trump will be able to overcome the disapproval of enough Puerto Rican voters to win Florida is something that Libre executives are wondering as well.
"With some of the rhetoric coming from both sides, but especially his, people are very 'Wait a minute, what is he about?'" Velazquez said. "But I don't know. It's up to him, it's up to the candidates to run a good race on who they're reaching out to. And they better not only tailor a message that fits the constituents that they're trying to get to vote for them ― they need to tailor that message properly and speak to people in the right way."
Calling all HuffPost superfans!
Sign up for membership to become a founding member and help shape HuffPost's next chapter
BEFORE YOU GO