After the governor of Puerto Rico raised the island's official Hurricane Maria death toll to nearly 3,000 people, Puerto Ricans felt a range of emotions ― anger, frustration, grief ― but few were surprised.
"I'm outraged but not surprised," said Mariana Teresa Hernandez, a Puerto Rican mother who sent her two kids, ages 6 and 7, to live with their father in Chicago after post-storm power outages forced their school to shut down. "I knew from the start that things were really bad."
On Tuesday, Gov. Ricardo Rosselló increased the official count of those killed by the hurricane and its aftermath from 64 to 2,975 people, following the release of a new report commissioned by the governor and published by researchers at George Washington University. The revised figure would make Maria the deadliest U.S. natural disaster in over 100 years.
Rosselló's government was repeatedly criticized for sticking to the death toll of 64, even as experts argued it was likely a vast under-estimation of the actual number of fatalities caused by the September 2017 storm and its damage, including widespread monthslong power outages.
Outside reports have produced estimates of the death toll far above the former official count. A New York Times analysis in December concluded that the death toll was more than 1,000 people. A Harvard study in May estimated that over 4,600 people died in the storm's aftermath. Weeks ago, the Puerto Rican government quietly conceded that the count was likely more than 1,400 people in a report to Congress requesting more recovery funds.
For Puerto Ricans who survived the storm and have since heard harrowing stories about people who died in its aftermath, the higher official toll confirms what they already knew.
"I was not surprised that the number was that high," said 56-year-old Wanda Acosta, who lives in Rincon, a town on the island's west coast. Her close friend's mother died in the hospital following the storm, after the electricity was cut off, she said. "It was tragic."
Acosta called the previous official death count ― which the government maintained for over 11 months after the storm ― an "insult to all the families that lost a loved one."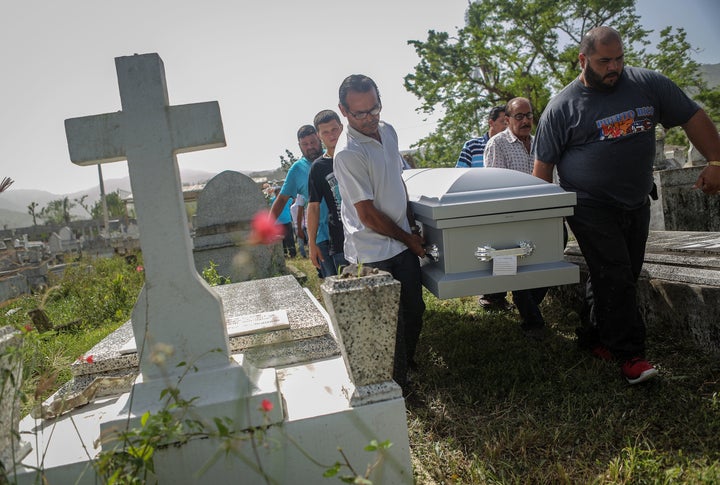 In the aftermath of the storm last year, amid an island-wide blackout, Puerto Rico's health system was shattered, leaving vulnerable patients in need of care ― and functioning medical technology.
Mariluz Núñez, a cancer patient profiled by HuffPost, had to flee the island on a humanitarian flight to Florida one month later. After her house lost power, she began overheating and losing weight. Her doctor's machinery was running on a generator and unable to complete necessary tests. Her friend, also a cancer patient, died two weeks after the hurricane.
Learning of the updated death toll this week, Núñez's 21-year-old son Jeancarlo said he was "incensed."
"I feel incensed, but not only because of the new figures of how many people died, but rather for the lack of importance that has been given to the issue," he said, noting that the government had not made updating the death toll a priority. "It's a lack of respect for those who died and their families, as well as all Puerto Ricans."
White House press secretary Sarah Huckabee Sanders said in a statement Tuesday that the Trump administration was "supportive" of Rosselló's "efforts to ensure a full accountability and transparency of fatalities" from the storm.
"I think we did a fantastic job in Puerto Rico," President Donald Trump told reporters on Wednesday, adding that the federal government had "put a lot of money and a lot of effort into Puerto Rico."
"I only hope they don't get hit again," Trump said. "Puerto Rico had a lot of difficulties before it got hit."
The Trump administration has been criticized for its slow and uneven response to Maria compared to its handling of disasters on the mainland. A March report in Politico showed that the administration had sent far more support last year to Texas after Hurricane Harvey than it did to Puerto Rico after Maria, both in terms of the speed and size of the assistance.
"It's still an unfolding humanitarian crisis and this federal government has refused to address the situation accordingly," said Samy Nemir Olivares, 27, who was born and raised in Puerto Rico and whose parents still live on the island. "It feels infuriating and frustrating to see no response when literally thousands of people, American citizens," have died.
Popular in the Community