Puerto Rico boasts 272 miles of coastline, diverse beaches (calm waters to pounding surfs), a world-renown rain forest, tasty cuisine (if you don't gain ten pounds in P.R., you haven't lived!), friendly people and a swinging nightlife. Travelers can choose between an idyllic resort getaway, and a vibrant urban/beach town experience. And when you consider the island is a U.S Commonwealth (often viewed as America's 51st state), just a few hours from the mainland, has the Caribbean's largest airport and only requires a driver's license for entry - vacationing here is both tempting and easy!
The Quiet Life In Rio Grande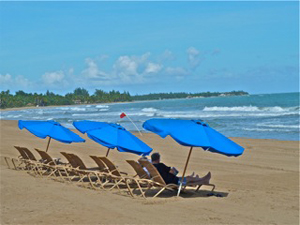 The northeast coastal town of Río Grande, 15.4 miles east of San Juan International Airport, is home to the 28,000-acre El Yunque National Forest Reserve, the oldest forest reserve (circa 1876) in the Western Hemisphere. The reserve is crowned by a sub tropical Rain Forest, which has 250 native tree species, 200 types of ferns, and petroglyphs left by the Taino aborigines. Hikers enjoy climbing to the dramatic La Mina waterfalls, where water cascades over a cliff and down a hill to a cold freshwater pool that is perfect for dunking (watch out for severe drop-offs when you walk into the water).
Speaking of water, Luquillo Beach, Puerto Rico's famous mile-long version of the Riviera, is due east of Rio Grande. Offshore reefs keep the ocean waters calm and tranquil, leaving the creamed-colored sands in pristine condition. Sun worshippers and swimmers congregate, enjoying the vibe, munching on fresh fried red snapper from concession stands and washing it down with cold Medalla beer.
Wyndham Rio Mar Beach Resort and Spa has Top-Notch Restaurants Too
Rio Grande's Wyndham Rio Mar Beach Resort and Spa sits on 500 acres along a quiet beach. 600 rooms and suites in the creamy olive-colored building face the ocean or the El Yunque National Forest. Two pools sit near the shore. Greg Norman designed the challenging River Golf Course; the easier Ocean Course designed by Tom and George Fazio has great views; Golf Pro Rafael Prestamo gives smart tips that could improve even Charles Barkley's swing. Tennis Director Scott Teller runs a friendly tennis program on the 11 Har-Tru and two hard courts. Check into the exquisitely appointed, Balinese-style 7,000-square foot Mandara Spa and try the Exotic Coconut & Milk Wrap followed by the Mandara Four Hand Massage.
The Latino/Asian fusion cuisine at Shimas restaurant includes Oriental Mojitos (sake, lychees, lime and ginger ale), Pink Lady sushi (crunchy crab, shrimp, avocado and pink soy paper), tangerine BBQ Ribs, and orange ginger chocolate cake with coconut ice cream and raspberry infusion. The signature dessert at the Italian eatery Palio is the very decadent Fragole (tower of balsamic strawberries and vanilla ice cream with chocolate vipers).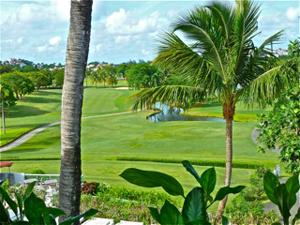 City and Sand in San Juan
San Juan, Puerto Rico's capital city, has a business district, cruise ship harbor and a brand new convention center (largest in the Caribbean). Most tourists seek lodging in the beachfront Condado neighborhood. Hotels, upscale stores (Cartier, Gucci, Salvatore Ferragamo) and restaurants (Ajili Mojili, De Parma Trattoria, Budatai) -- all within easy walking distance -- line Ashford Avenue which runs parallel to the shoreline and evokes Collins Avenue in Miami Beach or Avenue Alantica in Copacabana, Rio de Janeiro. At dawn and dusk, joggers chase the pavement (bring your Nikes). At night, pedestrians promenade up and down Ashford, as cars jam the avenue filled with mellow people headed to the bars, cafes and casinos.
The beach town experience meets urban environment when you travel on the newly completed rapid transit line, ATI (Alternativa de Transport Integrado), which runs 15 miles from San Juan to Bayamón, Puerto Rico's second largest city. The ATI ($1.50 per ride), a clean, quiet marvel of new technology, is the only subway/el system in the Caribbean and it shames New York City's dirty subways ($2.25 and rising).
Tour the Bacardi Rum Factory (Highway 888, Catano), the world's largest rum distillery, and you'll learn the rum's history and how to make Mojitos, get free drinks and enter into the customary island debate: Bacardi vs. Don Q, which is the better Puerto Rican Rum?
Check out Old San Juan: Visit the historic fortresses of Fort San Felipe del Morro (1539), El Palacio de Santa Catalina (La Fortaleza, 1540), and Fort San Crisobal (1783). Fill up on Nuevo Latino cuisine at The Parrot Club (try the Caesar salad topped with Chicarrones de Pollo). Snack on delectable mallorca, a donut-like flat bread topped with powered sugar, at the bistro-looking diner La Bombonera. Then decompress at the funky El Batey bar (101 Calle del Cristo), or live it up after midnight at the raggaetón nightclub, Club Lazer (251 Cruz Street).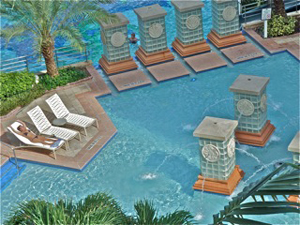 The Family Friendly San Juan Marriott Resort & Stellaris Casino
If you're traveling with family and want a homey feel, the 513 guest rooms and 12 suites at the salmon-colored San Juan Marriott Resort & Stellaris Casino beckon. The resort, in the heart of the Condado, has a 21-story tower and nine-story cabana section (cabana rooms are larger). Marble bathrooms and classic contemporary furniture give the hotel a warm ambiance.
The extensive pool area features a waterslide. The beach scene is quite popular on weekends. At night, the Marriott lobby becomes a local watering hole; a band or DJ plays salsa music and people dance fervently, like they were at their daughter's wedding. The 12,700-square foot Vegas-style casino bustles, and its slot machines haven't forgotten how to give back a quarter.
Puerto Rico offers a variety of experiences for those seeking a bit of jungle -- or pavement -- with their beach vacation.
Popular in the Community