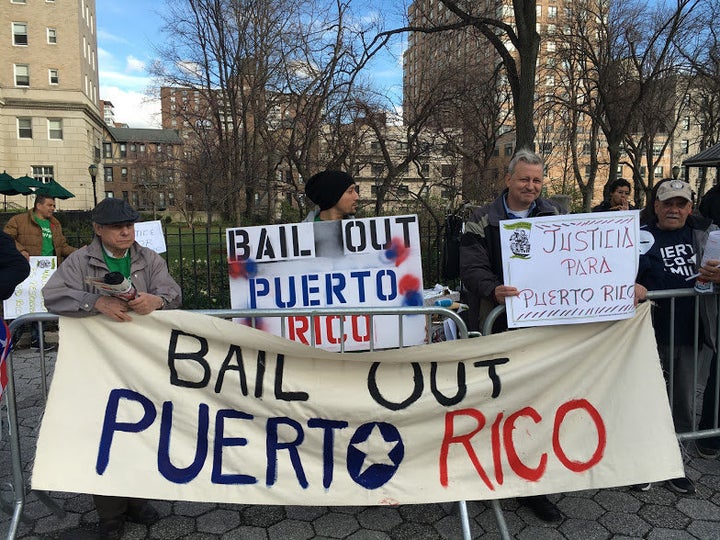 NEW YORK -- Over a dozen activists descended on a building where Federal Reserve chair Janet Yellen and her three living predecessors were speaking on Thursday to demand that the Fed bail out Puerto Rico's cash-strapped government.
The demonstrators, who are affiliated with the progressive Fed Up coalition, distributed Puerto Rican flags and empanadas as Puerto Rican music played outside Manhattan's International House, a student residence. Yellen was there for an unprecedented panel discussion alongside past Fed chairs Ben Bernanke, Paul Volcker and Alan Greenspan, who participated via videostream.
The activists were joined by Puerto Rican lawmaker Manuel Natal, who was in town to participate in a panel discussion hosted by City Council Speaker Melissa Mark-Viverito on Friday.
"They have two mechanisms under their authority to help Puerto Rico: one is to provide a bailout to Puerto Rico similar to the one they did to banks, the same banks that are now in Puerto Rico making a fortune out of our fiscal situation," Natal said. "And the second would be to buy our debt" and charge Puerto Rico interest rates that are lower than the market would offer.
The activists claim that since the Fed had the authority to buy trillions of dollars of bad debt from Wall Street banks after the 2008 financial crisis, it can do the same for the debt of Puerto Rico.
Economic observers with knowledge of the Fed's functions consider that argument dubious. Joseph Gagnon, a senior fellow at the Peterson Institute for International Economics who was an economist at the Fed Board of Governors for many years, said that the Fed is not allowed to buy municipal debt -- of the kind Puerto Rico owes -- that comes due over a period longer than six months. He also said such a purchase would be inconsistent with the Fed's dual mandate of maintaining price stability and full employment.
The Fed has "never bailed out any insolvent entity as far as I know. They always demand collateral sufficient to cover any loan," Gagnon said, as the Fed did when it provided aid to major U.S. banks.
Natal, the lawmaker, also believes some of Puerto Rico's debt has been issued unconstitutionally and can therefore be nullified.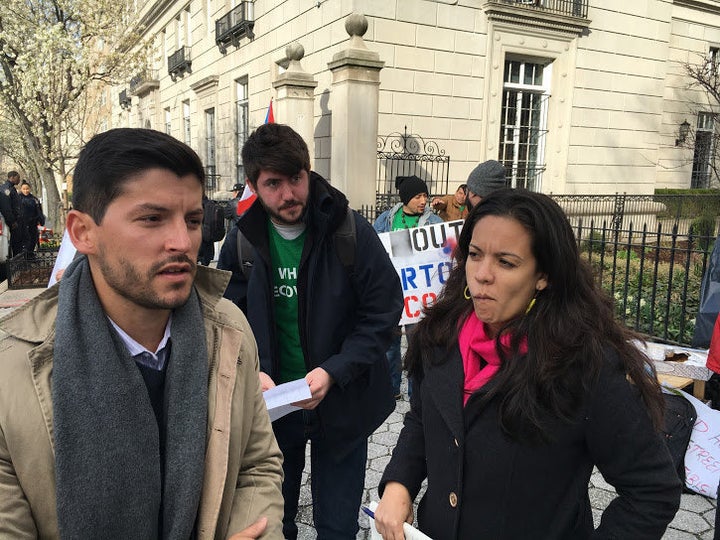 Greg Williams, a spokesman for Jubilee USA, a coalition of faith-based groups that advocates for global debt relief policies, declined to endorse a Fed bailout, but suggested the Fed could broker a deal instead.
"We support a proposal where the Fed facilitates a restructuring process," Williams said.
More important than the details of the demonstrators' demands, however, is the protest's political symbolism in the midst of a heated battle over Puerto Rico's future. The demonstration was perhaps the most colorful in a series of political moves and counter-moves by the Puerto Rican government and its sympathizers on one hand and the commonwealth's bondholders and their allies on the other. Both seek to influence a congressional rescue plan that could enable Puerto Rico to restructure its debts.
Members of Congress from both parties are negotiating changes to the draft of a relief bill released last week by the House Committee on Natural Resources, which has jurisdiction over U.S. territories.
But many in Puerto Rico, and some progressives in the mainland United States, object to the Washington-based federal oversight board the bill would introduce to audit Puerto Rico's finances and recommend reforms. Under the terms of the bill, Puerto Rico would pursue voluntary compromises with its creditors; failing that, the board could greenlight court-supervised debt restructuring that would force bondholders to accept the losses.
Those critics of the draft bill -- including lawmaker Natal -- view the board as having the trappings of American colonial rule over Puerto Rico.
"Critics of the draft House bill say it has the trappings of American colonial rule over Puerto Rico."
They also argue that Puerto Rico should not have to meet any conditions to gain access to court-supervised debt restructuring. Puerto Rico, unlike the fifty mainland states, lacks the power to grant its municipalities and public corporations federal bankruptcy protections.
Puerto Rico is taking a multi-pronged approach to secure debt relief that appears designed to increase its leverage with creditors and win terms that are as favorable as possible.
The island's governor, Alejandro Garcia Padilla, signed a bill on Wednesday that would empower him to declare a state of emergency and enact a moratorium on the island's $70 billion debt. Puerto Rico's next major debt payment -- a $422 million tranche -- comes due on May 1.
Daniel Hanson, a Puerto Rico specialist for the financial analysis firm The Height, wrote in an email newsletter that Puerto Rico's creditors will likely challenge the moratorium in court, where Puerto Rico's "playbook is not likely to be persuasive to American courts adjudicating the contracted rights of creditors."
Garcia Padilla has said the island is incapable of paying its debts in full. Puerto Rico has enacted spending cuts and tax hikes in recent years that have stifled its economy and depleted its social services, creating a situation that many people already characterize as a humanitarian crisis.
Puerto Rico also argued for the right to enforce a local bankruptcy law that went before the Supreme Court last month after lower courts had blocked the island from putting it into effect. The high court is expected to rule in the case by late June.
In Congress, Democrats sensitive to Puerto Rico's plight -- and solicitous of the votes of former island residents living on the mainland -- hope to dilute some of the proposed oversight board's sweeping powers.
The Height's Hanson, however, expects subsequent iterations of the House bill to be "more creditor-friendly," he wrote.
Meanwhile, organizations representing Puerto Rico's powerful creditors have stepped up their efforts to amend the legislation to limit the restructuring authority that the island would get. The commonwealth's bondholders include a significant number of so-called vulture funds, which are hedge funds that have bought its debt from other creditors at discounted rates on the promise of recovering the obligations' original full-dollar value.
A group called Main Street Bondholders, which claims to represent ordinary retirees, has created a web site attacking the draft House bill for granting Puerto Rico "super Chapter 9" bankruptcy protections.
Main Street Bondholders is associated with the conservative seniors group 60 Plus, which played an active role in the fight against the Affordable Care Act. The New York Times reported in December that 60 Plus is funded by a handful of large, anonymous donors and was recruited into the effort by a Republican public relations firm that also represents BlueMountain Capital, a creditor that has been outspoken against federal government help for the island.
The fight over whether to help Puerto Rico has reached the bottom rung of American discourse -- cable news ads paid for by undisclosed donors. The ad, which ran on CNN and was paid for by the Center for Individual Freedom, urges Congress to "stop the Washington bailout of Puerto Rico." The Virginia-based conservative group does not disclose its donors. It was founded in 1998 to combat government restrictions on smoking.
The CFIF did not respond to a Huffington Post question about whether any of its funders have a financial stake in the outcome of the Puerto Rico bailout.
Support HuffPost
The Stakes Have Never Been Higher
Related
Before You Go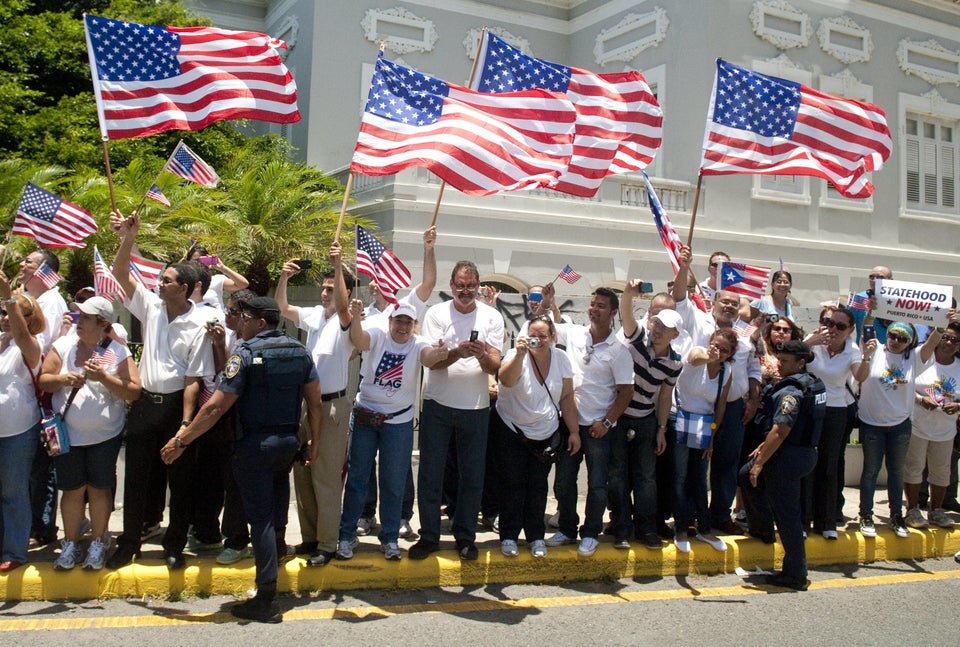 Puerto Rico's Debt Crisis
Popular in the Community