Hundreds of people were stranded in Puerto Rico's largest airport on Monday as the U.S. territory continued to grapple with power outages, water shortages and other devastating effects in the aftermath of last week's Hurricane Maria.
Luis Muñoz Marín International Airport in San Juan, which normally operates nearly 200 commercial flights a day, sustained significant damage, including to its air traffic control systems. The airport closed for several days in the immediate wake of the storm, largely due to flooding in the terminal and debris on the runway.
Some daytime commercial flights were allowed to resume over the weekend, but the vast majority of flights remained halted. According to FlightAware, 89 departures and 97 arrivals were canceled Monday alone, stranding travelers hoping to secure a spot on one of the few flights still scheduled to take off.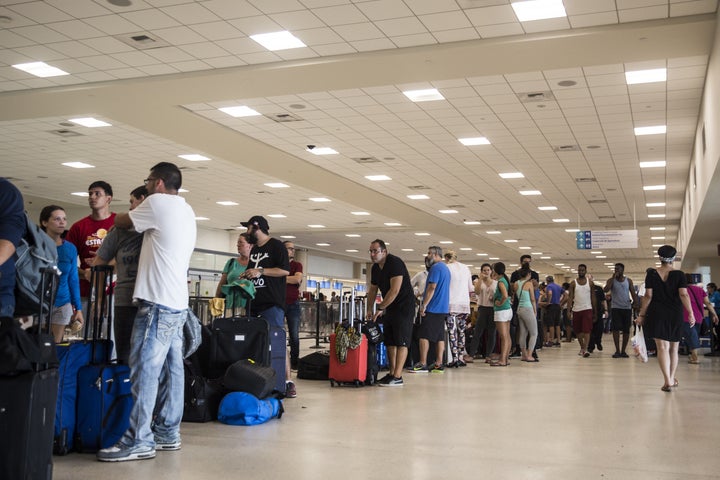 The situation for those travelers appeared increasingly dire. There's still no electricity on the island, forcing the airport to use a backup generator to power essential services — but not air conditioning, creating extremely uncomfortable conditions inside the building as temperatures topped 90 degrees on Monday. ATMs were out of service, meaning travelers couldn't access cash to purchase food, The Washington Post reported. And according to CBS News' David Begnaud, travelers weren't given any food or water. (Puerto Rico Gov. Ricardo Rossello later said he'd ordered for snacks and water to be delivered to those waiting at the airport.) Some slept in the airport multiple nights so as not to miss an available spot on an outgoing flight.
Airport officials didn't immediately return a request for comment on when operations will resume or if there are plans to improve the conditions for travelers. But on Saturday, they urged travelers to avoid the airport unless their flight remained scheduled.
Computer systems remained down on Monday, slowing down bookings and other routine processes. Airline personnel adopted stopgap measures to continue operations, such as giving travelers handwritten boarding passes.
As Puerto Rico faces a long road ahead — repair work will take months and cost tens of billions of dollars, according to some estimates — it's unclear when airlines will be able to resume normal operations.
Southwest has suspended all flights in and out of San Juan indefinitely, citing the airport's poor conditions.
American Airlines, meanwhile, operated a relief flight carrying supplies to San Juan on Monday morning, and returned to Miami with over 300 passengers. A second relief flight is scheduled to depart Miami for San Juan on Tuesday morning.
Delta Airlines also operated a relief flight Saturday, bringing supplies, generators and personnel to the island. The company said it is planning additional flights on larger aircraft to accommodate more travels. The airline also said it plans to bring food and "amenity kits" for travelers and airline employees stuck at the airport, and is instituting fare caps from the island to the continental U.S.
JetBlue scheduled nine relief flights Monday and Tuesday, and instituted caps on fares to and from the island.
Related
Before You Go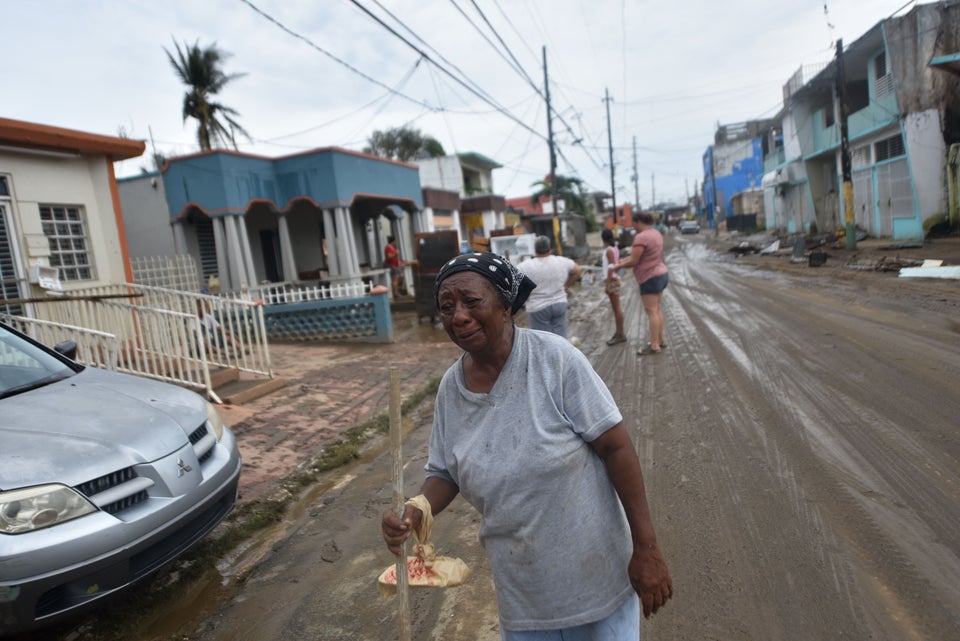 Puerto Rico Reeling After Hurricane Maria
Popular in the Community