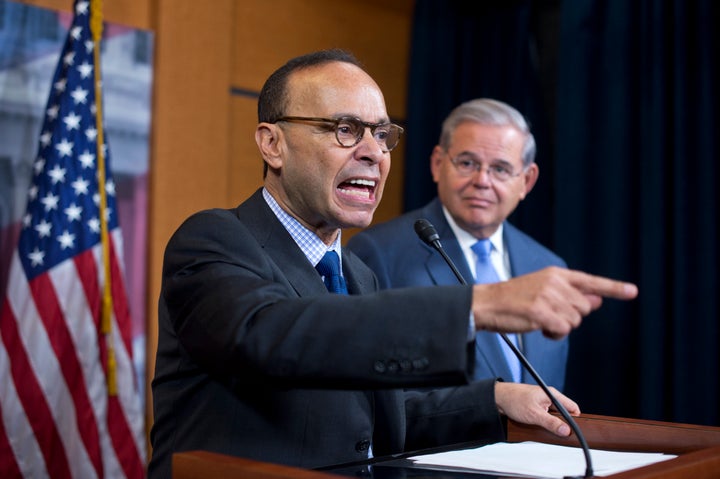 WASHINGTON -- Two Democratic lawmakers are pretty livid about legislation that is meant to give Puerto Rico -- home to 3.5 million American citizens -- the power to restructure its $70 billion in debt.
The House Natural Resources Committee passed the bill out of committee on Wednesday with strong Democratic support, but Sen. Bob Menendez (D-N.J.) and Rep. Luis Gutierrez (D-Ill.) plan to fight it.
At a press conference on Thursday, the duo listed their grievances with the bill, protesting its establishment of an oversight board on which Republicans will have a majority vote. The Republican majority on the board could result in a vote against restructuring, they say. It could also lead to cuts across Puerto Rico's health care system, schools and government agencies -- which have already been squeezed by the debt crisis. 
"Our goal here is not to stop something," Menendez said. "It is to make something better, so that if you're going to have a control board, we'd like it to be representative of the people of Puerto Rico to some degree."
Under the bill, Republican leaders would appoint four people to the seven-person board: House Speaker Paul Ryan (R-Wis.) would pick two, and Senate Majority Leader Mitch McConnell (R-Ky.) would pick the other two. Senate Minority Leader Harry Reid (D-Nev.), House Minority Leader Nancy Pelosi (D-Calif.) and President Barack Obama would get one appointment each.
The oversight board would have final say on the Puerto Rican government's proposals for handling the debt and making budgetary changes. Five of the seven board members must vote to approve a court-supervised debt restructuring process, while other budget decisions would only need four votes.
That stipulation is what worries the two lawmakers. Menendez said there is still a chance to make tweaks to the bill, although it's heading to the House floor and appears to have enough Democratic support to get across the finish line.
Our goal here is not to stop something. It is to make something better.

Sen. Bob Menendez (D-N.J.)
Menendez said he and "a series" of other senators in the Democratic caucus spoke up during their weekly lunch to tell their leaders that "these concerns need to be addressed." Democratic presidential candidate Sen. Bernie Sanders (I-Vt.) has been one of the most outspoken critics of the bill in recent weeks. 
Gutierrez initially said he would "actively work among my Democratic colleagues in the House to defeat [the bill]" but later said he wants to "improve" it, citing wariness from within the Congressional Hispanic Caucus to back the legislation as is.
But all signals from House Democratic leadership say otherwise. While she admits it's not the best bill, Pelosi says she plans to support it.
Rep. Raul Grijalva (D-Ariz.), ranking member on the House Committee on Natural Resources, also backed the bill, saying time was running out before Puerto Rico's July 1 deadline for a $2 billion debt payment.
"When measured against a perfect bill, this legislation is inadequate," Grijalva said during the committee markup. "When measured against the worsening crisis in Puerto Rico, this legislation is necessary."
But Gutierrez and Menendez don't see it that way, arguing it would be better for Congress to take a little more time. "I think there's leverage to get some of the problems with this bill improved and I don't think it should be 'either take this or face Armageddon,'" Menendez said.
REAL LIFE. REAL NEWS. REAL VOICES.
Help us tell more of the stories that matter from voices that too often remain unheard.
BEFORE YOU GO
PHOTO GALLERY
Puerto Rico's Debt Crisis