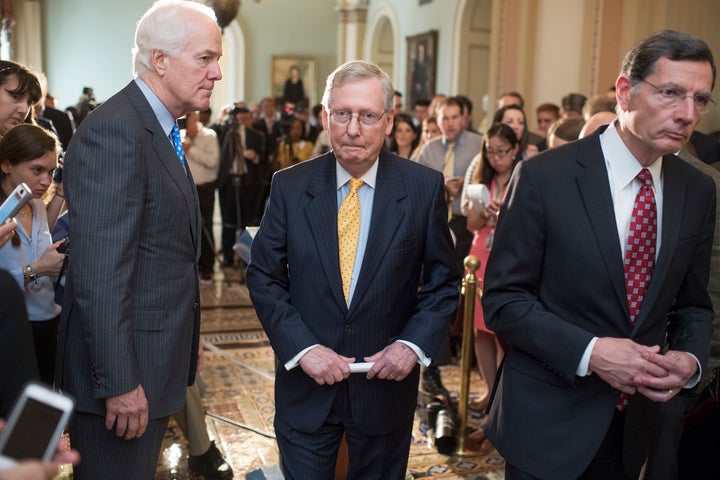 WASHINGTON -- The administration and Republican leadership are working around the clock to rally support for legislation that would help Puerto Rico restructure its billions in debt as the commonwealth barrels toward another default.
The bill will need to pass a major procedural hurdle in the upper chamber on Wednesday to move toward final passage. Senate Majority Leader Mitch McConnell (R-Ky.) is optimistic the votes will be there, and said he is "whipping it hard" to get as many of his Republican members as possible to back it. Still, it remains uncertain if enough senators from both parties will fall in line.
"I'm obviously very much on board and I think most of my members will look very favorably at it," McConnell said on Tuesday. "The administration is trying to help on the Democratic side. Failure is really not an option."
Indeed, Treasury Secretary Jack Lew trekked up to Capitol Hill Tuesday afternoon to meet with a handful of Senate Democrats -- his second meeting with them in the past week. While the administration has repeatedly urged its party to rally behind the House-passed legislation, Democrats have been slow to do so, especially in the Senate.
Senate Minority Leader Harry Reid (D-Nev.) said he would vote in favor of advancing the bill, but doesn't know where the rest of his caucus will end up falling. "There are a lot of reasons to be against it and we all understand that," Reid said.
If the Senate fails on Wednesday to advance the bill, final passage would likely be pushed back to Friday, spelling trouble for the commonwealth. On Friday, Puerto Rico will hit another debt payment deadline. This time, however, it is debt that is constitutionally protected, which leaves the island even more exposed.
After meeting with a few Democrats on the finance committee on Tuesday, at the request of Sen. Ron Wyden (D-Ore.), Lew said "there is a growing understanding of urgency" among Democrats.
"The urgency is real because on July 1, Puerto Rico has $2 billion of debt that comes due," Lew said. "They've defaulted on other debt, but they haven't defaulted on constitutional debt ... The risks of Puerto Rico descending into chaos are very real."
Constitutional debt is prioritized in the hierarchy of what the island's government needs to pay back and when, and the amount due on July 1 is primarily owned by bondholders. Lew warned that the bill needs to pass before the deadline in order to protect the commonwealth from lawsuits. The legislation contains a provision that would immediately put a temporary stay on any litigation as soon as the president signs it.
While a number of Republicans and Democrats said Tuesday they would vote in favor of the legislation, or were leaning toward a yes, it came with a good amount of reluctance.
Wyden described the bill as "barely sufficient" but said he would vote for it nonetheless.
"Here in the last few hours I think what the issue is going to be is: Exactly what would happen if this vote tanked?" Wyden said. "And it's pretty clear that there would be very substantial risks associated with it. I think that's going to be a key factor, as it was for me late last night, because I didn't make up my mind until early this morning that I was going to support it."
After the meeting with Lew, Sen. Debbie Stabenow (D-Mich.) said she would "very, very reluctantly" back the bill.
Complicating matters, Sen. Bob Menendez (D-N.J.) took over the Senate floor, vowing to talk for hours against the Puerto Rico bill. Menendez argues that the oversight board established under the bill holds too much authority over restructuring and gives Republicans too much power. Additionally, a group of coal-state senators are trying to leverage the procedural vote on Puerto Rico to win a concession from McConnell on miner pensions.
Sen. Joe Manchin (D-W.Va.) led Sens. Shelley Moore Capito (R-W.Va.), Rob Portman (R-Ohio), Sherrod Brown (D-Ohio) and Joe Donnelly (D-Ind.) as they took to the chamber floor Tuesday to push for a vote on legislation that would redirect funds from abandoned mines to the mine worker pension fund -- which is at risk of becoming insolvent.
The bipartisan group of senators want McConnell to agree to a vote at a later date for that bill in exchange for their votes to move the Puerto Rico legislation forward.
"McConnell seems to be the only one blocking the mine workers because it's taking money from the abandoned mine fund into the pension fund," Brown said.
So far, those senators haven't received any word from McConnell. Leadership expressed confidence that they will have enough votes on Puerto Rico even though a number of members in both parties remain undecided.
"I think you're going to see a bipartisan effort here of Republicans and Democrats working with the president," Senate Majority Whip John Cornyn said. "I'm confident we'll get there."
Popular in the Community