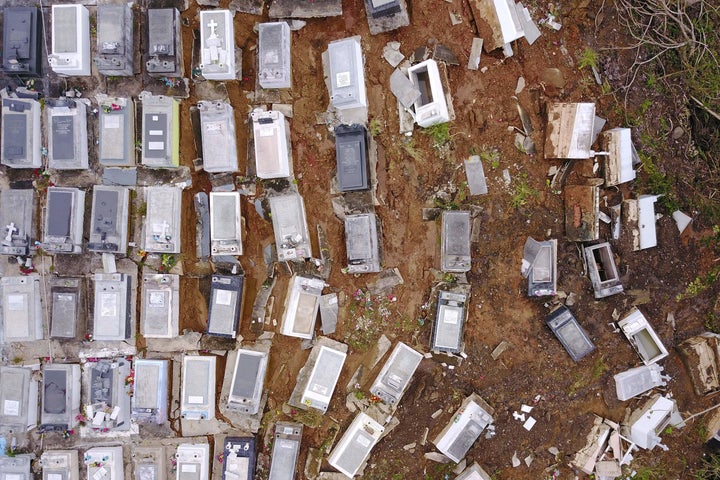 The official number of deaths in Puerto Rico related to Hurricane Maria has now risen from 36 to 39.
Héctor M. Pesquera, secretary of the Puerto Rico Department of Public Safety, described the circumstances of the three added deaths during a press conference Sunday afternoon. He said he did not expect the final death toll to reach the hundreds and declined to address media reports of dozens of unaccounted dead.
One of the three newly counted deaths occurred in Dorado, 15 miles west of San Juan. The man's decomposed body was brought to the Institute of Forensic Science in San Juan on Oct. 6. Mud and debris were found in the body's organs, and it was determined that he had died by drowning in the Plata river during the storm.
The other two deaths occurred in San Juan. One person was found under the wooden rubble of a house that had collapsed on Saturday. The other person, who died on Thursday, was thought to be an indirect victim of the storm.
"She lost her home and she was depressed," Pesquera told reporters on Sunday (HuffPost obtained an audio recording from the Department of Public Safety). "She had a strong pain in her chest. When they do the autopsy, we'll come to the conclusion of the cause of death. However, during interviews with family members, they say it happened because she was depressed and apparently she mixed a series of pills."
Karixia Ortiz, press officer for the Department of Public Safety, confirmed the circumstances of the three deaths to HuffPost on Monday. She also addressed why it's taken so long to ascertain the number of deaths since Hurricane Maria slammed into the island nearly three weeks ago.
Every death must be confirmed by the Institute of Forensic Science, which means either the bodies have to be brought to San Juan to do an autopsy or a medical examiner must be dispatched to the local municipality to verify the death, Ortiz explained.
"We try to consult all of the parties who can consult in the analysis of deaths related directly or indirectly to the hurricane," Ortiz said. "But it's a complicated process because you have to contextualize the death. Just because a person dies in the days following the hurricane doesn't mean the death is connected to the hurricane, because every day people in Puerto Rico and all over the world die, including from health complications."
"We've always tried to be very careful with the certification of deaths because we want to have all the scientific proof and verifiable evidence that if a person dies as a consequence of the hurricane, that it can be proved," she continued.
The process has been complicated by the storm damage to numerous roads and the lack of communication on the island. As of Monday, only 51 percent of the island had telecommunication service and less than 29 percent of cell towers were functioning. Ortiz said mayors have received satellite phones to help them communicate with officials in San Juan.
"We exhaust all resources when it comes to communication ― phone, satellite phone, sending runners," she said.
On Sunday, reporters asked Pesquera about media reports of unaccounted deaths in remote areas of the island. Funeral directors in two towns told BuzzFeed News that they have significantly more bodies than the government counted in a "certified" death toll. A week after the storm, journalist Omaya Sosa Pascual, working for the Center for Investigative Journalism, reported there were dozens of deaths due to lack of medical resources that had gone untallied and wrote of morgues in remote places "at capacity." She reported on Monday that most of the deaths in Puerto Rico since Hurricane Maria have likely not been examined yet.
Pesquera neither confirmed nor denied these claims on Sunday.
"There's no backlog in bodies," he said of the deaths that have been reported to the Institute of Forensic Science. "As they are coming in, they are coming out relatively quickly. What there is is bodies that are being kept because the funeral home or the family, for different reasons, can't pick them up. So we are keeping them there."
"I don't think there will be hundreds of deaths, but we will see," he added. "We can't speculate if there will be 100 or 200. I'm telling you what we've seen. We haven't seen anything that's going to skyrocket."
Still, the death toll, which had stood for days at 16, jumped to 34 last Tuesday. By Friday, it was 36. Pesquera said the big jump last week came "as a consequence of not having information for two weeks" and because bodies "could not get there" ― that is, to the Institute of Forensic Service.
When journalists pushed Pesquera about the rumors that the death toll could eventually reach the hundreds, he maintained that he could only speak to what the institute has reported.
"I hope not, I sincerely hope not," he said about the possibility of a death count in the triple digits. "But I'm not gonna speculate. I don't care what's circulating. I care about what the institute can certify. There are all kinds of rumors out there floating around. We don't deal with rumors; we deal with facts."
Calling all HuffPost superfans!
Sign up for membership to become a founding member and help shape HuffPost's next chapter