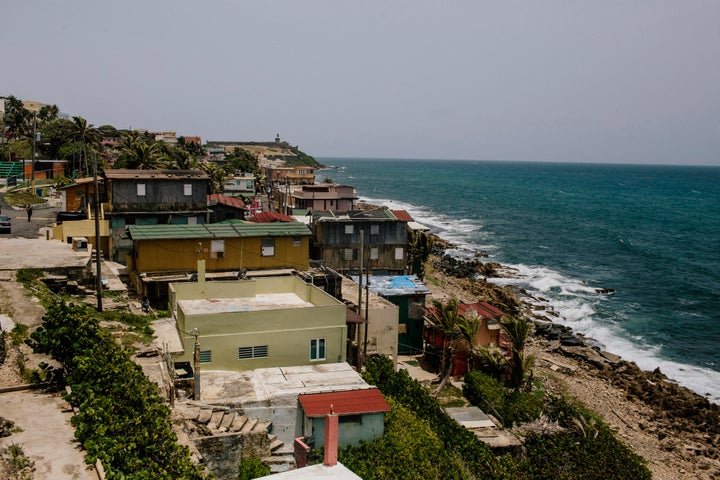 Much of Puerto Rico's debt may have been issued illegally and requires further investigation, a territory government-sponsored commission report released on Thursday finds.
The Puerto Rico Commission for the Comprehensive Audit of the Public Credit announced its initial conclusions in an interim report that functions as an application for the government funding needed to perform a full audit of the island's unpayable $70 billion debt.
The preliminary inquiry's recommendations could affect the debate in Congress over how best to assist the island, bolstering progressive criticism of bipartisan aid legislation and the fiscal oversight board it would create.
If a complete audit of the island's public debt concludes that portions of its arrears were unconstitutionally issued or involved other legally dubious accounting techniques, Puerto Rico could, in theory, claim it has the right to nullify those obligations. Such a development would greatly strengthen the U.S. territory's bargaining position with its creditors.
That is precisely why the commission's members, which include 17 Puerto Ricans from different backgrounds, are so anxious to finance a full investigation. (Although a 2015 Puerto Rican law created the commission with the goal of unearthing the financial and political origins of the island's debt burden, it currently lacks any official funding.)
"To get a search warrant you need probable cause. We have identified probable cause," said Roberto Pagan, president of the debt audit commission and head of the Puerto Rico chapter of the Service Employees International Union.
With in-kind labor contributions from economists, SEIU and other stakeholders, a "methodology and planning committee" established by the commission was nonetheless able to conduct a limited review of some of Puerto Rico's recent bond issuances for the purposes of the interim report.
To get a search warrant you need probable cause. We have identified probable cause.

Roberto Pagan, Service Employees International Union
The "probable cause" the interim report established is primarily its identification of various constitutional clauses that it suspects the two 2014 and 2015 debt offerings it examined have violated, based on its examination of two 2014 and 2015 debt offerings.
The Puerto Rican constitution bars the territory from taking on debts that make its high-priority general obligation bonds amount to the equivalent of 15 percent of internal revenues, according to the commission. It estimates that Puerto Rico is spending between 14 and 25 percent of its revenues on debt.
Among the commission's main arguments for greater funding of its work is that it would like to explore whether recent debt issuances have violated the constitution as a result.
If the commission determined that some debts were illegally issued above a limit, and Puerto Rico tried to nullify them, the island could face paralyzing litigation from bondholders.
But the interim report cites Detroit's 2013 bankruptcy as evidence that there is legal precedent in the U.S. for a dramatic write-down of debts issued above a legal limit. Judge Steven Rhodes, who presided over the Michigan city's bankruptcy, did not directly rule on the nullification of a certain class of debts that Detroit argued were issued illegally, but he said its claims had "substantial merit." Rhodes ultimately greenlit a settlement between the city and its creditors that severely limited that particular tranche of debt that creditors could recover.
"It is the experience in Detroit, combined with the observations that were observed in the finances of Puerto Rico that lead the Methodology and Planning Committee to recommend further investigation of this matter to the commission," the interim report states.
Other questions the interim report raises include whether the island and the financial professionals that enabled it to borrow for so many years adhered to the Securities and Exchange Commission's financial disclosure rules. The report notes that six weeks after Puerto Rico issued the 2014 General Obligation bond, the island announced that it would not be able to provide updated financial disclosures in a timely fashion. If lenders knew how financially precarious Puerto Rico was it would not have lent to it as freely, the report implies.
The pre-audit report was released Thursday in order to meet the commission's obligation to communicate with the public frequently and transparently, according to SEIU's Pagan.
But the commission's members also worry that the PROMESA (Puerto Rico Oversight, Management and Economic Stability) Act making its way through Congress will supercede them, Pagan said. The draft legislation appears to make no distinction between debt issued legally or illegally, he noted, and its establishment of a seven-person fiscal oversight board could render the commission's authority moot.
"If any of Puerto Rico's debt was incurred in violation of its Constitution it must be immediately set aside," Sanders said in a statement.
REAL LIFE. REAL NEWS. REAL VOICES.
Help us tell more of the stories that matter from voices that too often remain unheard.
BEFORE YOU GO
PHOTO GALLERY
Puerto Rico's Debt Crisis