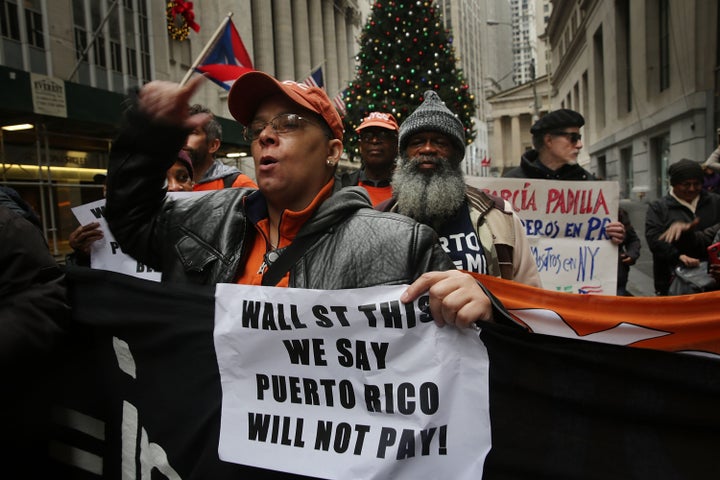 The Supreme Court on Friday agreed to hear two related cases that could help Puerto Rico restructure some of its debt under the Recovery Act, a local law that a coalition of creditors has said is preempted by federal bankruptcy law.
An appeals court in July agreed with the creditors and ruled that Chapter 9 of the Bankruptcy Code displaced the beleaguered commonwealth's own version.
But pointing to "the most acute fiscal crisis in its history," lawyers for Puerto Rico said the island "lacks access to any legal mechanism to restructure the debts of its public utilities" -- a $20 billion burden they said leaves the commonwealth in a "no man's land" beyond the reach of both federal and local bankruptcy protections.
"Anyone who has even glanced at the headlines in recent months knows that the Commonwealth is in the midst of a financial meltdown that threatens the island's future," the lawyers said in their appeal to the high court.
In the Friday order, the Supreme Court noted that Justice Samuel Alito is recused from the case, but it didn't list the reasons. Bloomberg Politics observed that Alito's latest financial disclosure form pointed to some holdings in Puerto Rico municipal bonds by either him or his wife.
That means there's a possibility this case may result in a 4-to-4 split, which would leave the lower court appellate ruling from July in place and Puerto Rico without legal recourse. Its only option would be a bid to Congress, which is considering whether to add bankruptcy protection to an omnibus spending bill, among other proposals.
This is the second dispute relating to Puerto Rico that the Supreme Court will be hearing between now and the spring.
In January, the court will hear arguments in Puerto Rico v. Sanchez Valle, a criminal case that will determine whether the commonwealth and the U.S. are "separate sovereigns" under the Constitution's double jeopardy clause.
A decision in Puerto Rico's debt-restructuring case is expected sometime before the end of June.
Popular in the Community