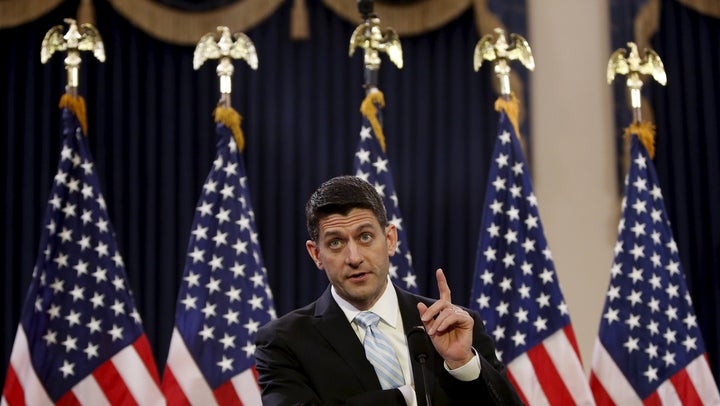 WASHINGTON -- As usual, Republicans aren't talking to Democrats and Democrats aren't talking to Republicans. This time, it's about legislation to help Puerto Rico restructure $70 billion in debt ahead of a critical May 1 deadline.
In an effort to break the ice, Republican and Democratic leadership aides met Wednesday afternoon with the House Natural Resources Committee and Treasury Department to discuss the bill, according to a senior GOP aide.
Puerto Rico -- home to more than 3 million American citizens -- could default on $422 million of debt in 11 days if Congress fails to act before leaving for recess at the end of the month. The island already defaulted on a portion of its debt in January and other smaller loans last year, but the looming May 1 payment, and another $780 million in general obligation bonds that comes due on July 1, is cause for major concern.
Puerto Rico's debt crisis has been years in the making, and analysts warn it has the potential to disrupt municipal bond markets, leaving pensions and retirement funds exposed. Should the island default, the situation could become uglier and launch a number of lawsuits between bondholders and Puerto Rican utilities. And as the financial crisis in Puerto Rico has worsened, citizens have left for the U.S. mainland in numbers not seen in 50 years -- 84,000 moved in 2014 alone, a 38 percent increase from 2010.
Congressional leaders originally agreed to act on legislation by March 31. But that didn't happen. Late last month, the House Natural Resources Committee, led by Chairman Rob Bishop (R-Utah), introduced a bill that would establish a control board to help Puerto Rico handle its finances, and, if deemed necessary, grant some restructuring powers to the commonwealth.
The initial reaction between party leaders and the White House was positive, with all sides issuing statements expressing small qualms with the legislation, but maintaining cautious optimism and an eagerness to work together.
Last week, the GOP-run Natural Resources Committee cancelled a markup on the bill -- it hasn't move since.
Both sides point at the other as the reason the legislation hasn't gone anywhere. Democrats say this is yet another example of conservatives controlling -- and derailing -- the GOP agenda. Republicans say they delayed the bill to give Democrats and the Obama administration more time to sort out specific language.
"When I called off the vote, the bill would have passed with our side alone," Bishop told HuffPost on Tuesday. "I wasn't going to make my people vote for it if the Democrats weren't ready to vote for it at the same time."
Asked what is the biggest issue blocking consideration now, Bishop told HuffPost that at this point, it's just about letting members "feel comfortable with it" and letting them see what's actually in the bill. (Republicans insist the legislation is not a bailout.) Bishop said he also needs time to combat some of the contentions outside lobbying interests have raised in opposition to the legislation.
Past that, Bishop said, negotiators are working on small issues -- things like the composition of a debt restructuring board and the majority needed for board actions.
"I think the basic outline of what we're trying to do is going to remain intact," Bishop said. "Maybe a tweak here and there."
But conservatives don't see it that way.
Rep. Raul Labrador (R-Idaho), a leader of the House Freedom Caucus and a conservative who was actually born in Puerto Rico, told HuffPost on Tuesday that tweaks weren't going to win over conservatives.
"Small changes won't get us where we need to be," Labrador said. He added that while conservatives want a limited number of changes, those changes are significant.
What those changes are exactly, Labrador won't say. Asked if he won't publicly name the issues because they are less ideological changes and more adjustments that big banks and investors want, Labrador said, "I don't get goaded into talking about stuff."
Labrador did say that Republicans should be shooting for at least 150 of the 246-member conference. "It's got to be Hastert-plus," Labrador said, referring to the informal Republican rule named after former Speaker Dennis Hastert (R-Ill.) that states bills shouldn't pass without a majority of the majority. ("I'm not that sure we should use Hastert anymore," Labrador said of the name of the rule.)
While conservatives want a few major changes, Democrats want vastly different ones before they sign off. House Minority Leader Nancy Pelosi (D-Calif.) has expressed concern over the amount of control the oversight board will have over Puerto Rico's ability to restructure, giving creditors a vote in those restructuring decisions, and whether the bill will raise the minimum wage on the island.
But one House Democratic leadership aide told HuffPost that Republicans are less concerned with the Democratic changes than with working out issues on their side -- and with the creditors who hold a large chunk of the island's debt in municipal bonds. "They aren't really talking to us at the moment," the aide said.
Another Democratic aide backed that up, saying they hadn't heard anything from Republicans since the committee adjourned last week.
"This is like a summer camp, where there's a food fight on one side and they're more concerned about the food fight than the fire raging outside the camp," said Rep. Xavier Becerra (D-Calif.), chair of the House Democratic Caucus.
Rifts in the Republican ranks are an ongoing issue for the party. House Speaker Paul Ryan (R-Wis.) entered his new post after conservatives in the caucus chased then-Speaker John Boehner (R-Ohio) out the door for not taking harder positions against the administration.
House Minority Whip Steny Hoyer (D-Md.) said on Tuesday that he believed Ryan and House Majority Leader Kevin McCarthy (R-Calif.) were working in good faith on the Puerto Rico legislation. But he warned that this may not be a leadership issue.
"They confront the same problem that John Boehner confronted," Hoyer said, adding that a "very significant" number of Republican members won't listen to their leaders.
Hoyer continued that he feared this latest Puerto Rican obstructionism was part of a pattern from Republicans, who blocked legislation on Hurricane Sandy relief, the water crisis in Flint, Michigan, and raising the minimum wage.
"I have grave concern about any attempt of Speaker Ryan to try to negotiate the nuts and bolts of this bill solely within his own caucus," said Rep. Joe Crowley of New York, the vice chairman of the Democratic Caucus.
A vote for the Puerto Rican debt restructuring is expected to be bipartisan. Bishop told HuffPost he still thinks the final product will get a majority of both Democrats and Republicans.
"I think at the end of the day, most of the Freedom Caucus will be along with it as well," Bishop said of the conservative House group. He added that he expects some to vote no, but that he has been in communication with the HFC and "they haven't said, 'Hell no.'"
As for how fast the House and Senate can move the legislation, and whether they can beat the May 1 deadline, Bishop was optimistic.
"Part of the oath of office you take when you become a senator is to be incompetent," Bishop said. "But even they recognize that this thing gets worse the longer you wait."
UPDATE: 4:20 p.m. -- After meeting with Ryan Wednesday afternoon, members of the Congressional Hispanic Caucus said little had changed. Rep. Joaquin Castro (D-Texas) told HuffPost the discussion is ongoing, with "no resolution" to Democrats' concerns with the bill in sight.
Before You Go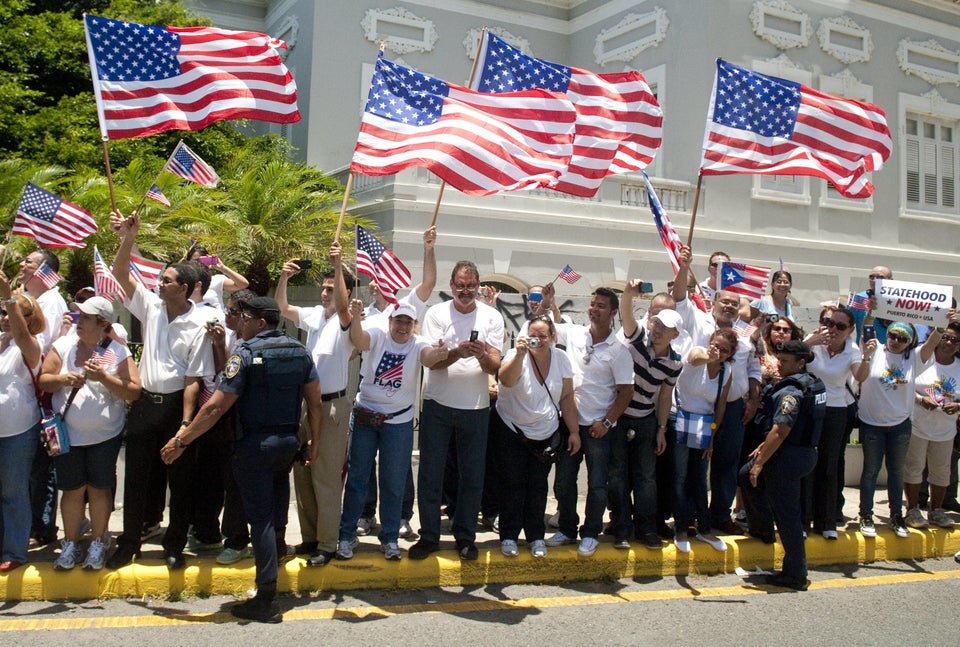 Puerto Rico's Debt Crisis
Popular in the Community