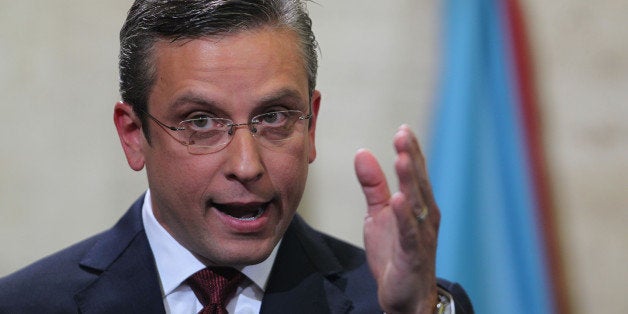 Puerto Rico Gov. Alejandro García Padilla on Monday called for sweeping economic restructuring as the government appears headed toward a default, in comments timed to coincide with the release of a report that showed the island's debt is larger than previously believed.
Taking his cue from the report, written by a group of independent economists, García Padilla offered a roadmap of broad reforms aimed at partially privatizing some government functions and lowering the cost of doing business on the island, including reducing the level the social welfare benefits provided through the federal government and exploring public-private partnerships to replace some unspecified functions currently carried out by public corporations.
The governor stopped short, however, of endorsing a reduction in the island's minimum wage, as the report recommended.
"The private sector, and not the government, should be the principal provider of social benefits," García Padilla said. "We're going to create a new entrepreneurial class."
The governor faced massive protests last month after proposing the most austere budget in recent history, including slashing one-fifth of the public university system's funds. García Padilla backed off, reformulating a new budget plan that included new revenue streams through a proposed sales tax that he said would make it possible to keep servicing the debt.
But citing Monday's report, written by former World Bank Chief Economist Anne Krueger and economists Ranjit Teja and Andrew Wolfe, García Padilla instead concluded that the debt as it stands is "unpayable." He said the debt would double in 2015 if the government continued to use high-interest bond sales to cover the costs of servicing the debt as currently structured.
"The economy is in a vicious circle where unsustainable public finances are feeding into uncertainty and low growth, which in turn is raising the fiscal deficit and the debt ratio," the report says.
García Padilla -- who spoke more than one hour later than scheduled while the live feed organized by his office played assorted public announcements -- said bondholders should share the pain being suffered by the Puerto Rican public as it struggles to make payments on a crippling $78 billion debt. That figure amounts to 100 percent of the island's gross national product.
As a U.S. commonwealth, Puerto Rico's municipalities and public corporations are prohibited from declaring bankruptcy under Chapter 9 -- a benefit allowed within all 50 U.S. states. Legislation submitted by Resident Commissioner Pedro Pierluisi, the island's non-voting representative in the U.S. Congress, would allow Puerto Rico to access Chapter 9.
But reform won't stop with renegotiating the island's debts with creditors, García Padilla said. While taking pains to highlight that the debt had been assumed primarily by administrations that preceded his, he argued that Puerto Rico needed to make painful financial and structural adjustments in order to get its financial house in order.
"It will be difficult," García Padilla said. "It will take years. But the moment to start is now."
The televised comments came one day after García Padilla said in an interview with The New York Times that Puerto Rico has no way to pay its $72 billion in debts. Puerto Rico's default would mark a historic economic collapse for the island, but may also help liberate it from what García Padilla called a "death spiral" of selling off high-interest, junk-rated bonds to raise money to cover government spending in a contracting economy with a shrinking population.
The bleak report views Puerto Rico's problems as stemming from a stagnant economy with no growth. The island's economy has contracted for most of the last decade. Though official data are not yet available, the report's authors estimate that the economy continued to shrink by at least 1 percent in the 2015 fiscal year, which ended in June.
"[T]he drivers of economic decline have been years in the making: the problems are structural, not cyclical, and as such are not going away," the report says.
Among its recommendations, the report calls for labor reform aimed at lowering workers' wages, stating that current higher wages make local enterprise uncompetitive. The report also recommends reforming the state energy company, PREPA, which the authors call "inefficient" and "overstaffed," and calls for federal reform of the Jones Act to help reduce the island's transportation costs. The Jones Act, or the Merchant Marine Act of 1920, requires that shipping to and from Puerto Rico be conducted solely by U.S. ships, excluding international vessels from docking on island docks.
Puerto Rico faces a pressing deadline on July 1, when payment on several public corporation municipal bonds and the island's general obligation bond come due, according to Reuters.
Garcia Padilla rallied locals to come together in the midst of the fiscal crisis. "In the past it was easy for government to sweep our problems under the rug. Now is the time to tackle our [financial] problems, and solve our issues once and for all."
Popular in the Community