President Donald Trump, who managed a golf club and resort on Puerto Rico before the property went bankrupt in 2015, may find the island unrecognizable when he pays a visit on Tuesday in the wake of two hurricanes.
Hurricane Irma passed to the north of Puerto Rico on Sept. 6, pummeling the island with heavy winds and rain. Two weeks later, on Sept. 20, Maria made landfall on Puerto Rico as a Category 5 hurricane ― the strongest storm to hit the island in over 80 years. Maria's 155 mph sustained winds destroyed much of the island's infrastructure, leaving more than 8,800 people still displaced as of Tuesday.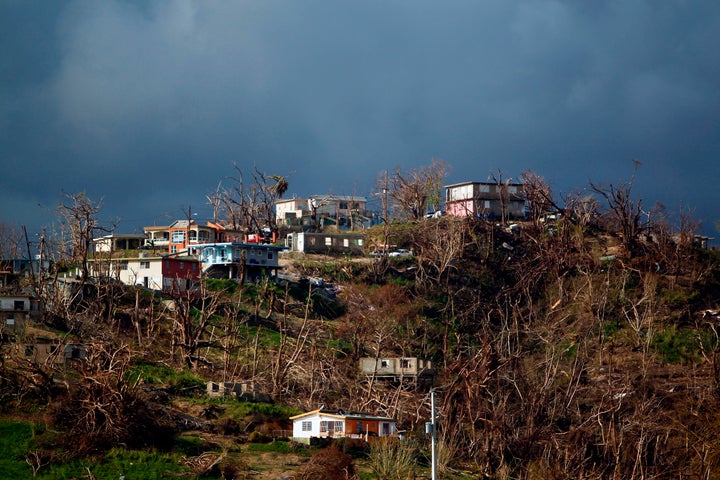 Over 5,000 National Guard members have been deployed to assist with relief efforts, yet millions of Puerto Ricans are still without electricity and struggling to secure basic necessities such as water, food and fuel.
The official death toll, which remains at 16, hasn't been updated since Wednesday. But experts said they believe that number will rise as recovery efforts continue.
More people likely died after the hurricanes struck because they haven't been able to access necessary medication or insulin, said Dr. Armando Oliver, a retinal surgeon and assistant professor at the University of Puerto Rico School of Medicine.
"I've heard stories, though nobody knows for sure if it's true or not, that in some towns that are very deep inside the island ... somebody falls down a precipice and nobody is able to reach them," Oliver told HuffPost. "They know the person is dead, but it's not until someone goes there and says, 'Hey, his pulse is zero' that we can count them as dead."
Elderly communities have been hit especially hard in some areas, said Carmen Delia Sanchez, the director the Puerto Rico's Office of the Attorney for People of Advanced Age.
Lack of access to diesel fuel and broken generators are the major problems plaguing some of the island's more than 700 nursing homes, she told HuffPost. 
"There are people in communities that are isolated and the government has not been able to reach them," Sanchez said. "I don't have the staff to visit all the nursing homes."
Communication
People in search of a cell phone signal desperately drive around the island's streets, which continue to be littered with downed trees and power lines. About 40 percent of telecommunications services and just 11.6 percent of cellular antennas have been repaired, according to a government website tracking the recovery.
Energy
Over 3.1 million Puerto Ricans ― roughly 93 percent of the island ― were still without power on Tuesday morning. Officials have said it could take up to 10 months to restore electricity to some parts of the island.
Receiving fuel remains a central priority for the U.S. territory, Gov. Ricardo Rossello said Tuesday. Nearly 74 percent of the island's gas stations are open, but logistical issues ― including impassable roadways and lack of truck drivers ― have hindered fuel and aid distribution efforts. 
Without electricity, most traffic lights aren't able to function, which has caused major traffic jams, according to Isabel Rullan, director of San Juan-based nonprofit ConPRMetidos.
Rullan, who spoke to HuffPost last week and provided an update about the situation on the ground Tuesday, said "things are starting to normalize" in some areas of the island, although other regions are still struggling greatly.
"I've heard that the middle inland mountain parts of the island are still very much hurting," Rullan said. "It's still taking a long time for them to receive the supplies."
Hospitals
Doctors have warned they don't have the resources needed to provide adequate medical assistance. Just 10 hospitals have been reattached to the electrical grid, while dozens of others continue to rely on generators. 
Rullan said she's heard "horror stories" about the state of some hospitals and nursing homes.
"I've heard hospitals are very packed," she said. "Some of their generators have broken down. ... They can't get diesel fuel for generators and medical supplies."
Agriculture
Puerto Rico's farming industry suffered a major blow after Maria wiped out some 80 percent of the island's crops. Carlos Flores Ortega, the island's secretary of agriculture, estimated Maria caused a roughly $780 million loss in agricultural yields.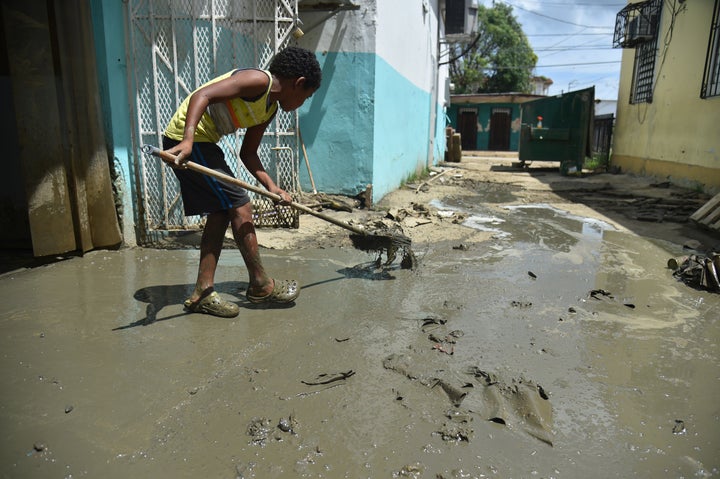 All eyes are on Trump as he meets with Puerto Rican officials, including San Juan Mayor Carmen Yulín Cruz, who has been a vocal critic of the federal government's response to the island's lingering humanitarian crisis.
On Friday, Cruz slammed Elaine Duke, acting secretary of homeland security, over her enthusiastic praise of the federal government's "amazing" response to the disaster. The mayor pleaded with Trump to step up the aid and recovery efforts. 
Trump responded the next day on Twitter by accusing Democrats of telling Cruz to "be nasty" to the president. He said Cruz had demonstrated "poor leadership" and claimed Puerto Rican "workers" just wanted "everything to be done for them."
At "a local level, they have to give us more help," Trump told reporters Tuesday.
But Rullan disputed Trump's claims that the Puerto Rican community hasn't stepped up enough.
"Everyone is desperate to help," Rullan said. "To say that locals are not working and that they are just waiting for help to come is very incorrect and misinformed."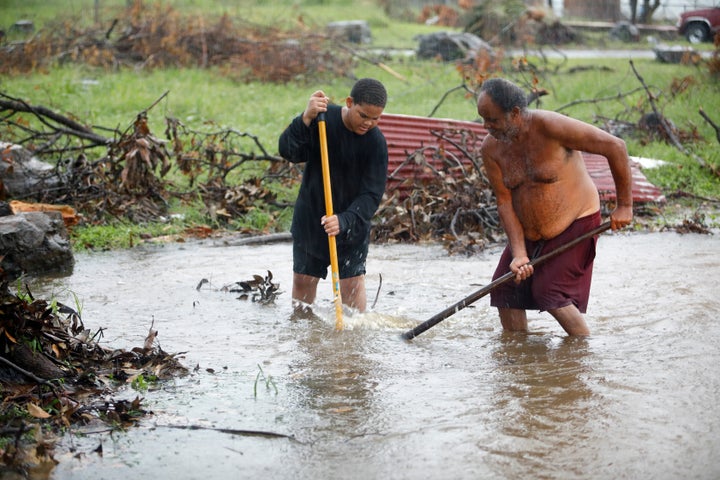 U.S. Virgin Islands
Trump was initially considering a visit to the U.S. Virgin Islands as well, but decided instead to meet with USVI Gov. Kenneth Mapp in San Juan.
The islands, which include St. Thomas, St. Croix and St. John and constitute a U.S. territory like Puerto Rico, were also battered by hurricanes Irma and Maria. Most of the islands, which lie to the east of Puerto Rico, remain without power.
Razed homes and businesses are still surrounded by broken glass and downed trees, said DaraMonifah Cooper, a 38-year-old radio station manager at the University of the Virgin Islands based in St. Thomas. Cell phone and internet service was just starting to return to some areas of St. Thomas on Tuesday ― weeks after Irma barreled by to the north.
"It still looks like a mini Hiroshima," Cooper told HuffPost. "I've driven around the island just once since both storms and it's unrecognizable. It's devastating."
The wreckage is even worse to the south on St. Croix, where almost all communication remains down, Cooper said. She has only been able to speak to her son, a college student at the university's St. Croix campus, twice since Maria hit.
"Getting things between the islands is challenging," she said. "On St. Thomas, most people have been able to find their family members, but on St. Croix ... some people are still looking for family members."
The military has disbursed water and food, but it "isn't enough," Cooper said. Many Virgin Islands residents worry that other Americans will forget about their plight as time goes on.
"We're not a state, we can't vote for president, but we're definitely all American here," Cooper said. "People are trying their best to keep their spirits up. ... People are speaking about a new normal, but it won't be any time soon."
This article has been updated with more information about the death toll.
Carolina Moreno contributed reporting.
REAL LIFE. REAL NEWS. REAL VOICES.
Help us tell more of the stories that matter from voices that too often remain unheard.
BEFORE YOU GO
PHOTO GALLERY
Hurricane Maria Devastation In Puerto Rico