Puerto Rico Gov. Alejandro García Padilla finally admitted defeat on Sunday, telling The New York Times that the island could not pay its massive $72 billion debt. Instead of taking on another round of high-interest borrowing to delay the inevitable default, he said it's time for Puerto Rico's creditors to "share the sacrifices" that the island's residents have already had to bear.
In light of that major development, here are five key reasons why every American should care about what's going on in Puerto Rico. An earlier version of this article was published in May.
1. All Puerto Ricans are Americans, really.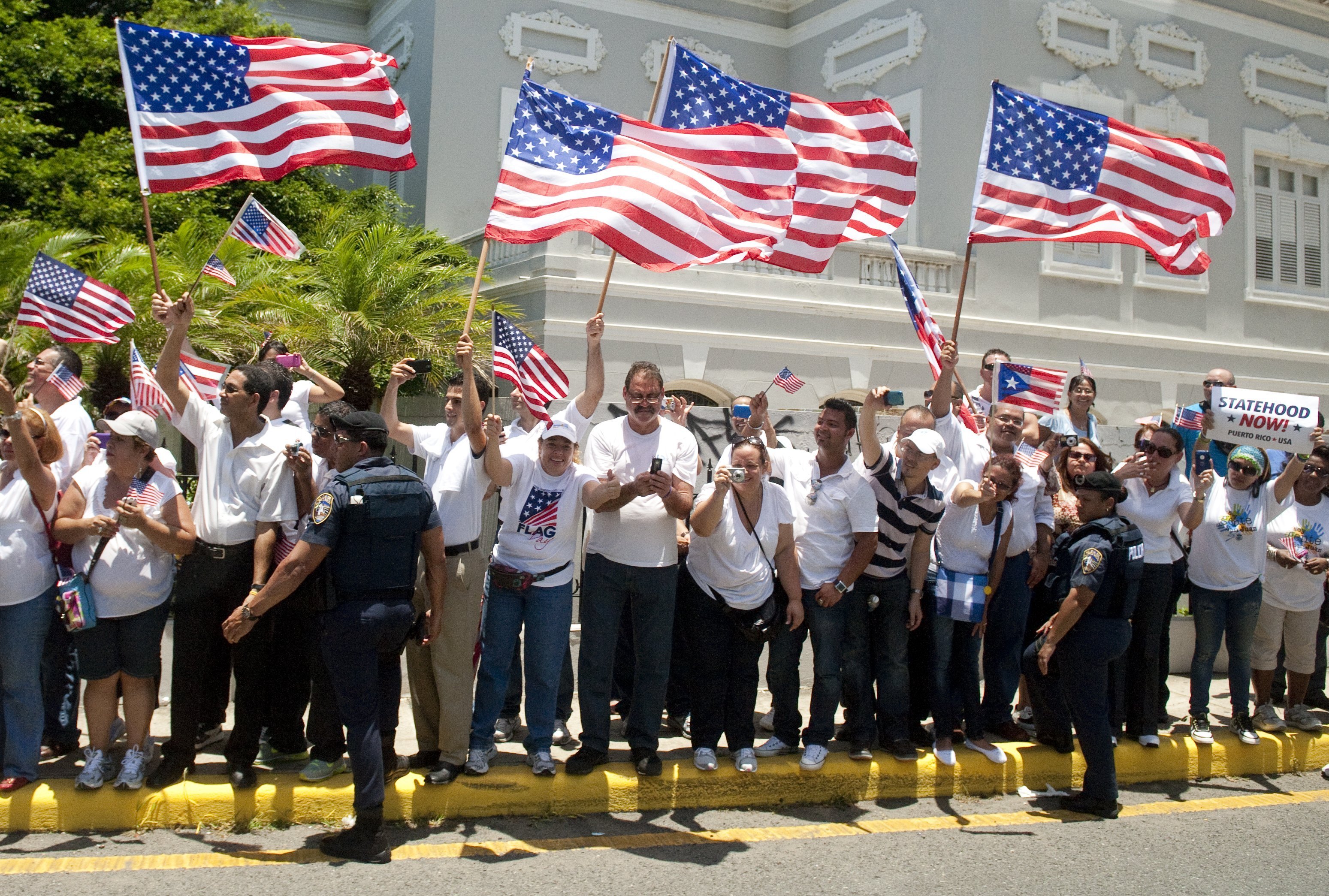 People wave flags as President Barack Obama's motorcade drives past during a visit to San Juan, Puerto Rico, on June 14, 2011. (Photo: Saul Loeb/AFP/Getty Images)
Like many of their fellow Americans, Puerto Ricans have been vocal in their opposition to balancing budgets on the backs of the poor and middle classes. Earlier this year, throngs of students hit the streets of San Juan to protest García Padilla's proposal to cut some $166 million from the island's public university system -- roughly one-fifth of the system's total budget. The drop in education funding was among the most controversial in a series of deep cuts to Puerto Rico's budget and emblematic of the extreme austerity measures pushed to handle the spiraling debt crisis.
2. Congress could easily address this situation, but hasn't.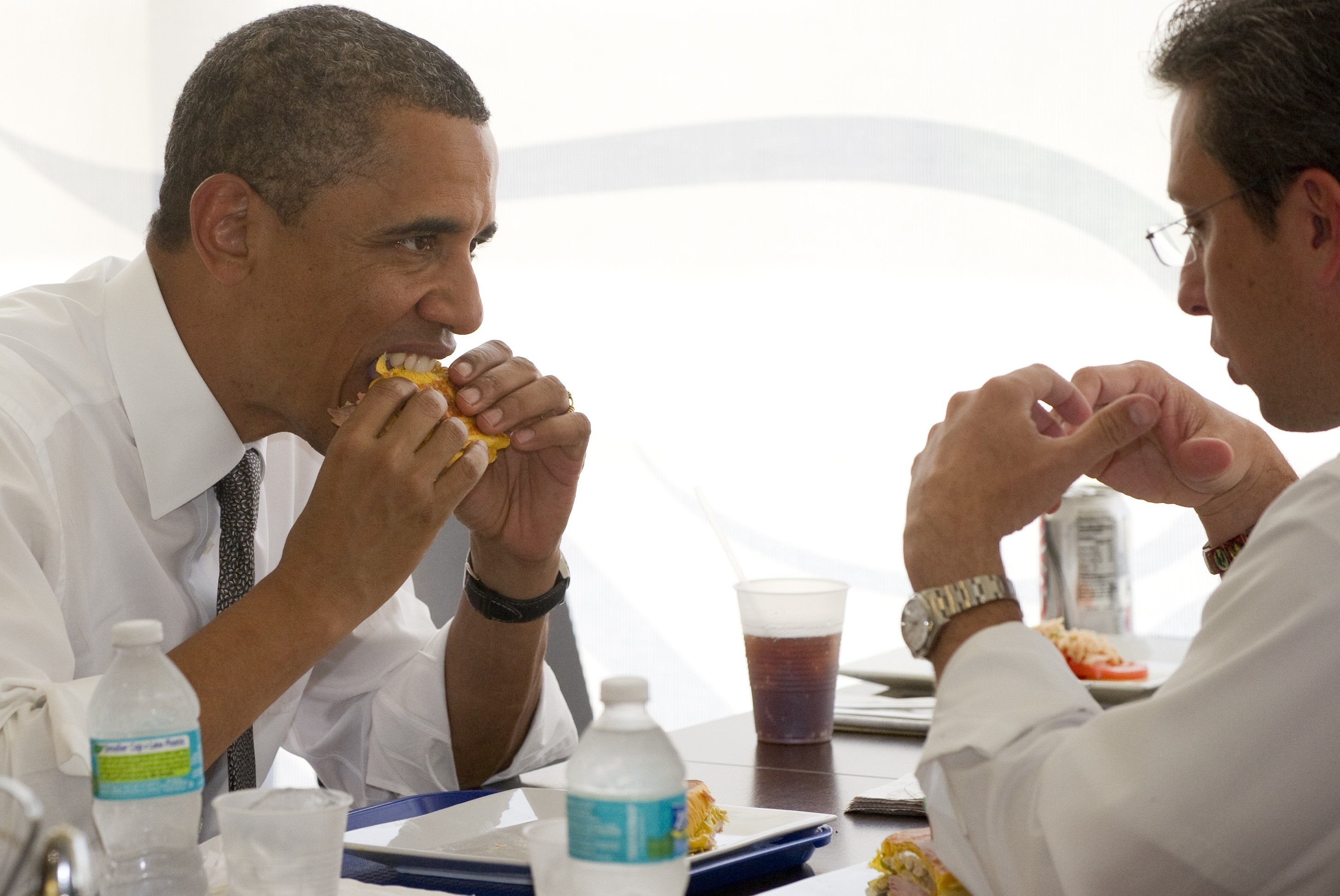 President Obama eats a "medianoche" sandwich with Alejandro García Padilla, the future governor, at Kasalta Bakery in San Juan on June 14, 2011. (Photo: Saul Loeb/AFP/Getty Images)
Legislation to help Puerto Rico get out from under its debt burden has been proposed in Congress by Resident Commissioner Pedro Pierluisi, the island's non-voting representative. The Puerto Rico Chapter 9 Uniformity Act would allow the island's municipalities and public corporations to declare bankruptcy and restructure their debts under Chapter 9 -- something that the cities and towns of all 50 states already can do. But many members of Congress oppose the move as a bailout, even though it would not cost the federal government.
Absent an act of Congress, the Federal Reserve is prohibited from lending Puerto Rico money. U.S. Treasury officials and the White House have publicly ruled out aid packages to save the island's government from default, instead advising Puerto Rican officials to just keep searching for "credible" financing plans.
On Monday, the White House reiterated its anti-bailout position, although it did urge Congress to explore extending financial relief to the island by extending Chapter 9.
3. Americans on the mainland hold Puerto Rico's debt.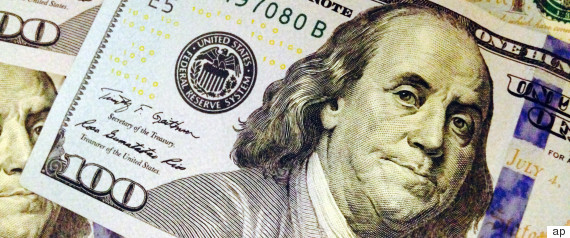 Some of the biggest stakeholders in Puerto Rico's financial crisis can be found on the U.S. mainland.
The island's municipal bonds have been widely traded in U.S. markets due to their triple tax-exempt status -- exempt from federal, state and local taxes, they've been an attractive bet for long-term investors. Despite the growing economic instability and the rumblings of a potential default, investment banks and hedge funds have continued to view Puerto Rico that way.
Last year, the island sold some $3.5 billion in municipal bonds even though they were given junk status -- the largest junk-rated municipal offering in history, according to Bloomberg. And earlier this year, Goldman Sachs' asset management division boosted its stake in Puerto Rico's government-run power company, PREPA, from $351 million to $1.3 billion.
4. Puerto Rico matters for 2016. Just ask Jeb Bush.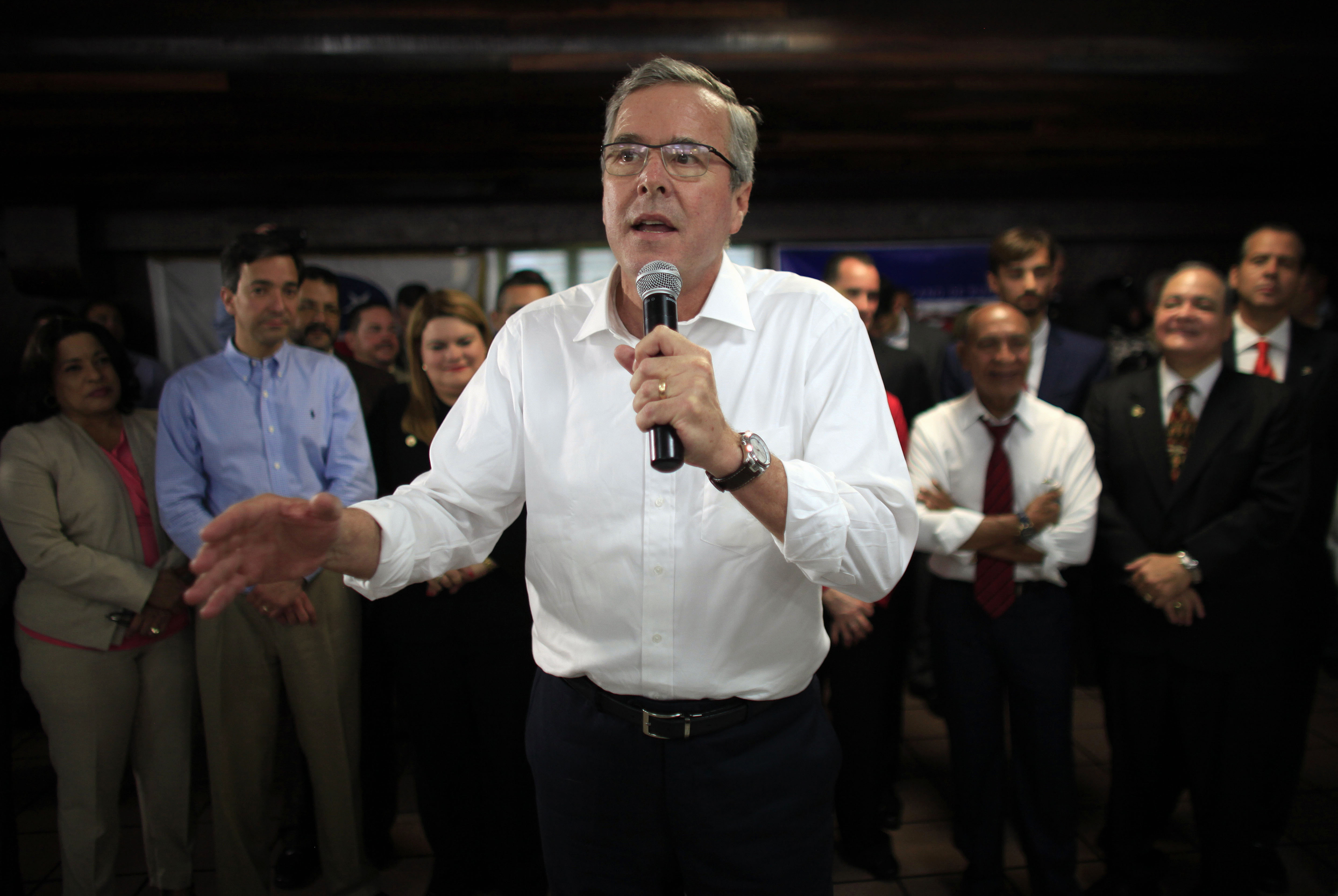 Former Florida Gov. Jeb Bush speaks during a town hall meeting with Puerto Rico's Republican Party in Bayamon on April 28, 2015. (AP Photo/Ricardo Arduengo)
Visiting Puerto Rico is widely viewed as a way to shore up support among the mainland's increasingly powerful Latino vote. While island residents can't vote for president, nearly 5 million Puerto Rican-born and -descended people live in one of the 50 states, and they enjoy the right to vote. An increasing number of Puerto Ricans are concentrated in the swing state of Florida.
So it's no surprise that former Florida Gov. Jeb Bush (R) visited the island earlier this year on a fundraising trip, during which he openly endorsed giving Puerto Rico access to bankruptcy protections. While in South Carolina on Monday, Bush again spoke favorably about allowing Puerto Rican municipalities and public corporations to declare bankruptcy, though he also raised conditions.
"I think if Puerto Rico can make a compelling case that they're prepared to alter the social contract with their extraordinarily large number of state workers and in return for allowing for a reduction, you know, dealing with the debt load that's unsustainable, where they can start growing economically again -- they'd have to do all three of those things at once -- then giving them that flexibility would be important," Bush told reporters. "That's why I've suggested it about a month ago. I think Puerto Rico has a responsibility now to come up with a plan that makes it serious, a serious plan that people could look at."
Democratic presidential hopeful Hillary Clinton also has plans to visit the island this year, according to Puerto Rican daily El Nuevo Día.
5. What's happening in Puerto Rico reflects the wider evisceration of the American middle class.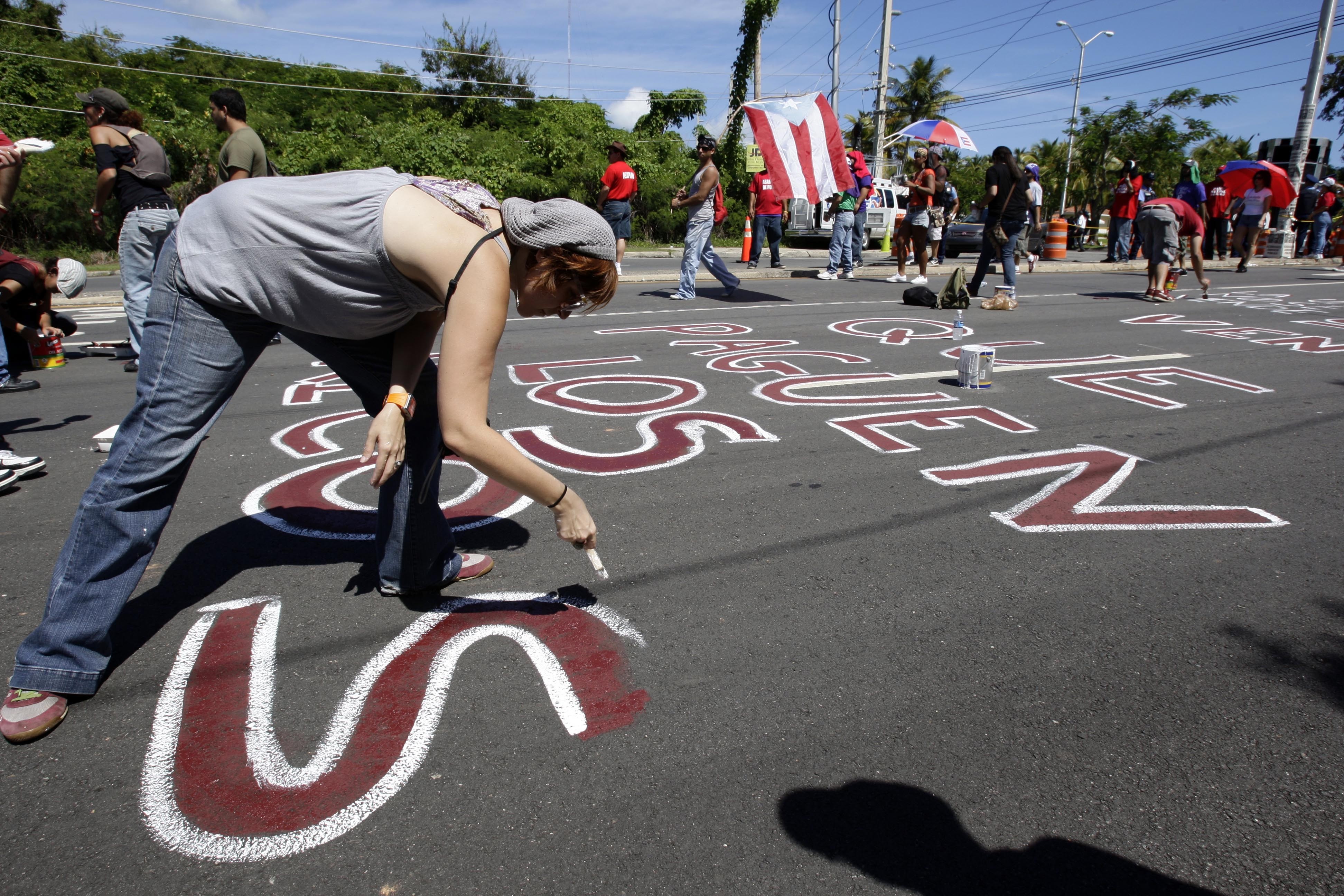 A demonstrator paints a sign on the street that reads in Spanish, "Let the rich pay," during a protest outside the hotel where former Gov. Luis Fortuno meets with foreign investors in Fajardo, eastern Puerto Rico, on Oct. 22, 2009. (AP Photo/Andres Leighton)
And if certain mainland politicians have their way, Puerto Rico's plight might grow even more familiar. In the past, conservatives on the national stage have touted the island's push toward austerity as a model for making small government work.
CORRECTION: An earlier version of this story misstated the status of Puerto Rico's municipal bonds. They are triple tax-exempt in the U.S. -- that is, exempt from federal, state and local taxes.
REAL LIFE. REAL NEWS. REAL VOICES.
Help us tell more of the stories that matter from voices that too often remain unheard.