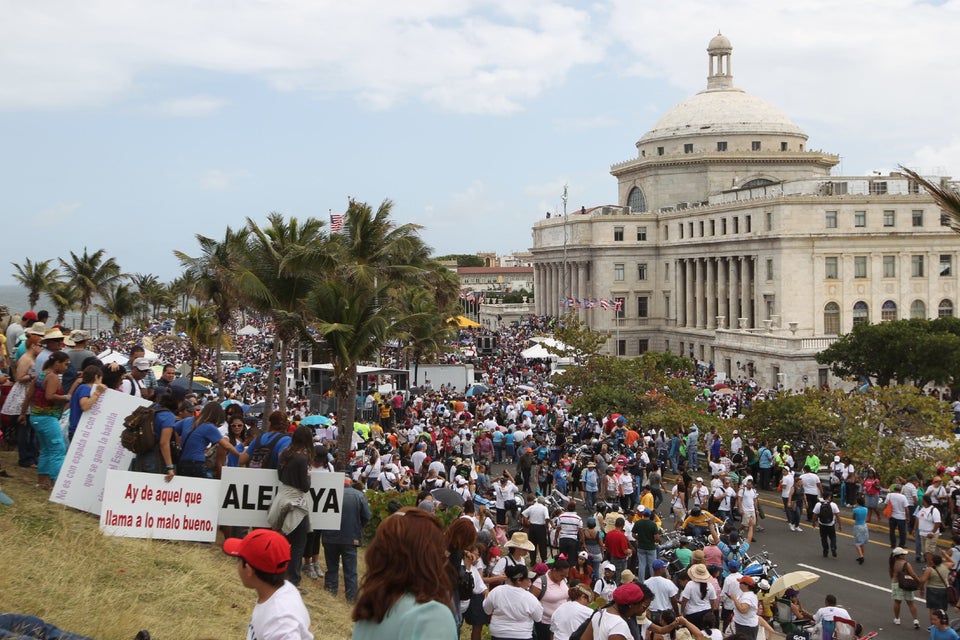 "Puerto Rico Stands Up" Pro-Family March
Cesar Vazquez Muñiz, spokesman of Puerto Rico for the Family, the organization behind the activity, explained their purpose was to protect marriage and family values that would later affect future generations.
"We are concerned that laws will be created to discriminate against the church... We are concerned that public education will be used to change our children, presenting them with behaviors their parents don't think are correct," said Vazquez in an interview with El Vocero. "This demonstration tells the government that there are things that they cannot touch and those are marriage and family."
Although its presence wasn't as strong, a counter protest was also held by religious leaders and followers near the area in support of gay rights. The group repudiated the expressions made by the religious movement and demanded measures to promote equality.
"Today was a day filled with hatred and intolerance against the LGBT community. Thousands went to the Capitol, deceived by their leaders, supposedly to 'defend the family', but that was the least of what they did," he said on Monday on his Facebook account. "You don't defend a family by denying rights to its most vulnerable members, attacking the dignity of any human being with hate, discrimination, intolerance and exclusion."
Meanwhile, at a press conference, the new governor of the island Alejandro García Padilla said he will keep defending the rights of all communities, without exception or discrimination by sexual orientation, yet he reaffirmed his position not supporting gay marriage.
"I have met with both sides of the leadership. As governor I react to reason, not pressure. My government is a government of inclusion, we all live in this country, we are all responsible for a better country," said Governor Alejandro García Padilla to Univision.
Popular in the Community