Velez is a professor at the University of Puerto Rico, where the institution's health insurance covers the partners of LGBTQ employees and where she can safely display pictures of her nontraditional family on her desk. And, beyond of the university's progressive campus, the island has anti-discrimination laws that provide her and other gay Puerto Ricans recourse against harassment and hate crimes.
Alicia Menendez led a HuffPost Live conversation on Puerto Rico's cultural clash featuring Dr. Velez, along with Pedro Julio Serrano, a prominent Puerto Rican activist, Angel Toledo-López, a professor at the Sistema Universitario Ana G. Méndez, and Senator Ramon Luis Nieves.
Religious influence extends beyond the island's general population to legislators fearful of losing votes, says Toledo-López. "There is of course a very active religious population in Puerto Rico and their first step is going to be to let [legislators] know that they're going to be very active in their churches, letting the members of their churches know that they should vote against these senators or representatives."
"We cannot live in fear," says Pedro Julio Serrano, a spokesperson for the National Gay & Lesbian Task Force. "As a person who twice has had to deal with attempts against [my] life, I'm going back to Puerto Rico next year to live in my country," says Serrano who travels back and forth between San Juan and New York City. "We need to rescue our Puerto Rico and say that this is our country too."
Before You Go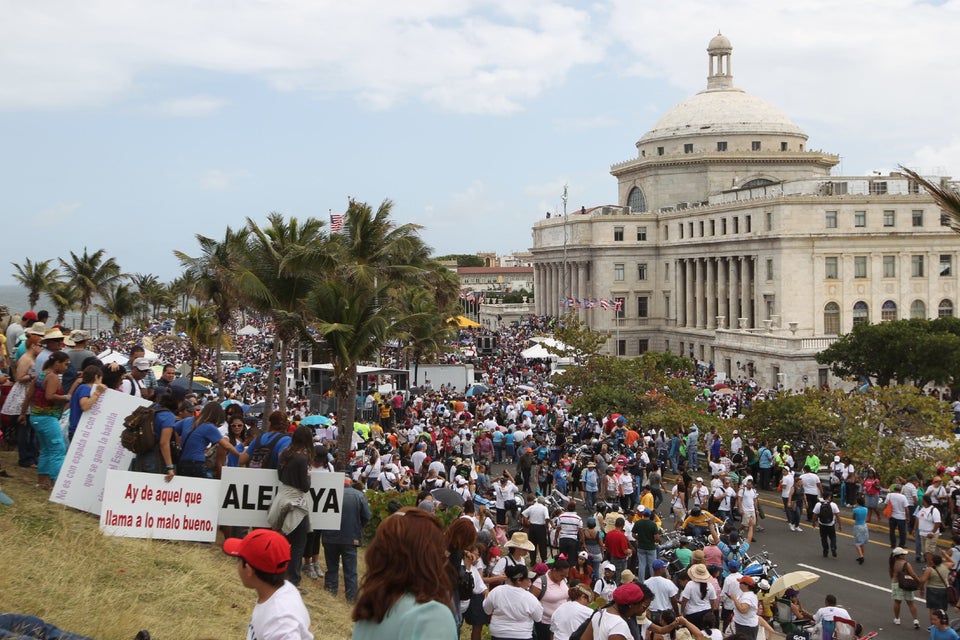 "Puerto Rico Stands Up" Pro-Family March
Popular in the Community