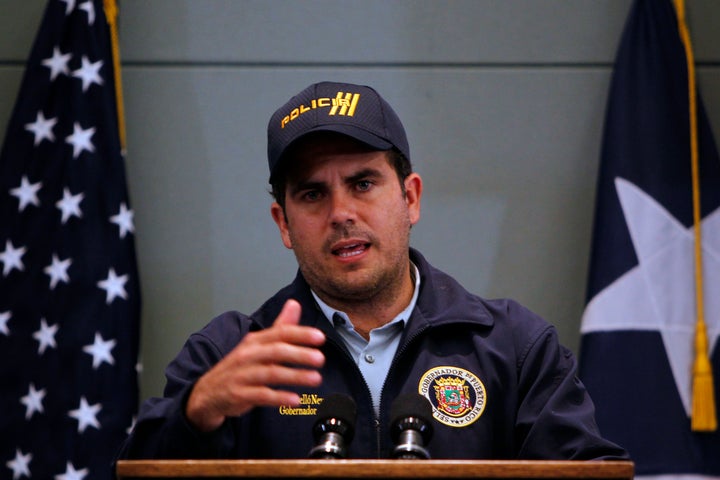 Puerto Rico Gov. Ricardo Rosselló has asked Congress for more than $4 billion in federal relief aid following Hurricane Maria, in a letter dated on Saturday. 
"Puerto Rico has suffered an unprecedented catastrophe that has largely destroyed our physical infrastructure, including our electrical and telecommunications systems, impaired our public health facilities, and gravely limited the ability of our central and municipal governments to meet basic human needs," Rosselló wrote.
He said that destruction caused by the hurricane nearly three weeks ago "led to independent damage assessments in the range of $95 billion" on the island where about 3.4 million people live. 
"Financial damages of this magnitude will subject Puerto Rico's central government, its instrumentalities, and municipal governments to unsustainable cash shortfalls," Rosselló said. "As a result, in addition to the immediate humanitarian crisis, Puerto Rico is on the brink of a massive liquidity crisis that will intensify in the immediate future."
Rosselló thanked the federal government for the assistance it's provided so far, but stressed that without "extraordinary measures to address the halt in economic activity in Puerto Rico, the humanitarian crisis will deepen." He also warned that the demise of the island's economy would lead to a mass exodus to the U.S. mainland.
Rosselló on Monday also told CBS News correspondent David Begnaud that he wants the federal government to, once again, waive the Jones Act. The 1920 act imposes steep shipping costs on the U.S. territory and was waived for 10 days so the island could import aid at a lower cost. The waiver ended on Sunday night and Department of Homeland Security spokesman David Lapan told HuffPost "it is not being extended at this time."
"I think we should have all the tools that we have at hand," Rosselló told Begnaud in an Instagram video on Monday night. "In this emergency phase when we are looking to  sustain and save lives  — we should have all the assets at hand."
BEFORE YOU GO
PHOTO GALLERY
Puerto Rico Reeling After Hurricane Maria