Puerto Rico plunged into darkness last week after the second major hurricane in a month crippled its aging, debt-laden electric utility. The island is projected to be without power for six months or more, as people swelter and lifesaving medical equipment saps generators in what House Speaker Paul Ryan declared "a humanitarian crisis" on Tuesday.
But it's not just old, storm-vulnerable transmission lines that need to be replaced.
Forty-seven percent of the power the troubled Puerto Rico Electric Power Authority generates is from burning oil ― one of the most polluting and least efficient sources of electricity. An additional 51 percent of Puerto Rico's energy blend comes from a mix of coal and natural gas. Just 2 percent was drawn from renewable sources last year.
The utility's dependence on imported fossil fuels has devoured funding that could have been spent on upgrading the island's grid and building cleaner infrastructure, a sign of years of mismanagement and incompetence. But it also stems from a colonial history in which Puerto Rico's development was put in the hands of a few mainland corporate interests seeking tax breaks.
Now the debt-strangled island finds itself in the grip of Wall Street creditors who hold much of the $74 billion in municipal debt racked up over the past few decades. And under the Trump administration, which denies climate change is a concern and has dismissed the need for clean energy, Puerto Rico's hopes for a greener grid after power is restored seem dim.
PREPA declared bankruptcy in July, but its problems began years earlier. Puerto Rico suffers four to five times more blackouts than an average U.S. state, despite paying the country's second-highest electricity rates after Hawaii, at nearly 20 cents per kilowatt hour. The utility operates in what Slate called a "permanent state of triage."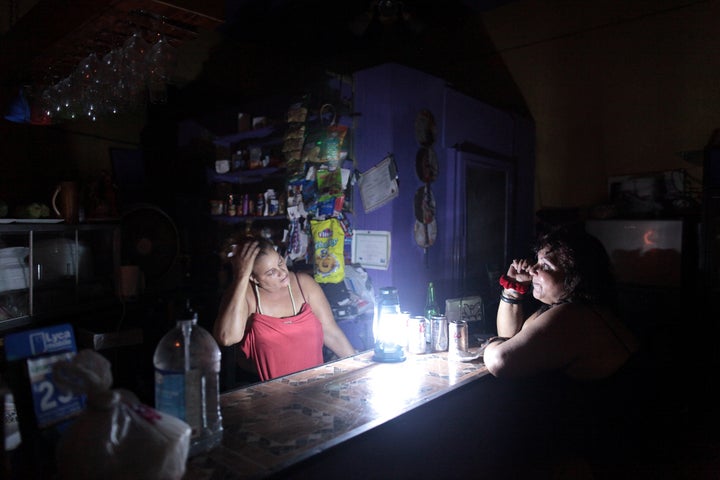 "The fact is that safety and reliability must be PREPA's first priorities, above all other considerations," a searing report commissioned by the Puerto Rican government concluded last year. "Energy efficiency and renewable energy take time to implement; PREPA's system is in a desperate state today."
The report described the utility's budget as "opaque and distortionary," made worse by "poor record keeping." The generous $134 million allocated for discretionary spending ― nearly one-third of the annual budget ― suggested a slush fund. Alleged corruption only made operating costs higher. A class-action lawsuit filed in 2015 accused PREPA of more than $1 billion in fraud, claiming it had taken kickbacks from oil suppliers including Brazil's Petrobras and Royal Dutch Shell.
Yet the administration at the utility "answered to no one" and remained "almost impervious to reform," according to Judith Enck, a former Environmental Protection Agency administrator who oversaw the region that includes Puerto Rico from 2009 to 2017.
"They just really embraced the status quo, which meant fossil fuels," Enck told HuffPost. "It was a public utility that was stuck in the 1950s."
The hurricanes that rocked Puerto Rico ― part of a pattern of storms that experts say is intensifying with climate change ― lay bare the tragic paradox of the effects felt on a warming planet. The tiny island of just over 3.4 million is likely to suffer some of the worst symptoms of rising seas and temperatures, despite benefiting only marginally from the rapid industrialization scientists blame for pumping climate-changing gases into the atmosphere. Poor stewardship at the hands of local officials likely left PREPA ill-prepared for this new reality, but the utility's failure to adapt highlights the flaws in a U.S. system designed to treat colonial possessions as secondary concerns.
Puerto Rico's status as a territory puts its people at a disadvantage compared with other U.S. citizens. Federal spending is usually provided in the form of block grants, limiting the amount of money the island can request. In 1980, the Supreme Court set the legal framework for maintaining Puerto Rico as a second-tier priority for the federal government when it ruled that treating territories differently from states did not violate the Constitution's equal protection clause.
"That opinion has become the basis for everything, including the justification for block grants," Charles Venator-Santiago, a Puerto Rican politics expert and professor at the University of Connecticut, told HuffPost. "Infrastructure development on the island has only gone up to a point because it's been blocked or money has run out. It's capped."
Like most colonial possessions, Puerto Rico's development has historically served its imperial master. Under the 1920 Merchant Marine Act, also known as the Jones Act, non-U.S. ships are barred from docking in Puerto Rico, meaning the island depends on shipments from the U.S. mainland rather than its Caribbean neighbors. (After pressure from Sen. John McCain (R-Ariz.), the Trump administration on Thursday approved a request to lift the rule to allow more aid into the storm-ravaged island).
"It's a colonial imposition saying, 'No, you can only trade with the United States,'" Catalina de Onís, a professor of civic communication at Willamette University in Oregon, told HuffPost. "It's a way of helping corporations make more money off Puerto Rico."
Even the federal government's most open-handed spending spree benefited the mainland. Public spending spurred after the Great Depression by the New Deal sent wages surging in most states. But in Puerto Rico, 79 cents out of each dollar paid in wages by the agencies established by the New Deal went to importing food and clothing, and "were thus returned to the United States within the third commercial turnover," according to the documents cited by Franklin D. Roosevelt Presidential Library & Museum.
In 1947, the federal government and then-Gov. Luis Muñoz Marín launched Operation Bootstrap, a plan to develop the island. The first phase attracted textile and garment factories, drawn by the rock-bottom wages they could get away with paying Puerto Ricans then. The second phase offered tax exemptions that drew capital-intensive businesses, such as drugmakers, petrochemical plants and oil refineries. Oil, not surprisingly, became the chief source of power for the island.
Tax breaks formed the cornerstone of Puerto Rico's development strategy, to some success. By 1967, the number of Puerto Ricans employed in manufacturing had more than doubled to 121,537, according to Department of Commerce estimates. But by the early 1990s, the exemptions became a target for tax reformers who railed against what they saw as corporate welfare and argued that allowing firms headquartered in the 50 states to shirk taxes in the territory put an unfair burden on Puerto Rican companies. In 1996, President Bill Clinton signed a law to phase out many of the exemptions over 10 years.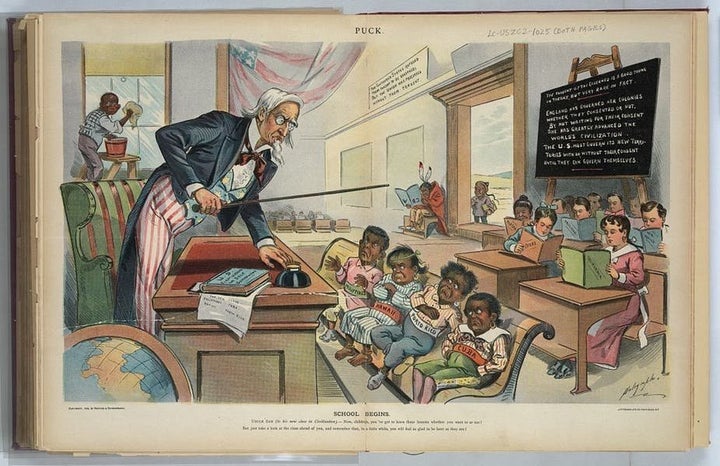 Companies began to flee, and with them, jobs. That led to a higher unemployment rate ― now at 11.5 percent, more than double the U.S. average.
Yet one key tax break stayed in place. As a territory, interest on Puerto Rico's municipal bonds ― debt securities issued by the government to pay for day-to-day public expenses, such as utilities, roads and schools ― remained tax exempt. Puerto Rico's credit score remained low enough to keep interest rates lucrative but high enough to make bonds seem like a safe bet. Facing declining income tax revenue as Puerto Ricans began to leave for the mainland in search of work, the island issued more and more debt. Mutual funds bought the IOUs as quickly as the so-called "belle of the bond market" issued them. In 2013, it came to a crashing halt as Puerto Rico was shut out of the bond markets and risk-hungry hedge funds began circling like vultures.
Four years later, Puerto Rico owes $74 billion to bondholders and $50 billion in pension obligations to teachers and other government employees. PREPA alone racked up $9 billion in debt. Now the efforts to restructure the utility's debt are being as badly mismanaged as the public agency's finances in the first place, according to a scathing report released in August 2016 by the nonpartisan Institute for Energy Economics and Financial Analysis. In the 47-page paper, Tom Sanzillo, the nonprofit's director of finance and a former investment banker, argued that the plan outlined by PREPA's oversight commission gave "renewable energy exceptionally short shrift" and instructed the utility to "turn almost entirely to natural gas … despite a legislative mandate to diversify Puerto Rico's energy mix."
In the meantime, Sanzillo said Wall Street bondholders ought to expect losses and help pay back individual investors who "live in Puerto Rico, don't have much means but invested because they were proud Puerto Ricans and had faith in their government." But the underwriters and credit agencies who abetted decades of overzealous lending should "face criminal prosecutions."
"There needs to be some kind of accountability for the recklessness," Sanzillo told HuffPost. "You can't tell the bond markets you can't get your money back at that level and nobody goes to jail. That's just not how you do finance."
On Wednesday, however, the bondholders offered PREPA a different solution: $1 billion more in debt.
This article has been updated to include White House approval of a request to waive the Jones Act for Puerto Rico.
Before You Go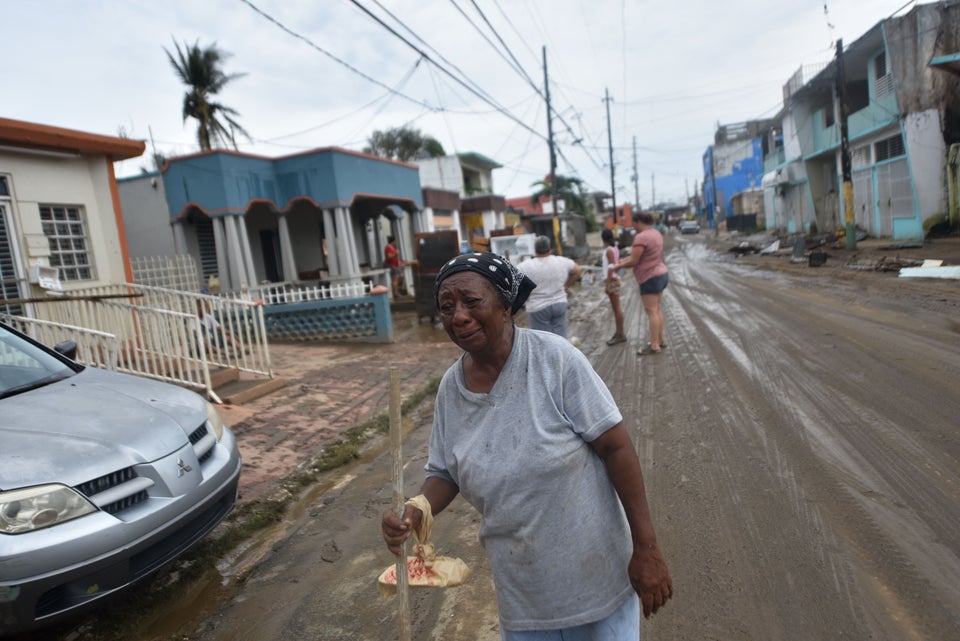 Puerto Rico Reeling After Hurricane Maria