Days after Hurricane Harvey wreaked havoc in southern Texas, a monster storm is barreling toward the northern Caribbean and southeastern United States. One of the first destinations in Hurricane Irma's path is Puerto Rico, the cash-strapped U.S. territory deep in the throes of a decade-long economic crisis.
Irma is expected to hit the island on Tuesday night or Wednesday morning, and all throughout Tuesday residents and tourists alike prepared for the upcoming barrage of wind and water.
"This is something without precedent," Gov. Ricardo Rosselló told a news conference on Tuesday. "We're expecting that it's coming at Puerto Rico with force, and we've got to be ready for it."
On Tuesday, President Donald Trump declared a state of emergency for the island territory, authorizing federal officials to aid with disaster relief efforts there. However, the island's economic situation has raised concerns over the potential for damage, even if Puerto Rico dodges the worst of the storm.
Here's what's at stake for the island.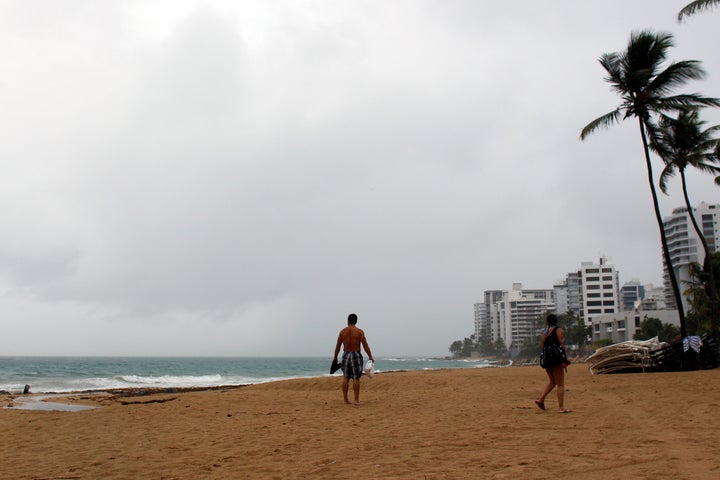 The Forecast For Puerto Rico
Hurricane Irma was upgraded to an "extremely dangerous" Category 5 on Tuesday, with maximum sustained winds reaching 185 mph, according to the National Hurricane Center. But experts say Puerto Rico may escape some of the storm's most devastating effects.
"It's going to be a very, very close call," said Philip Klotzbach, a Colorado-based meteorologist.
Klotzbach explained that the hurricane is currently on track to pass north of the island. "Puerto likely won't feel the full wrath of Irma ... Hopefully, the storm does not go south," Klotzbach said.
Mark Jury, professor of meteorology at the University of Puerto Rico, echoed that analysis. "I don't worry much ― the track forecasts have settled on a northward route, missing Puerto Rico," he said. Jury did note that the island can expect heavy rainfall during and after the storm's passage, which may bring its own set of challenges.
Jeff Masters, director of meteorology at Weather Underground, said that while the impact of the storm would be significant, the island is not expected to be hit directly and that winds would reach around Category 1 hurricane strength. "I call it a modest hurricane for them," Masters noted.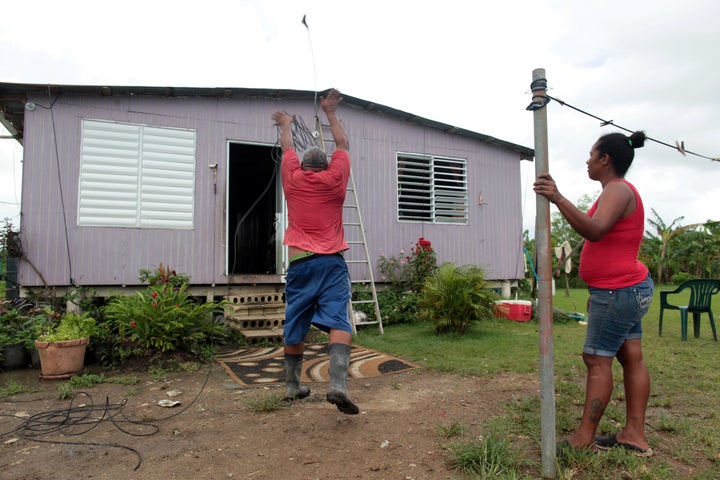 How The Island Is Preparing

On Monday, Rosselló declared a state of emergency and activated the national guard. The island has 456 shelters available to house people displaced by the storm. Those shelters can accommodate up to 63,229 people. Individuals living in likely-to-flood areas were urged to identify their nearest shelter.
As in parts of Florida, Puerto Rico will evacuate flood-prone regions in the island's north and east.
Rosselló also announced that the Department of Natural and Environmental Resources of Puerto Rico is working with 14 pumping stations in order to prevent flooding. The government has also readied 200 trucks equipped with 6,000 gallons of water.
The Federal Emergency Management Agency, meanwhile, has dispatched more than 500 officials across the island, and has provided medical and search-and-rescue teams.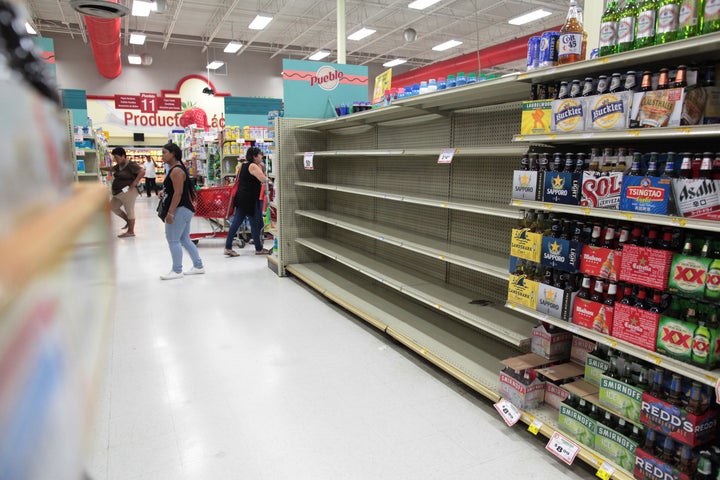 Debt Complications
While the worst of Irma appears likely to bypass the island, the storm could still cause major problems for the debt-ridden territory.
Puerto Rico has more than $74 billion in debt and an additional $50 billion in pension liabilities — roughly $34,000 in debt per resident. Those debts ballooned over more than a decade of recession, during which the island saw unemployment skyrocket and a massive exodus as Puerto Ricans left the island to resettle in the mainland U.S. at historic rates. (Puerto Ricans have U.S. citizenship.)
After a year of defaulting on its loan payments, Puerto Rico declared bankruptcy in May, the largest municipal bankruptcy in U.S. history.
"Puerto Rico can no longer fully pay its debt and pay for government services," read the filing by the oversight board appointed last year to steer the territory back to financial stability. "In short, Puerto Rico's crisis has reached a breaking point."
That leaves Puerto Rico in a precarious situation to face the potentially massive damage a major storm can cause.
Of most immediate concern is the island's already troubled power supply. The Puerto Rico Electric Power Authority, or PREPA, has accrued roughly $9 billion in debt over the last few years. Customers, meanwhile, have seen their power bills go up even as their service declined. On Tuesday, PREPA's director warned that some areas of the island could go without power for four to six months due to storm damage.
Irma could also prompt even more Puerto Ricans to leave the island, exacerbating the economic woes there.

Puerto Rico's government says it has set aside $15 million in an emergency fund. And Trump's disaster declaration makes federal aid available to the territory for emergency protective measures as well as debris removal.
According to CNN, FEMA is working with Congress to bolster its relief funding so the agency has adequate resources to assist the island's recovery efforts. However, it's unclear how Puerto Rico would afford recovery costs if they exceed the emergency fund and what the federal government can provide.

Before You Go

Preparations For Hurricane Irma
Popular in the Community