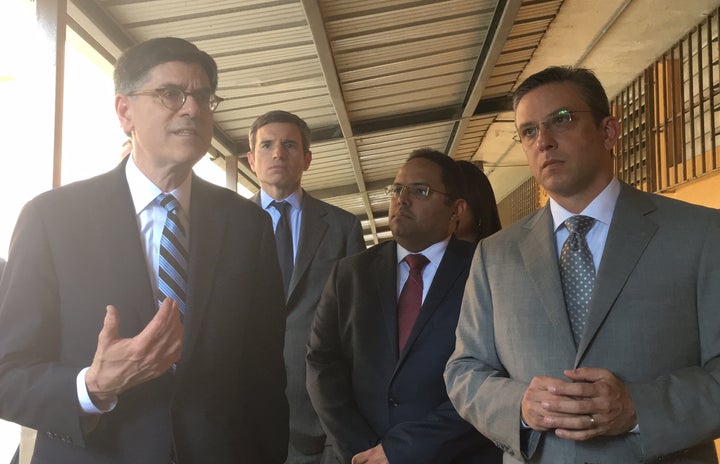 SAN JUAN, Puerto Rico --  Treasury Secretary Jack Lew said Monday that if Congress doesn't act soon to give Puerto Rico powers to restructure its mountainous debt, the island will face two choices -- "chaos and a bailout."
"We are now at a moment of necessity and crisis," Lew told reporters during a daylong visit to the commonwealth. Lew said he's optimistic lawmakers will make progress toward a solution once the House returns from recess this week.
Puerto Rico has been gripped by an economic recession that's worsening as residents leave. That, in turn, deepens the financial crisis for the government, which can't afford payments on its $70 billion of debt.
Republicans this week are likely to unveil a third draft of legislation that would give Puerto Rico powers to restructure its debt, establish an oversight board to help the island's government, and craft a broader Puerto Rico economic reform plan.
Rep. Rob Bishop (R-Utah) told Reuters on Monday that the House Natural Resources Committee, which he chairs, will release the revised legislation on Wednesday. Like Lew, he argued that without swift congressional action, a bailout could become the only option. 
The bill includes language that may allow Puerto Rico to seek bankruptcy protection, worrying conservatives that it may set precedent for other debt-ridden states. Proponents of the legislation argue that no taxpayer dollars would be needed to bail out Puerto Rico. 
Puerto Rico defaulted on nearly $400 million in debt payments due on May 1, and owes a $2 billion bond payment on July 1.
Lew spoke to reporters after visiting Centro Medico, the third-largest Level 1 trauma center in the U.S. and its territories. The 22-acre campus houses 18 health institutions, and cares for more than 7,400 patients per year. The center has said it may need to reduce services beginning in July without congressional action, and has been unable to post job vacancies due to a shrinking budget.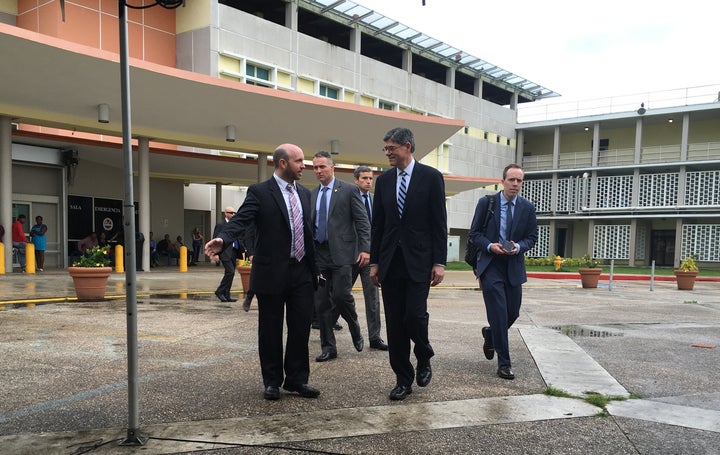 Some private hospitals, plagued by payment delays between health insurers and suppliers, are refusing to provide services. That sends more patients to Centro Medico, a public hospital. "If it collapses, all hell will break loose," Ricardo Rivera, executive director of the Puerto Rico Health Insurance Administration, told Lew, according to a press pool report.
Lew later reflected on seeing little babies -- "not even four pounds" -- receiving dialysis at the center. He said personnel told him they are unable to keep an inventory of necessary medications, because of dwindling resources caused by the debt crisis. 
"I don't think there's a member of Congress who would find it acceptable for a 5-week-old baby to not have access to the medications they need for dialysis, or for a 5- or 10-year-old who needs an infusion for cancer treatment to be told we couldn't pay [cash on delivery], so we don't have the medicine," Lew told reporters.  
A handful of nurses and doctors in lab coats watched as Lew peppered health officials with questions about problems getting cancer drugs, management of the Zika virus, and the hospital's funding challenges.
Dr. Juan Nazario, executive director of the hospital, told Lew he worries about losing nurses and physicians to the continental United States, according to the press pool report. "We are getting near the bottom," added Jorge Hernandez, a trauma center doctor. "We are struggling every day -- equipment, drugs, personnel."
Ana Rius, secretary of health for Puerto Rico, told Lew that in five months since the outbreak of Zika was identified, the center has seen 26 hospitalizations for the virus.
Earlier in the day, Lew joined Puerto Rican Gov. Alejandro Garcia Padilla at an elementary school in San Juan for a tour of termite-infested classrooms, poorly maintained school buildings, and a cafeteria that can't keep its lights on when it rains due to faulty circuit breakers.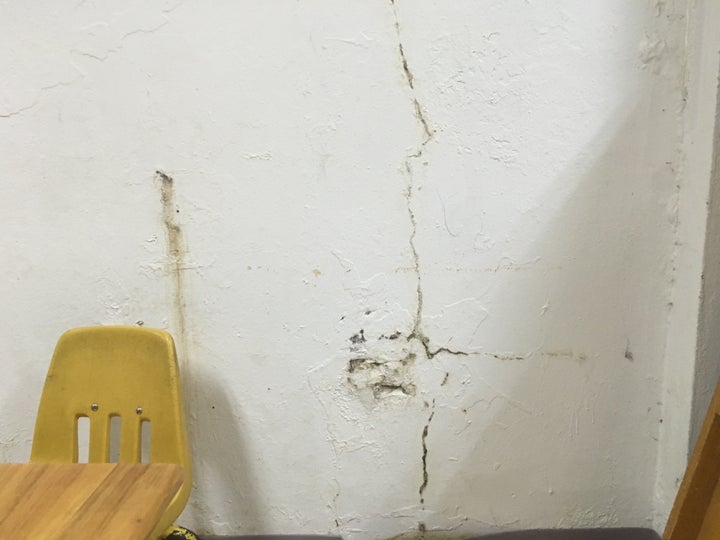 "The financial crisis is not just a question of bondholders, but a question of the lives that are being led by 3.5 million Americans who live on Puerto Rico," Lew told reporters before visiting a kindergarten class. "Their children are Americans no less than the Americans born on the mainland."
"We need Congress to act," Garcia Padilla said solemnly.
Garcia Padilla faces poor approval ratings that reflect the island's decade-long financial woes and isn't running for re-election. He pushed back against Republican complaints that the legislation would be a "bailout" for the island.   
"We haven't been offered and we are not asking for a bailout," Garcia Padilla said.
Calling all HuffPost superfans!
Sign up for membership to become a founding member and help shape HuffPost's next chapter