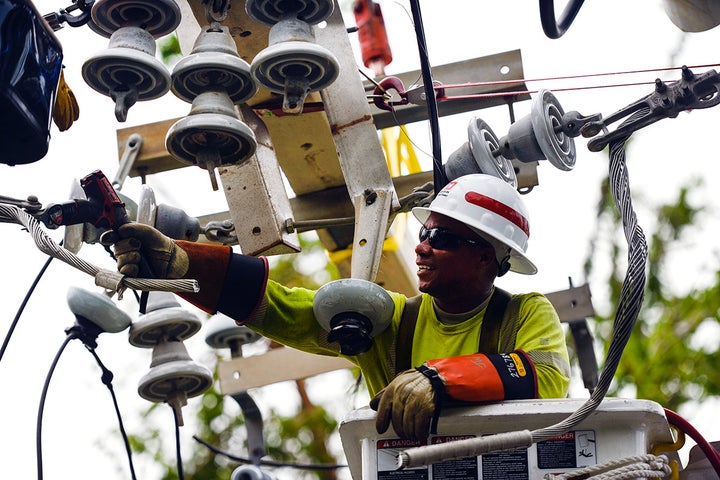 Puerto Rican officials have every reason to cancel the island's scandalous $300 million contract with Whitefish, the small, unknown corporation they recently hired to restore power after Hurricane Maria.
There's the fact that the Federal Emergency Management Agency (FEMA), who will help foot the bill, didn't sign off on it.
There's the spider web of political and financial connections. Whitefish is owned by two private equity firms: one tied to a prominent GOP and Trump donor, and the other owned by a former JPMorgan manager who spent more than a decade providing loans to Puerto Rico's electric utility.
That's all on top of the ominous connection to Trump's Interior Secretary Ryan Zinke, also from Whitefish, Montana.
But most alarming is the absurd clause eliminating the public's right to audit the contract's costs. With Whitefish acting as little more than a middleman by subcontracting the actual work to others, who knows how much they'll profit?
Unfortunately, such a lack of transparency is becoming par for the course in government contracting, as corporations push to shield more and more information from the public.
Multinational corporations have shielded financial information in acquisitions of public water systems. Banks have claimed the math underlying deals to privately finance infrastructure — known as "public-private partnerships" — is a "trade secret." The growing charter school industry continues to fight much-needed regulation, even as fistfuls of tax dollars disappear from public view.
At the federal level, the public spends $100 billion annually without having access to meaningful contractor cost or pricing information. "Just like Puerto Rico, federal agencies are buying blind and the result is billions in wasteful spending," writes Scott Amey of the Project for Government Oversight (POGO).
Luckily, some corporations are running into resistance. Just last month, a California judge ruled that job information in a Los Angeles Metro contract must be released to the public. A win for the contractor, the Canadian multinational bus manufacturer New Flyer, would've set an ugly precedent when it comes to whether the money we spend together as a public creates good jobs or hurts the local economy.
Power needs to be restored in Puerto Rico as fast as possible, but we shouldn't miss the lesson here. Whitefish's contract is a symptom of a long-term disease sweeping American government: after decades of austerity ("trickle-down economics") and attacks on all things public, many local and state governments and federal agencies lack the staff and resources necessary to oversee contracts and hold contractors accountable.
Puerto Rico, which is mired in a public debt crisis, needs debt relief. Its residents, who have been ruled by an unelected board since last fall, need democratic control over their government.
REAL LIFE. REAL NEWS. REAL VOICES.
Help us tell more of the stories that matter from voices that too often remain unheard.
BEFORE YOU GO