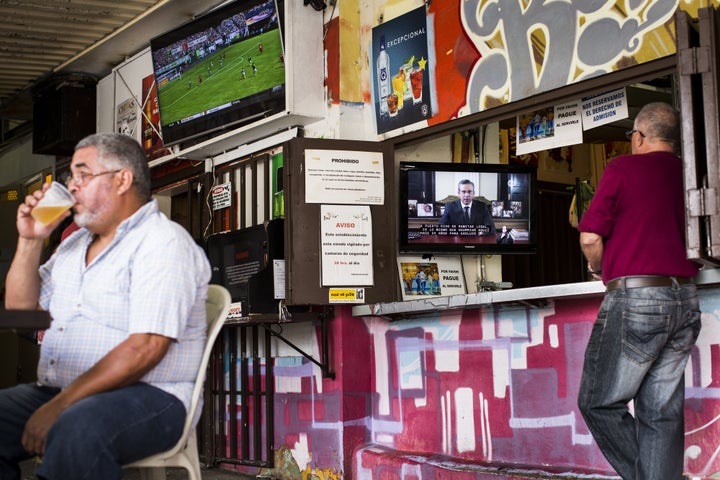 Tens of thousands of Puerto Ricans fled the island in 2015, as Puerto Rico faces an ongoing economic crisis that Congress has failed to address.
The island's population shrunk by nearly 61,000 people from July 2014 to July 2015, mostly due to migration, according to estimates released by the Census Bureau last month. Departures from Puerto Rico have increased as jobs have become scarce, and the government has cut back on salaries, benefits and services in order to make payments on its $70 billion in debt.
In fact, Puerto Rico has seen its population decline every year from 2006 through 2015, according to the Census Bureau. The total drop: 9.1 percent over the last decade. No U.S. state has suffered greater population loss over a 10-year span since World War II (though Washington, D.C., has faced larger declines over three such spans).
The last time a U.S. state's population plunged by more than 1 percent in a single year, as Puerto Rico's has done for the last five, was when Louisiana lost 6 percent of its population in the aftermath of Hurricane Katrina in 2005, The Wall Street Journal reports.
"Even states that have aging populations like Iowa see some growth in their populations over time," said Jens Manuel Krogstad of the Pew Research Center. "That just tells you how unusual the migration patterns we're seeing in Puerto Rico are."
The island's economy has contracted for a decade. By November of last year, Puerto Rico's unemployment rate stood at 12.5 percent, according to the Bureau of Labor Statistics -- more than double the mainland rate of 5 percent. The poverty rate showed an even greater gap, with 45 percent of the island's residents living under the federal poverty line, compared to 16 percent on the mainland.
"People are leaving for economic opportunity," Krogstad said. "So a lot of the people who are leaving are of working age, which exacerbates the economic problems on the island even more. They're losing workers, and they're also losing their school-age children to the U.S. mainland. There's been a steep decline in Puerto Rico's schools over the last decade."
The tanking economy has also discouraged people from having children, Krogstad said. In 2013, the fertility rate for Puerto Rican-born women living on the island stood at 1.3 -- down from 1.9 a decade earlier. By contrast, Puerto Rican-born women living on the mainland had a fertility rate of 2.1 in 2013.
The number of people of Puerto Rican birth or descent living on the U.S. mainland surpassed the number living on the island sometime between 2000 and 2006, according to the Pew Research Center.
On Monday, the Puerto Rican government was set to default on a portion of debt payments that came due Jan. 1. Gov. Alejandro García Padilla had been saying since this past summer that the island government lacked the money to pay its debt. He asked that Congress pass legislation allowing the island's municipalities and public corporations to reorganize their debt under Chapter 9 of the U.S. bankruptcy code.
Municipalities and public corporations in all 50 states have access to Chapter 9 relief, but Puerto Rico, a U.S. commonwealth, is excluded. The island's lone, non-voting representative in Congress, Resident Commissioner Pedro Pierluisi, offered such a bill early last year, but it failed to gain traction.
Popular in the Community