WASHINGTON ― Puerto Rico Electric Power Authority is canceling its controversial $300 million contract with Whitefish Energy Holdings to restore the island's hurricane-ravaged electrical grid, officials announced Sunday.
Ricardo Ramos, executive director of PREPA, said at a press conference he would honor Puerto Rican Gov. Ricardo Rosselló's Sunday morning request to terminate the business deal, which has raised questions from several lawmakers and government agencies.
"I want to clarify, so it's very clear, that the cancellation of this contract does not respond to an acceptance that there was something outside of the law or out of line with [PREPA's] procedures of emergency contracts," Ramos said.
The Federal Emergency Management Agency said Friday that it had "significant concerns" over PREPA's decision to award Whitefish the contract earlier this month and would be conducting a review.
Whitefish, a two-year-old firm based in Interior Secretary Ryan Zinke's Montana hometown and financially backed in part by a major donor to President Donald Trump's 2016 presidential campaign, had just two full-time employees when Hurricane Maria hit the island more than a month ago.
Language in the contract ― a full copy is here ― appeared to give Whitefish a sweetheart deal as the people of Puerto Rico struggle to recover from the devastation of the hurricane.
The contract stated that, "In no event shall [government bodies] have the right to audit or review the cost and profit elements." That gave Whitefish wide discretion and privacy over how it used $300 million in U.S. taxpayer money.
It also waived "any claim against Contractor related to delayed completion of the work," which means the government couldn't do much if Whitefish dragged out its job restoring electricity to the 3.4 million Americans living on the island.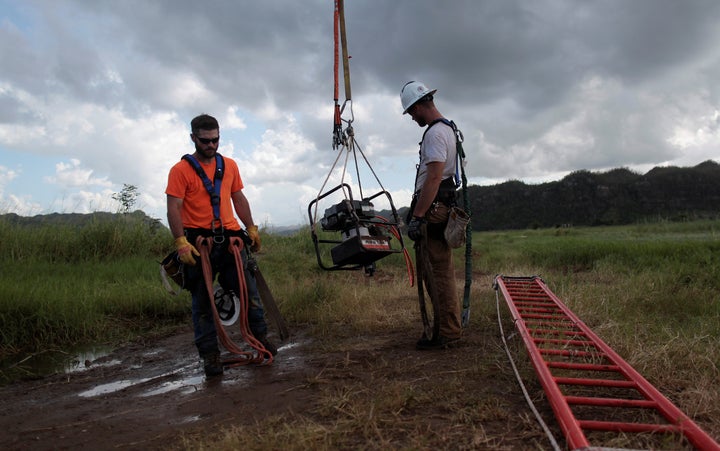 Ramos said Sunday that $300 million was the maximum amount of money Whitefish could have been paid for its completed services and denied that PREPA had already committed to paying the full amount.
So far, PREPA has paid or been billed for over $20 million by Whitefish, according to Ramos. He said there wouldn't be a penalty for canceling the contract, but that PREPA would have to pay for Whitefish to remove their equipment from the island as well as whatever work they complete by mid-November, which he expected to total at least an additional $10.9 million.
The contract's cancellation, which won't go into effect for 30 days per the contract's terms, isn't expected to stop any work the company currently has in progress. But it could delay other grid restoration efforts by 10 to 12 weeks, Ramos said.
"The controversy that the contract has generated is truly immense," said Ramos, adding that he had been summoned by Congress to answer questions. "It's a huge distraction. So as I understand it, it's the better of two evils to cancel the contract."
Whitefish said it would finish any work that PREPA asks them to complete before leaving the U.S. territory, according to a statement the company emailed to HuffPost on Sunday.
"We are very disappointed in the decision by Governor Rosselló to ask PREPA to cancel the contract which led to PREPA's announcement this afternoon," reads the statement. "We only wish the best for the great people of Puerto Rico. We are very proud of our contributions to the island's recovery and proud of the tremendous work that our team has done under very challenging conditions.
It's been more than a month since the hurricane destroyed Puerto Rico's infrastructure and nearly 70 percent of people still have no power ― a particularly precarious situation for hospitals that have been relying on temporary generators to keep people alive.
HuffPost reached out to experts in government contracting to see if this was as bad a deal for Puerto Rico as it sounded. The answer was a resounding yes.
"Outrageous," said Charles Tiefer, a professor of government contracting at the University of Baltimore law school.
"The clause that shields the contractor from audit or review is a red flag of overcharging," said Tiefer. "The contractor works for PREPA, not the other way around. I can't imagine how any responsible government official could put such an anti-audit clause into a government contract."
Anthony Varona, a professor and vice dean at American University's Washington College of Law and an expert in contracts law, said it was "entirely inappropriate" for a private contractor to prevent the government from auditing how taxpayer money was spent.
"The prohibition as written in this agreement is a blatant attempt to blindfold and tie the hands of the government officials responsible for overseeing the contract's performance," said Varona. "It strikes me as an open invitation for fraud and abuse."
There were other concerning details in the contract, like the high rates Whitefish was charging for labor. The company was paying $240 an hour for a general foreman and $227 for a lineman. For some context, the U.S. Bureau of Labor Statistics said first-line supervisors of construction sites make about $43 an hour and construction laborers make about $23 an hour.
Whitefish was also paying for expensive food and lodging for its employees. The contract stated that each person could spend nearly $80 a day for meals and $332 a day for lodging. Flights for employees were being billed at $1,000 each way.
Neither PREPA nor Whitefish responded to HuffPost's requests for comment on the contents of the contract.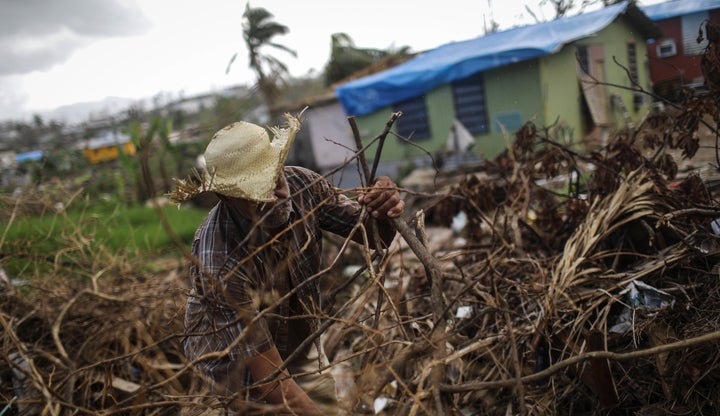 Ramos emphasized that it was "tabloid" reports ― not any wrongdoing on the part of the company ― that prompted Rosselló's request to cancel the contract on Sunday.
"Certainly, if the situation that is going on in the U.S. with the media was not happening ... there [would be] no need for the cancellation of the contract," Ramos said. "We're managing risks. There is a perception risk, a reputational risk, and a delay risk in continuing with the contract."
Steve Schooner, a former high-ranking government contracting official who is now a law professor at George Washington University, said the Whitefish contract has given him great material for his classes because there are so many problems with it.
"The contract ― both the process and the content ― rivals, and in some ways exceeds, some of the best final exams I've written for my students over the last two decades," he said.
Not everyone said the contract was stunningly out of the ordinary. Scott Amey, general counsel for the Project On Government Oversight, wrote a blog post about why he thinks the contract raised concerns but was mostly normal, given bigger problems surrounding many federal contracts.
Still, Amey told HuffPost that it's "odd" that the contract gave Whitefish the ability to delay its work without any accountability. He said that clause allowed the company to potentially prolong its work so it got paid the entire $300 million ― and then push to extend the contract for even more money.
"Damage provisions often are included to incentivize the work's completion," he said. "Waiving claims could jeopardize the completion of the work in the agreed on one-year term."
As fishy as it has looked that a tiny company in the Montana hometown of the U.S. interior secretary landed such a big contract, Zinke has insisted he had nothing to do with it.
Tiefer said while all the facts aren't out yet, it's clear that something "went very wrong" with the way the contract was awarded.
"Let's put it this way," he said. "Whitefish didn't make the shortlist because of a world-class reputation."
Carolina Moreno contributed reporting.
This entry has been updated with information about PREPA's decision to cancel the Whitefish contract.
Before You Go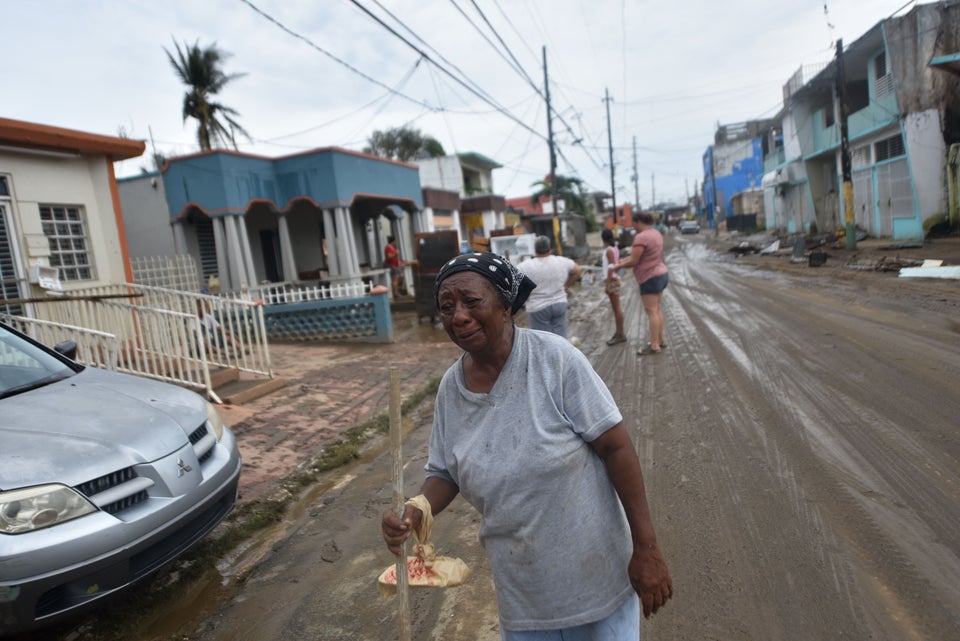 Puerto Rico Reeling After Hurricane Maria
Popular in the Community