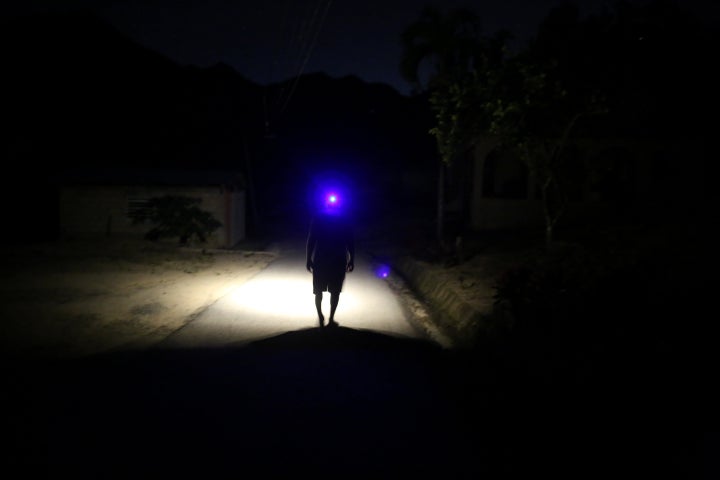 Hours after Puerto Rico officials announced that power had finally been restored to almost all of the island's residents — almost a year after Hurricane Maria devastated the U.S. territory — a new problem with the power grid reportedly plunged thousands of people into the dark once more.
Puerto Rico's electric provider tweeted Monday that just 0.002 percent of its nearly 1.4 million customers (some 25 people) remained without electricity, marking a significant milestone in what's been a long and challenging post-Maria recovery journey.
Carlos Mercader, executive director of the Puerto Rico Federal Affairs Administration, told The Hill that he expected the remaining 25 customers to "receive electricity within the coming weeks."
On Monday afternoon, however, hours after the utility's tweet, another large power outage was reported on the island. Local newspaper Caribbean Business reported that some 130,000 residents were left without electricity following the failure of a transmission line originating in the Costa Sur power complex in Guayanilla.
CBS News reporter David Begnaud said Tuesday that power had been restored to the affected areas. Customers had been without power for under two hours, he said.
In an earlier tweet, however, Begnaud had pointed out the continuing problems of the island's faltering grid.
"As of now, [the Puerto Rico Electric Power Authority (PREPA)] says only 25 customers still don't have [power]. On a side note, blackouts happen almost daily," he wrote on Monday.
Intermittent power has been a huge problem for Puerto Rico residents since Maria. In April, the entire island lost power in what's been described as the second-largest blackout in history.
PREPA, together with the U.S. government, has been harshly criticized for its response to Maria's devastation. The utility faced intense backlash last year when it signed a $300 million contract with Whitefish Energy Holdings ― a small, Montana-based firm with just two employees ― to help with the island's power restoration efforts. PREPA eventually backed away from the controversial contract.
Harvard researchers estimated earlier this year that almost 5,000 people died in the aftermath of Hurricane Maria ― a number more than 70 times larger than the government's official death toll of 64.
More than 30 percent of households surveyed for the study said they'd struggled with interruptions to medical care after Maria. Ten percent of those impacted households said they'd been unable to use respiratory equipment because of a lack of electricity.
On average, households went 84 days without electricity after the storm, the study found.
Popular in the Community