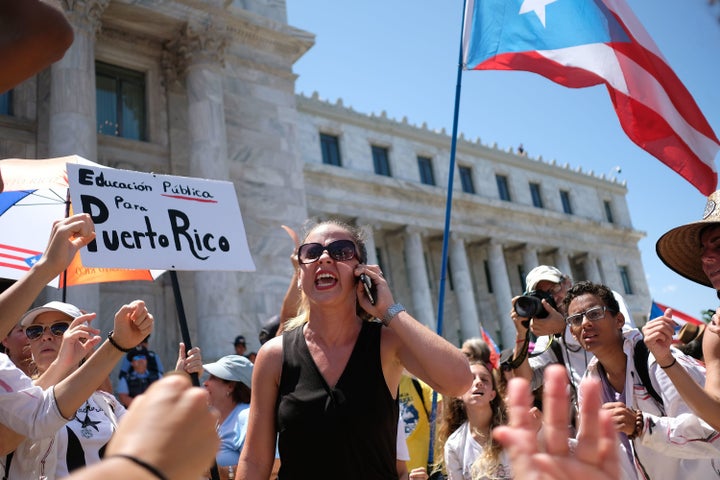 In another bleak development for Puerto Rico's decimated education system, the island's Department of Education announced Thursday that it would close an additional 283 schools this summer, a 25 percent reduction in the current number of public schools.
Puerto Rico Education Secretary Julia Keleher said a sharp decline in student enrollment and the territory's ongoing economic crisis, especially since the devastation of Hurricane Maria, had prompted the closures. Almost half of all schools are at less than 60 percent of enrollment capacity, Keleher said, with nearly 39,000 fewer students than a year ago. Officials have said several thousand more students are expected to leave the island for the mainland to continue their education in the coming years.
"We know it's a difficult and painful process," Keleher said of the impending closures, according to The Associated Press. "Our children deserve the best education that we are capable of giving them, taking into account Puerto Rico's fiscal reality."
The closures are expected save the education department about $150 million, said Keleher. She stressed, however, that no teachers would be laid off but some would be transferred between schools.
Hurricane Maria, which devastated the U.S. territory in September, dealt a major blow to Puerto Rico's education system, which had already been suffering from an enrollment slump. Last summer, 179 public schools on the island were shuttered and 150 more were closed from 2010 to 2015.
Following the new spate of closures, just 828 public schools will remain open, AP reported.
Teachers and parents have reacted with fury and frustration to the new closures.
"This is like killing 300 communities," Aida Díaz, president of Puerto Rico's Association of Teachers, told Education Week. "We're going to have communities that are not going to have any schools. The only place they have to meet is the school."
The association said the school closures would affect 60,000 students and 6,000 teachers, reported Puerto Rico's El Nuevo Dia newspaper. Díaz estimated that 4,000 non-tenured teachers would leave their jobs regardless of the Education Department's no-layoffs promise.
"I don't even know where the schools they're being located to are," Haydee Del Valle, whose 12-year-old son will need to transfer, told NBC News on Friday. "I don't know if they're too far away from us or if the school bus they take now will be able to take them there."
"This makes me sad because this is a great school," she added.
Díaz criticized the Education Department for not being transparent about how it decided which schools to close, noting that 45 of the schools had been recognized as schools of "excellence."
Thursday's closure announcement comes on the heels of a controversial education reform bill signed in March by Puerto Rico Gov. Ricardo Rosselló. The bill aims to introduce a charter school pilot program and private school vouchers for 3 percent of students.
"They think that because our island is vulnerable, because it doesn't have electricity, that we're going to let them privatize our schools, get rid of our teachers," Mercedes Martínez, president of the Puerto Rican Teachers Federation, told NPR in March of the reform effort.
Related
Popular in the Community