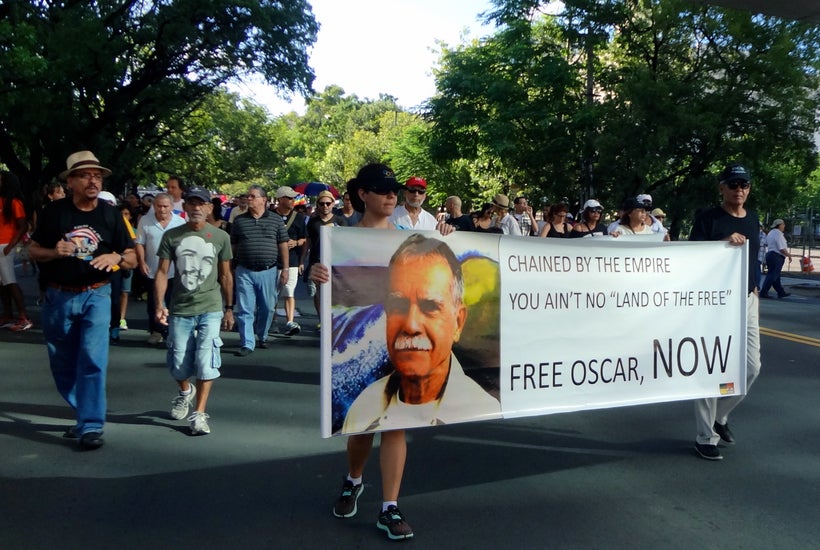 35 years, 13 days. That's how long Puerto Rico's longest-held political prisoner, Oscar López Rivera, has served of a 70-year sentence, and the number of days that President Obama has left to release him.
López Rivera turned 74 on January 6, Three Kings Day, the most important holiday of the season in this U.S. territory of 3.4 million, when children throughout the country gather tropical grass to leave in shoe boxes or at front doors at bedtime for the camels of the wise men who come bearing gifts. The Three Kings are ubiquitous in public decor and inspire the country's artisan tradition of wooden carved santos depicting Melchior with a dark-complexion in the center, flanked by Balthazar and Gaspar. The timing of the holiday season with President Obama's final weeks in office highlights the widespread view here of López Rivera's release as a humanitarian cause.
The bid for his release has been championed across all political, religious and civic sectors of Puerto Rican society, as well as its diaspora, the second largest U.S. Latino group, all told about 8 million U.S. citizens on the island and stateside. Though Puerto Rico remains deeply divided, even within families, on the question of its status as a U.S. colony, be it a territory, a 51st state, or an independent nation, the bid for López Rivera's release has forged broad alliances.
As a Vietnam War veteran awarded the Bronze Star, López Rivera transitioned from being one kind of hero, to quite another, depending on your perspective. Accused of seditious conspiracy for being a member of the FALN (in Spanish the Armed Forces of National Liberation), López Rivera was not convicted of any violence that the group claimed responsibility for in 120 bomb attacks from 1974 to 1983. This during a time when advocating for Puerto Rico's independence could get you surveilled, fired or denied employment, or killed, abetted by now known FBI programs, such as COINTELPRO. Opponents to his release regard him as a terrorist; he calls himself a prisoner of war.
López Rivera's stature as a national hero only stands to grow if he is not released now. He is up for parole next in six years, when he will be 80 years old.
Tis the season for other presidential pardon campaigns as well, such as for Eric Snowden and American Indian Movement activist Leonard Peltier, who has been imprisoned longer than López Rivera. But for Puerto Rico, the timing is especially historic, as the country's $72 billion debt crisis has put its colonial condition in stark relief.
A federal law called Promesa (Spanish for promise, though many view that cynically) imposes a fiscal control board now poised to take over the government budget and eviscerate the public sector, despite calls to audit the debt, as credible studies suggest significant portions to be potentially illegal and unconstitutional. Predatory vulture hedge funds are now set to extract the country's wealth like the robber barons of yesteryear. This after two Supreme Court rulings nullified Puerto Rico's purported autonomy as a "Free Associated State" founded in 1952.
Failing to release López Rivera now would only rub salt in the wound.
"We have reached a boiling point," observes artist Nick Quijano, who has been a creative force behind some of the cause's public art spectacles "and this has made Oscar the topic de rigueur."
At recent protests against the federal fiscal control board, López Rivera was widely heard and seen, in speeches and on signs. A popular shirt states in Spanish: "Oscar López Rivera is our Nelson Mandela." Throughout colonial Old San Juan, now teeming with tourists, life-size effigies of López Rivera peer from balconies and windows of homes and businesses. For several years, events invoking him throughout the country and its diaspora have drawn thousands, to marches, processions and vigils, and public art displays. At most speaking engagements or concerts here, for large or small audiences, opening remarks are dedicated to him. His daughter, Clarisa López Ramos, and brother José López Rivera, are active spokespersons for his release, and a new bilingual book compiles his letters or cartas to his granddaughter Karina. On New Year's Day, Olga Sanabria Dávila, a 64-year old attorney and human rights activist who leads the Committee for Puerto Rico at the United Nations, began a hunger strike in his name. Local and international press, social media publicity, and ads in prominent Washington D.C. publications have come to the fore. The call for López Rivera's release seems to be everywhere.
When a White House petition with this aim recently garnered more than 100,000 signatures in a month, it touched a collective nerve. When the petition's signatories simultaneously received a bureaucratic non-committal response, criticism boiled over on social media, sparking an impromptu protest near a statue of President Obama at San Juan's Capitol building.
Many luminaries, entertainers, religious and labor groups, Nobel laureates, political leaders and international figures have voiced their support. Of these, Jimmy Carter's is particularly cogent, because as president he commuted the sentences of Puerto Rico's most famous political prisoners, including the late Lolita Lebrón, who had served 25 years after they shot up the U.S. Congress in 1954, injuring five. The only surviving member of that group, Rafael Cancel Miranda, remains a steadfast advocate for Puerto Rico's independence, as do the 11 political prisoners released by President Clinton. There has not been one case of recidivism among them.
López Rivera has renounced violence, citing as a model peaceful mass mobilizations that in 2003 succeeded in stopping decades of U.S. Navy bombing of Puerto Rico's sister island of Vieques. When President Clinton commuted the sentences of his fellow FALN members in 1999, López Rivera turned down the deal because it did not include two of his compatriots, who have since been released.
Of course that was before 9-11, and its aftermath.
My cousin Maria Palermo makes that connection to current contexts, and once you hear why, it's hard to blame her. She was walking down the street from New York's historical landmark restaurant Fraunces Tavern in 1975 when she witnessed a bomb blast that the FALN claimed responsibility for, which killed four and injured 60. Amazingly, she also worked across from the World Trade Center when it was bombed in 1993 and was also working there on 9-11.
"Now I work near Grand Central Station," she said, itself no small source of anxiety.
Yet Puerto Rico's 118 years under U.S. colonialism should not be overshadowed.
Though the legalities might deal with proportional sentencing, President Obama, whose paternal grandfather lived under British rule in Kenya, and who grew up in Hawaii, once a U.S. colonial periphery (still seen that way by indigenous groups), should understand the ramifications of this colonial history.
If his presidential legacy shows he at least aimed to make a momentous shift on Cuba and Guantánamo, then surely he can see the wisdom of turning this page for Puerto Rico. With the holiday season hitting its second wind here, a wise gift at this juncture would be to recognize that Puerto Rico deserves the respect and dignity of bringing Oscar home.
REAL LIFE. REAL NEWS. REAL VOICES.
Help us tell more of the stories that matter from voices that too often remain unheard.
This post was published on the now-closed HuffPost Contributor platform. Contributors control their own work and posted freely to our site. If you need to flag this entry as abusive,
send us an email
.