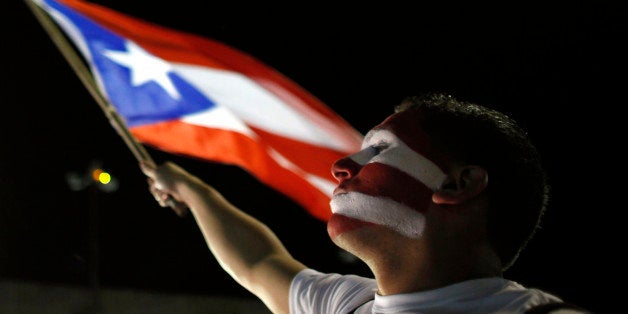 In Puerto Rico, July is the cruelest month.
It opens with an ironic bang on Fourth of July weekend, with U.S. Independence Day also a holiday, despite the U.S. territory having its own independence movement--no fireworks, but plenty of beach, barbecue, beer and boombox.
And it closes in layered ironies, as a July 25 local holiday marks the founding of the Commonwealth in 1952, when the U.S. government allowed Puerto Rico to draft its own Constitution, then approved by Congress, often called a pro forma exercise to dissimulate colonialism. For those who bristle at both these holidays, in this deeply divided polity, July 25 also recalls the 1898 U.S. military landing in the southern town of Guánica, and the anniversary of the 1978 political killings of two young independence activists on a mountain called Cerro Maravilla.

In the southern city of Ponce, revelers paraded for their basketball team's national title win, capping a week of sports patriotism watching the Pan American Games in Toronto, with 15 medals tallied. And Statehood supporters rallied at the capitol building in San Juan, while the group 33 Mujeres por Oscar picketed at an intersection near the Caribe Hilton, as they do at the end of every month, for the cause célèbre urging a presidential pardon for Puerto Rico's longest-held political prisoner, Oscar López Rivera.

The recent media blitz on Puerto Rico's debt woes--billed as the largest potential municipal bond default in U.S. history, and awash with comparisons to the much worse debacle in Greece--has no parallel in modern Puerto Rican history. Not since the popular uprising that ended U.S. Navy bombing exercises in Vieques in 2003, or when four Puerto Rican Nationalists shot up the U.S. Congress in 1954, has this Caribbean island received such international press attention. Since governor Alejandro García Padilla announced at the end of June that Puerto Rico's $72 billion debt was "not payable," the Commonwealth has been under scrutiny, and is now due to miss an August 1 bond payment.

July also ended dramatically in Puerto Rico's key counterpoint in the Greater Antilles, popularly called "two wings of the same bird," with the U.S. embassy reopening in Havana on July 20, after a 54-year break in diplomatic relations, soon followed by the July 26 celebration marking the start of the Cuban Revolution. In announcing the momentous shift, President Obama stated that it was time to acknowledge U.S. policy toward Cuba had failed. Shouldn't he now also be admitting the same about Puerto Rico?

It would behoove federal policy makers to heed such tensions in this country of 3.6 million U.S. citizens, with another 4.7 million in its rapidly growing diaspora. The second largest U.S. Latino group, Puerto Ricans number a million in the pivotal electoral state of Florida, and stand to surpass Cubans there by 2020.

The term Commonwealth seems euphemistic, especially now that a potential humanitarian crisis, civil unrest and disruption of basic services loom. Water service has already been rationed for a million metropolitan area residents this summer, due to a historic drought exacerbated by years of water mismanagement. Better to use the Spanish term Estado Libre Asociado or Free Associated State.

Puerto Rico's political status is tied to its debt woes. As a territory, its municipal bonds remain triple tax-free, seen as lucrative, and thus gobbled up by mutual funds. When the bonds were downgraded as the local economy continued shrinking, hedge funds stepped in and now hold one third of the debt. Additionally, Puerto Rico cannot authorize municipal or agency bankruptcies (access was taken away from territories in 1984).

Most media coverage notes that Puerto Rico's economy took a hit when corporate tax breaks were phased out in 2006, then worsened with the U.S. recession of 2008. But local analysts argue that by relying on such incentives, a large public sector, and federal transfers, Puerto Rico's economy fomented dependence rather than development, and has been in decline since the 1970s.

The island's incessant status debate distracts it from now sending the U.S. Congress a clear message on needed action, argued Rep. Luis Gutiérrez (D-Ill.) from the House floor this week.

Still pending at the U.S. Congress is HR870, a bill that would grant Puerto Rico powers to authorize bankruptcy for its public corporations and municipalities, which the Republican-controlled Congress has hardly warmed up to. Also possible is a U.S. Supreme Court challenge after Puerto Rico recently lost a First Circuit Court of Appeals decision on blocking a local law that attempted the same.
A reform supported across the local and federal political spectrum, even by the conservative Heritage Foundation, would rescind the 1920 Jones Act cabotage laws, to break an archaic maritime port monopoly that reportedly costs Puerto Rico from $200 milllion to $1 billion annually in inflated shipping costs. Past attempts to do so have been blocked by the U.S. maritime lobby and its unions, as if the country was being straightjacketed.
The scramble for bankruptcy protection has echoed calls for equality for so many U.S. citizens, not lost on the presidential candidates in light of the Florida vote.
Calls have also been made for federal receivership, from the same forces lobbying against the bankruptcy bill, some financed by the Koch brothers, in cahoots with predatory vulture hedge funds. Many of these vulture hedge funds also hold distressed debt in Greece, Argentina and Detroit, as Puerto Rico's Center for Investigative Journalism has shown.
This week their hired guns called for cuts to an already stressed public education system--a stark example of the 1 percent targeting half a million children living in poverty on the island. The local government's report, also written by former IMF officials, calls for reducing the minimum wage, with the business press parroting higher welfare versus wage earnings, while willfully ignoring the large underground economy--including the drug trade--which the new 11.5 percent sales tax, the highest in the U.S., seeks to capture.
Federal receivership under the aegis of neoliberal fundamentalists should be rejected for what it is--brute colonialism. Placing Puerto Rico under federal receivership is not quite the same as doing so for Detroit. One thing is to override locally elected officials in the U.S. states, and another to do so in a country where rural workers were brutally exploited by U.S. sugar interests the first half of the 20th century, and only elected its first governor in 1948, while independence supporters were persecuted, imprisoned and tortured.

With Puerto Rico's chief political parties defined by status--Commonwealth, statehood and independence--obstruction and lack of long-term planning has long plagued governance. While some are so fed up with corruption and clientelism as to unwittingly welcome federal receivership, for others such a measure would be incendiary, and could trigger violence.
Better to investigate and prosecute past corruption as a deterrent--and extract debt payment from criminal property seizures. This would include tax evasion, as only 12,500 in the country report earning more than $100,000. In addition, nearly 45 percent of sales taxes are not being adequately collected, to the tune of about $900 million in 2012, before the recent hike.

Big tax evaders probably don't feel too guilty in light of Law 22, which puts wealthy Puerto Ricans at a disadvantage to outside investors. Passed by the previous pro-statehood governor, Luis Fortuño, and promulgated now under the current García Padilla administration, the law has turned Puerto Rico into a tax haven for the mega-wealthy, who have been lured to the island with promises of a moratorium on income and capital gains taxes through 2036.
More than 500 have moved to the island already, including Toby Neugebauer, son of Texas congressman Randy Neugebauer, and a backer of Tea Party politician Ted Cruz. Local officials openly tout a relaxed view of the 183-day-per-year residency rule, just when New York City grapples with tax evasion linked to luxury real estate.

Much like Greek isles are up for sale, websites now advertise "How to Get Your Own Private Island" off Puerto Rico. Sotheby's lists luxury properties online that are now being snapped up in Vieques and colonial Old San Juan, a neighborhood considered national patrimony. The most notable purchasing big properties is John Paulson, the mortgage meltdown billionaire.

Theories abound that the millionaires arrive in an era of historic population decline by design, also fueling speculation that the Obama administration ignores the crisis because thousands leaving monthly for Florida may benefit the Democratic Party in the presidential elections.

In 2012, Florida Puerto Ricans voted 83 percent for President Obama, according to researcher Patricia Silver, well above the 71 percent Latino vote he received nationwide. Perhaps this development helped facilitate the president's rapprochement to Cuba. Ignoring Puerto Rico at this crucial juncture--in all its local and historical complexities--would imperil such support.

Now that Puerto Rico is no longer important as a capitalist showcase and U.S. military and intelligence outpost of the Cold War era, are its U.S. citizens expendable? If so, Puerto Rico's crisis announces the end of the New Deal and the American Century.

Until now, San Juan was invisible compared to Detroit and Havana, but its latent and tacit symbolic power should not be overlooked. Nor should its significant political voice on the mainland of the United States. Given Puerto Rico's heightened media visibility, no doubt the world now has its eyes on how the United States will respond to the needs of the island, one of the last colonies in the world.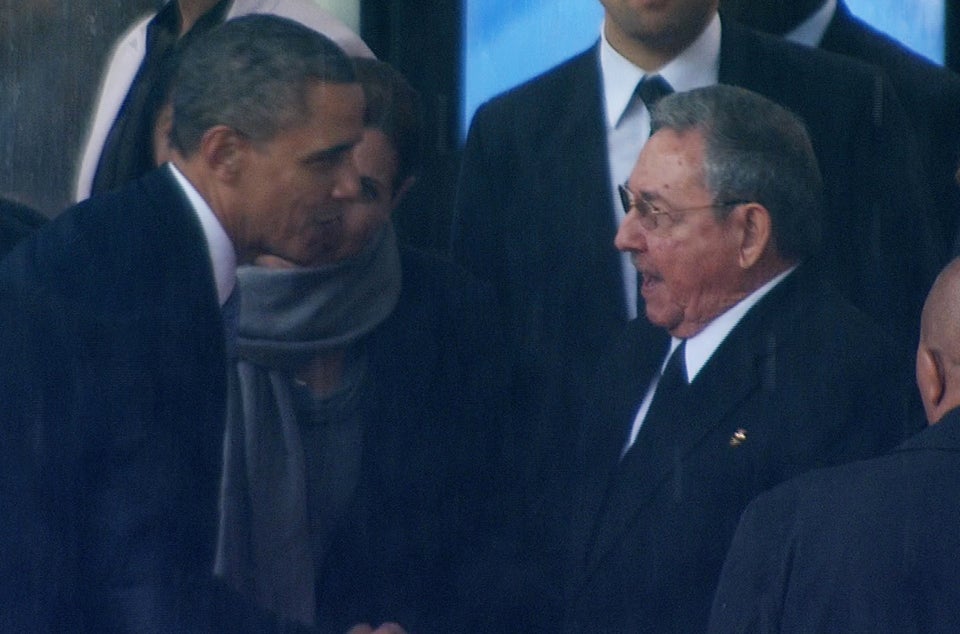 Obama's Handshakes Around The World
Popular in the Community