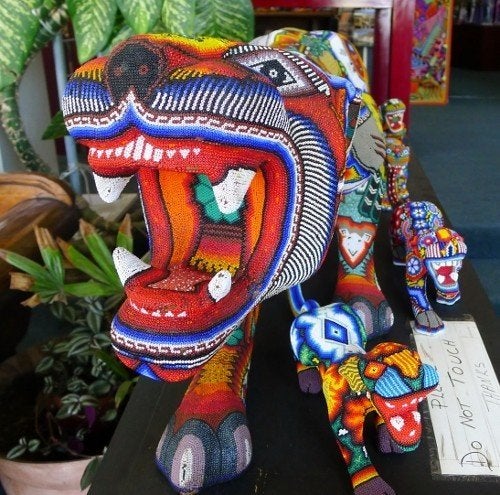 If you haven't been to Puerto Vallarta for a while, you've got a big surprise waiting for you the next time you hop off a plane at western Mexico's booming resort there.
It's on the "Malecon," a mile-long walkway along the main beach of PV, as the locals call the town. Perhaps the walkway was a bit, er, seedy the last time you saw it. At best, it may have been nothing to write home about (other than some cute Star Wars-ish "Wookiee" statues here and there).
Well, the Wookiees are still there. So are some of the other old-time artworks, like the quirky Alejandro Colunga high-backed chairs with sea critters sitting in them. Ditto for the towering Sergio Bustamante ladder.
But years of work and millions of dollars have revamped the Malecon into an eye-popping, 12-block-long art show peppered by dozens of sculptures, mosaics and paintings -- like the original ones, mostly with whimsical themes -- along with all kinds of indoor and outdoor galleries.
As you stroll over the walkway's intricately tiled pavement -- itself a work of art -- you'll spot everything from giant seahorses, mermaids, jumbo-sized seashells and unicorns to a statue of dancing dolphins. Among must-see bronzes is another Colunga show-stopper, "Rotunda of the Sea." And don't miss "The Fish Sellers' Mosaic" by world-famous artist Manuel Lepe, a PV homie.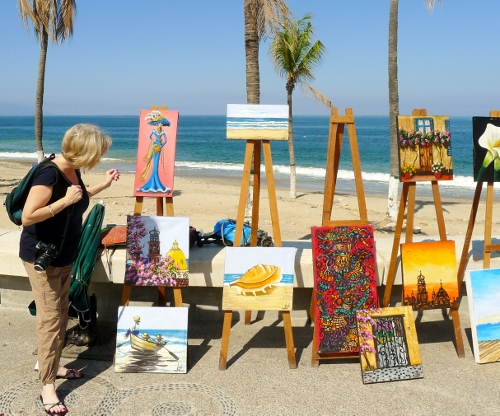 Outdoor art galleries dot the new Malecon.
Look around and you'll find a lot more to enjoy there. For instance, someone from PV must have visited the iconic La Rambla in Barcelona, because it looks like half of the Rambla's mimes, "human statues," clowns, jugglers, one-minute portrait painters and other colorful characters are now sprinkled along the Malecon.
And perhaps someone took a trip to northern Veracruz on the eastern side of the country and brought back a group of jaw-dropping "Papantla" flyers, famous for spinning around a 70-foot-high pole upside down at the ends of four unraveling ropes tied to the top of the pole.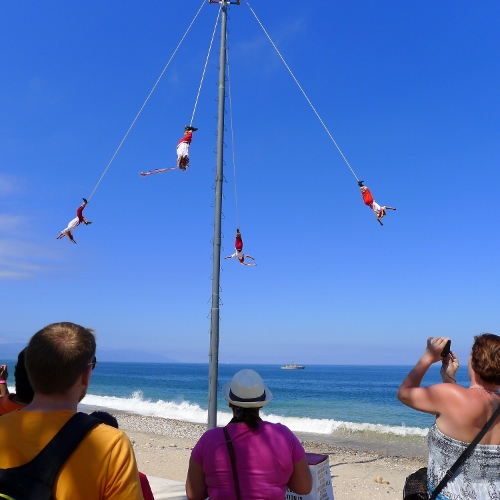 Papantla flyers thrill the crowds.
All that's on the palm-lined beach side of the walkway. Lining the town side are wall-to-wall galleries, souvenir shops, boutique jewelry and leather stores, restaurants, outdoor cafes, bars and what could be the loudest discos on the West Coast. The shops' and stores' frontage area, widened during a six-year project, used to be packed with visitors. Today it's nearly twice as wide -- and it's still packed.
As you browse the shops, chances are a special kind of colorfully beaded artwork will catch your eye. Such treasures come from the local Huichol Indians, and you'll find them on everything from blouses to expensive ceramics.
One particularly gorgeous piece -- an eight-foot-long jaguar beaded in bright red, yellow, orange, deep blue and green -- came with a price tag of $3,800. But that included three baby jaguars and an oversize coffin-like shipping box.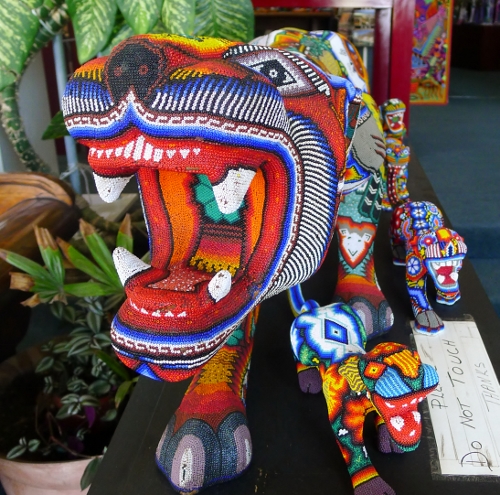 Huichol-beaded ceramics are big sellers on the Malecon.
A writer almost bought it. Until he thought of what his wife might say when he hauled the jaguars into their living room back home.
Free shows: Tourists are invited to ooh and aah along with the locals each night around 9 p.m. when fireworks light up the sky over the Malecon. Also on the cuff are concerts and performances in the Los Arcos Amphitheatre at the southern end of the walkway.
Getting there: Several major airlines offer nonstop flights to Puerto Vallarta from gateways such as Dallas/Ft. Worth, Denver, Houston, Los Angeles and Phoenix, among others.
Staying there: Visitors have their pick of hotels dotting 20 miles of beaches along Banderas Bay. The two newest hotels are AMResorts' 331-room Now Amber and its adjacent 271-room Secrets Vallarta.
Popular in the Community