Unconventionality is compelling as political theater.
Perhaps the most alternative candidate in a current major U.S. political race is Jameel "Big Time" McCline.
A veteran of more than 50 heavyweight bouts, McCline, 44, is running for Congress, challenging longtime U.S. Rep. Alcee Hastings, D-Fla., in the Democratic primary.
McCline trusts the public to accept who he really is -- and formerly was. He is a resilient man who has exceptionally outlived the fruits of his own bad judgment.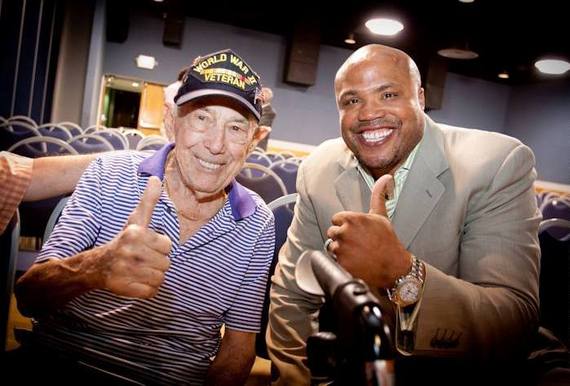 A former foster care kid from poor beginnings in Harlem, New York, he grew up in a world without much protection. He has been homeless and foodless, stabbed, beaten, and shot. He once served five years in prison for gun possession before swinging to glory as a heavyweight title holder.
His post-fight career was marked by substance abuse issues and bankruptcy. But McCline overcame drug addiction and financial turmoil and built a consulting business. And now he has positioned himself as a political voice to be reckoned with in an economically unsure America.
Understanding that some may potentially see him as just contradictory enough to feel a little doubtful, McCline's game plan is to assuage skepticism with gratitude.
"This may be the only country in the world where you can have a former boxer with substance abuse issues be in this position," said McCline. "I'm an ex-con, ex-addict, ex-fighter, ex-everything, now given an opportunity. I'm thankful that someone like me has the opportunity to represent America. All I can say is thank you, America, for giving me that opportunity."
The boxer devotes his life to staving off self-doubt and only looking ahead, and so too does the politician. And McCline doesn't expect pushback for the fact that when he was 18, he went to prison for illegal gun possession in a stolen car.
The silver lining of the solitariness was that he read voraciously, everything from crime novels to economic and political journals. He developed a deep admiration for Anton Chekhov and Russian literature in general.
"I read all of the political stuff," said McCline, who wears a 130-stitch scar on his face from a jailhouse razor attack, visible from his left eye to the bridge of his nose and across the right side of his face. "I read Republican views, read the New York Times cover to cover, every printed word. There were some amazing literary talents in Russia, at the time of the Czar."
Prison reform is one of McCline's strongly-held positions. He said that the landscape of employment is sparse for felons and post-release punishment harshly disenfranchises them. McCline once lost his job as a bouncer because of the stigma attached to his criminal past.
"On a national level, I would like to put forth legislation for prison reform and restoration of rights. When a person gets out of jail, they have paid their debt to society. But to no longer be allowed to vote or receive benefits is wrong. I'd like to put forth a bill to tackle some of the prison reform issues. I favor education over incarceration. We are building more jails and prisons than schools, leaving an entire generation behind for the sake of locking people up.
"We should be trying to get people out of the system, and creating job and education programs -- computer science, auto mechanics, fiber optics installation -- to allow them to become active, productive members of society."
McCline was fortunate enough to get out of the system early -- and stay out. No small feat in the notorious quagmire of incarceration. Boxing was the right path for McCline; it was the second chance that provided all of the self-love and self-support he needed. He was approached in New York City one day by someone who suggested to McCline that he should consider boxing; the man promised him a steak dinner if he would hear out his proposition. Hungry, jobless, desperate, the prospect of a decent meal seemed more appealing than a new line of work.
"Boxing was that way out"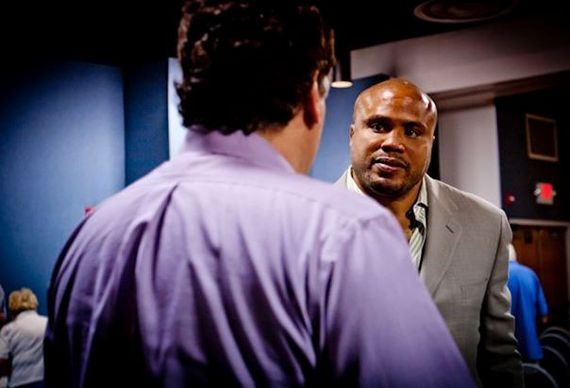 "I was dedicated to finding another way out," said McCline. "Boxing was that way out. I latched on to the idea of becoming a champion. When I was 24, I was fresh out of prison, and when I turned to boxing, people told me that I was out of my mind, too old, no amateur experience. Crazy. I've always been a million to one."
During his career, McCline won the World Boxing Council's (WBC) Continental American and the North American Boxing Organization's (NABO) heavyweight titles.
He beat name fighters, including Michael Grant, Lance Whitaker, and Shannon Briggs. He never lugged even the slightest amount of fear into the ring; but unfortunately, his late start, and lack of situational instinct, hindered his climb to the top.
In 2002, McCline challenged Wladimir Klitschko for the World Boxing Organization (WBO) heavyweight title but was outdueled. In 2008, McCline challenged International Boxing Federation (IBF) heavyweight champion Chris Byrd, dropping a controversial split decision.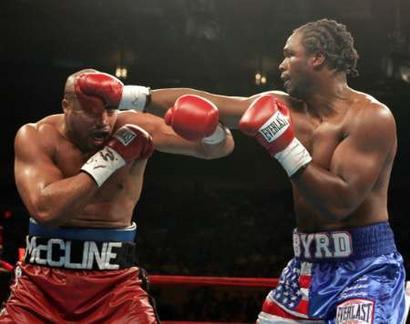 In his two other attempts for world heavyweight titles, he lost to Nikolai Valuev (World Boxing Association title) and Samuel Peter (World Boxing Council) .
Boxing afforded McCline the chance to accept fights in hostile climes all around the globe, and the proceeds allowed him to travel, including 13 trips to Russia.
"I've been to Anton Chekhov's house, it's still preserved. You can't go in it, but I had a chance to take a picture in front of it -- had my cowboy hat on. It's a beautiful house, dark and small, and preserved. Looking at the house, I thought about how crazy my life had been."
He fought until age 42. Following a loss in September 2012, in Moscow, he called it quits. He retired with a record of 41 wins, 24 of those by knockout, 13 losses and three draws.
"I thought, 'hey, you don't need this.' 'Why are you doing this?' That night, that was enough. So many boxers get left behind or are unable to understand when it's time to go. There was a period after boxing when I was so full of anxiety and depression. I was in a weird limbo state. But I refused to stop, and it came down to reinventing myself."
Redemption is the realization and reversal of imperfections. The redeemed must accept the ups and downs as a complex intervention and extract positive meaning from the downs.
"I'm the story of redemption," said McCline. "I represent redemption, time and time again. I represent survival and the downtrodden."
Since McCline's life was an open story when he was an athlete, his second act as a politician leaves little dirt.
"All that stuff came out before I ran," said McCline. "Bankruptcy. Taxes. But I believe in the human condition and uplifting and preserving it. I made this run to let people know what I'm about."
Not every big man is a strong person. Or someone who commands positive attention. McCline's 6' 6", 275-pound frame serves as an impressive medium to communicate his non-physical assets.
"My size gets people to at least listen to me. When you walk into the room as a champ, you have their attention. When I start talking, I don't come off as a typical fighter. When I'm talking, people say, 'wow, he speaks well.' If I win, once I get to Congress, my colleagues across the aisle will actually listen."
McCline hopes to unseat Alcee Hastings, first elected to Congress in 1992.
"Where has his experience gotten us so far? He is a career politician, and where have all these career politicians gotten us? He is a part of the same club that has the lowest approval rating imaginable."
McCline, who once worked sweeping floors at a Boca Raton bodyshop, said he fully supports President Obama's call to raise the minimum wage to $10.10 an hour.
"We should not have working poverty. At $10 per hour, you are earning less than two-thousand bucks a month. There are thousands of people working for Wal-Mart, paid low wages, who need public assistance."
McCline said that he is "fiscally conservative and socially progressive."
"We shouldn't be involved with what a woman does with her body." said McCline. "I feel we have to protect the environment, not drilling in places like the Everglades. I feel we can do fracking under strict regulations, in far-off regions of America. And that will allow us to become energy resource-independent.
Besides McCline, Hastings will face Palm Beach County Port Commissioner Jean Enright in the Democratic primary, on August 26.
Stamina is one of the triumphant boxer's prerequisite traits, and a politician, too, must prepare to go the distance. Eyes focused on the horizon, McCline commits to a jam-packed schedule of visits to churches, rotary clubs, Veterans' halls, and Moose Lodges.
"It's an amazing grind," said McCline. "It's from am to pm. I'm knocking on doors, a real grassroots effort. I'm out asking to put signs in the yards, asking for volunteers, knocking on doors, covering three counties."
McCline said that strangers are frequently surprised "that there is some substance to this big guy."
Seeking support from others felt unnatural to McCline at first.
"It's been very difficult because I have never been on the other side of asking for assistance and help. I had to go through a training process to ask for money for the campaign. I've had to get over these issues I had."
Political Upset Possible, Says McCline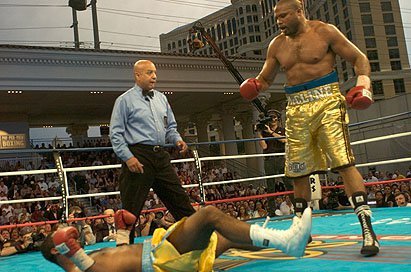 Sometimes the underdog can pull off the unexpected defeat with sheer willpower and can beat the odds because he doesn't expect to lose. Factors that contribute to McCline's encouragement. The former champion in the ring said that he wants to be a champion for the people -- for the 20th District, for Florida, and, at heart, for the nation.
"I believe I can pull off the upset," said McCline. "I believe I was meant to do this. I'm an ex-everything who doesn't belong in the position that I'm in. But I believe this is what I was destined to do."
Photos by Eduardo Schneider.
Brian D'Ambrosio lives in Montana. His next book, Warriors in the Trenches, detailing the lives and careers of 30 legendary boxers, entertainment wrestlers, football players, musicians and actors, will be available in the fall.
Popular in the Community