Puglia, the heel of Italy, is one of the most splendid regions in southern Italy, and in my opinion, the world. That's because it encompasses a multitude of friendly faces, captivating countrysides, beautiful beaches, old cities and local food that provide the foundation for the alluring life in Puglia.
The region, known for its biodiversity has always been Italy's breadbasket because of its fertile soil, olive trees and old-fashioned pasta making (especially the orrechiette ear-shape pasta, made by hand). Local, organic food from surrounding farms is a way of life. Everyone enjoys exquisite produce, fresh-pressed olive oil, Primitivo wine, seafood, fresh dairy and pasture-raised meat. Regional chef Anna Marie Chirone says, "The Ionian Sea is the saltiest part of the Med and that's why the seafood tastes so good. Don't leave without sampling the cozzes (black mussels)."
Puglia is the epitome of slow food and zero kilometer living. The authenticity makes you wonder how long life in this part of southern Italy will stay just as it is.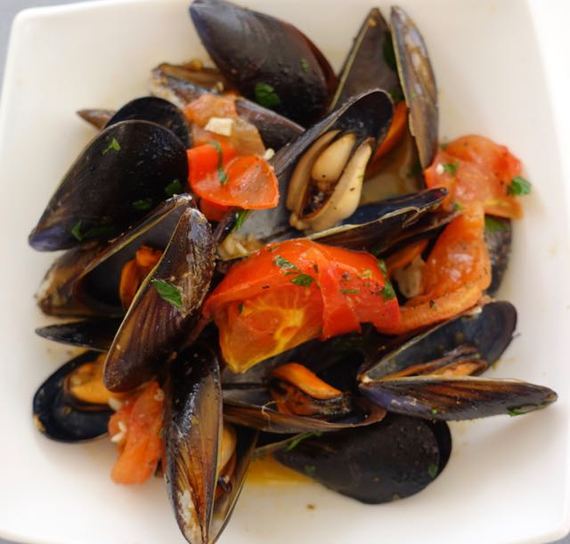 Cozzes
It's home to 60 million olive trees--that's one tree for each of Italy's 60 million people. It's known for producing the largest quantity of olive oil and has the largest concentration of ancient olive trees with some dating back more than 3000 years. These specimens are considered natural archaeological monuments.
Food is religion and the culture dictates eating fresh pasta everyday--1 to 2 cups cooked! Pasta is made with semolina flour and water, a 2:1 ratio. One must visit Bari, the capital of Puglia, to tour the old medieval city of Bari Vecchia, where grandmas (nonnas) sit outside their homes and behind wooden worktables dusted with semolina flour, making pasta to sell for 5 euros per kilo. If you happen to get 1, 3 or 5-gigante orecchiette thrown in to the mix, then you're lucky! It's an art that hopefully will not be lost.
•Italian coffee (caffé) is a form of art with a specific coffee drink for every time of the day. Caffé corretto is thrown back like a shot. Cappuccino and brioche are for breakfast. You'll never find a Starbucks here.
•Almond milk is local and the Mediterranean diet is alive and well.
•California Zinfandel (red wine) is thought to be a replica of Puglia's Primitivo, both derived from an ancient Croatian grape variety.
•According to Beyond The Mediterranean Diet: European Secrets Of The Super-Healthy, southern Italian food was considered a peasant diet, which rates high on modern nutrition standards because of the abundance of grains, vegetables, fruits, dairy and legumes.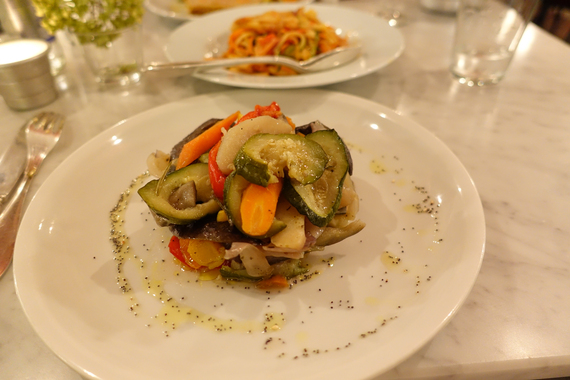 Veggies are plentiful
•Whole-wheat pasta is on the menu. To cook fresh pasta boil for 3 to 5 minutes.
•People of all ages walk and bike. The older folks meet in the square to chat and watch the flow of visitors.
•In the town of Altamura, McDonald's had to close down because the locals used it as a respite for air conditioning but wouldn't dare to eat the offerings.
•The 14th century whitewashed Trulli homes of Alberobello (town in Puglia) are known for their cone-shaped roofs, where cheese was stored and children slept. Animals lived inside with the family, while bathrooms were outside. Smelly homes (and children) were a sign of wealth.

•Women are the bosses. When mamma says lunch is ready, everyone shows up at the table, even from miles away.
•Ancient olive trees know the secrets to longevity for they have been producing olives for thousands of years.
•It only costs about 2 euros to buy 20 to 25 figs in Alberobello.
•Apulia means land without water. The region is known for its sunny dry climate.
•Locals love to eat greens. My favorite dish is Fava Beans with Wild Chicory.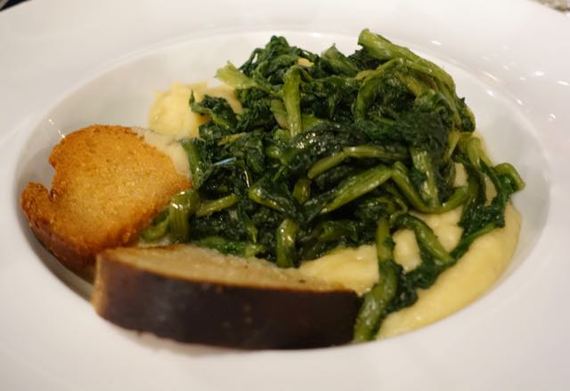 Fava Beans and Wild Chicory
•Burrata, a fresh cow cheese made from mozzarella and cream originated here. Learn how to make mozzarella at a local dairy farm.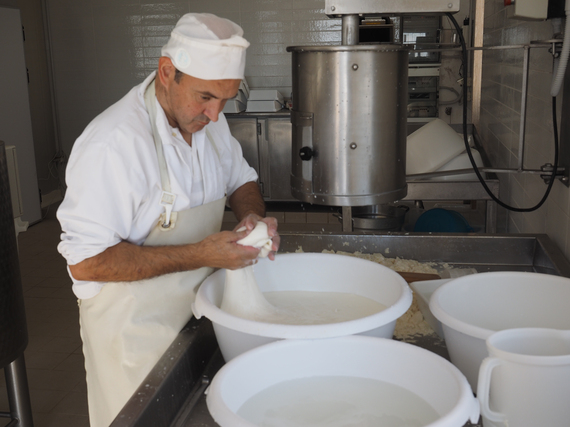 Making fresh mozzarella on a dairy farm
•Besides feeding dairy cows grass and grain, the diet is supplemented with orzo (barley) and fava beans.
•Old cities with ancient architecture include: Lecce (known as the "Florence of the South"), Ostuni, Otranto, Locorotondo, Gallipoli and Matera.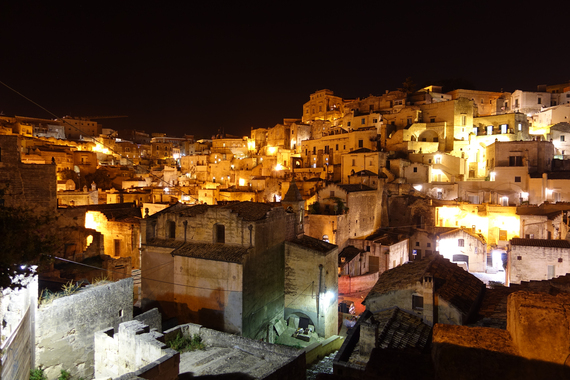 Old City of Matera
•Bike from old city to old city through the back roads of the farms (with a guide).
•Visit these 2 masserias: Masseria Montenapoleone and Il Frantoio.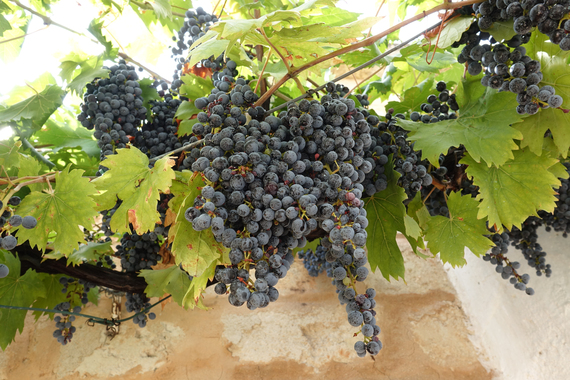 On the farm at Masseria Montenapoleone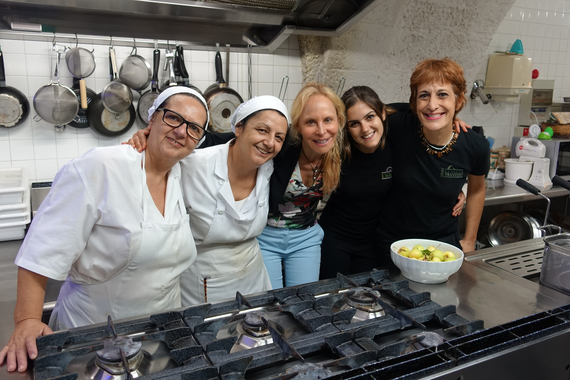 In the kitchen at Masseria Il Frantic (notice all women)

•Dip taralli, a dry crunchy biscuit that is tied in a knot and is either sweet or savory, into wine.
•Visit a D.O.P. (Protected Designation of Origin) bakery like Panificio La Maggiore in Altamura.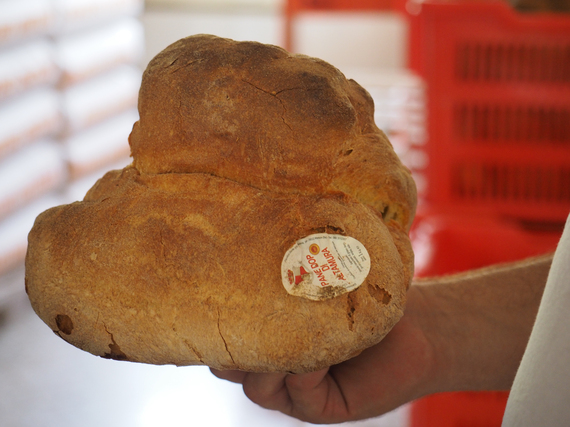 D.O.P. bread at Panificio La Maggiore

•A reliable travel company that specializes in authentic food and biking tours is Southern Visions.
•There are multi-generational family farms (masserias).
•Farm animals such as cattle, pigs, lamb, chickens, donkeys and horse are part of life outside the old city walls. Historically, the region is known for shepherding.