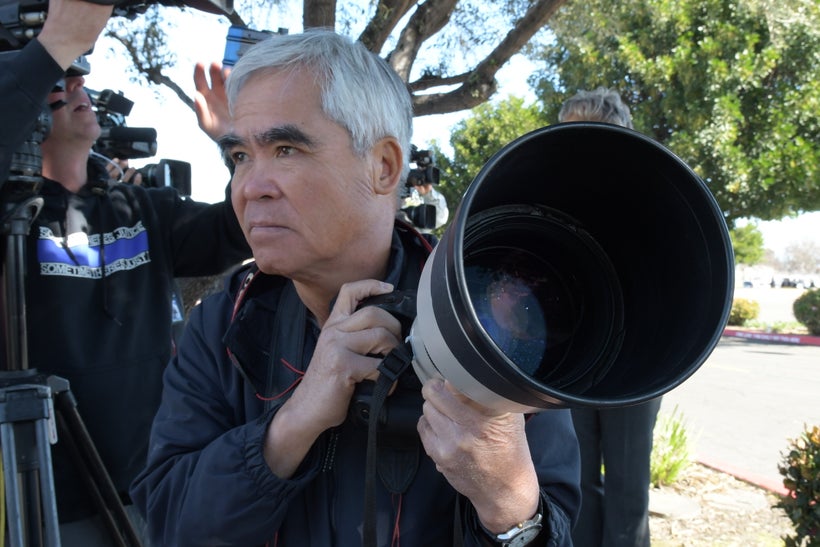 March 29, 2017 will historically mark the date that Nick Ut retired as a photojournalist from the Associated Press (AP). After 51 years of dedicated photography to the world he will move forward shooting independently including his native home of Vietnam and other places around the world. He will remain based in Los Angeles. Ut describes his plans for the future, " Enjoy my life." Damian Dovarganes , AP Photographer who has worked with Ut for 22 years at the Los Angeles Bureau says he will miss Nick Ut being at the office and his positive attitude. He recalls the things that Ut did that brightened the day for him and his co-workers, like bringing in fresh fruit for the staff and maintaining an infectious calmness. Damian says ," Nick's attitude lightens the day." Dovarganes continues, "It will be different now without Nick in the office."
A young Nick Ut aspired to be a Photojournalist like his older brother , Huynh Thanh My. His 27- year -old brother lost his life in the line of duty as a photographer for AP during the Vietnam War. Ut says, " I learned to become a photographer from my brother because we thought one day we will have a good picture and stop the war."
Nick Ut continued in the footsteps of his brother and became a photographer covering the Vietnam War for AP. He quickly made an impression on the world raising awareness of the tragedies of war and to help end the war by capturing the image known as "Napalm Girl." Ut was recognized for the significance of the photograph revealing the horrific reality behind the war with a Pulitzer Prize for the photograph titled, "The Terror of War" at age 20. This photograph timelessly documented the undeniable truth of the suffering of all people who are innocently trapped in the tragedies and destruction of war.
On June 8, 1972 in the award winning photograph, Ut captured what he is most loved for, in his photographs and as a person, connecting individuals through the woven thread of humanity. The " Napalm Girl" photograph of 9- year- old Kim Phuc and others running for their lives from their village after a napalm aerial attack, Ut shot minutes after photographing the South Vietnamese planes flying low over their village near Trang Bang. When the children ran down Highway 1 from the village, including Kim Phuc, nude and badly burned, Ut instinctiveley photographed the horror of the moment, put down his camera and gave Kim Phuc water and applied water on her badly burned wounds. He drove her and others in the AP van to a hospital. The doctors refused to admit Kim Phuc because she was so badly burned. Ut presented his AP press badge and told them that the information of their refusal to treat the young girl and photographs of her would be seen all over the world if they refused to help her. Ut's determination saved her life. He continues to stay in contact with Kim Phuc even today.
Ut who is respected by his colleagues for his work from Los Angeles, New York and throughout the world, is recognized and often invited to events by dignitaries, including Queen Elizabeth. He is a legend in his own time.
A ceremonial stream of weeks of parties before Ut's retirement were given by AP, brunch with close friends, dinners in China Town with New York and Los Angeles press and friends. Attendees of the AP party included Denis Paquin, Acting Director of Photography at AP, Gary Pruitt, President of AP and Peter Arnett, veteran war correspondent. It was a celebration of his inspiration and character admired by all. His final retirement party on March 28th at the Perfect Exposure Gallery in Los Angeles was attended by approximately 500 people including his family, friends from LA Times, AP, Nikon and Canon, and renowned peers he has known through his work such as David Kennerly, Photographer and Gloria Allred, Attorney. Paris Hilton called in on his cell phone to congratulate him and wish him luck in the future.
The story of mankind is reflected through the eyes of professional photographers who skillfully capture a significant moment at approximately 1/60th of a second or less. The facts with no spin, no words, just pure images allow the viewer to understand the depth of humanity in times of decisions, actions, despair, historical events and joyous celebrations of life that surround us. This merit of photography by Nick Ut compares with others in his league such as Alfred Eisenstaedt, Robert Capa, Dorothea Lange, Margaret Bourke-White, Edward Curtis, and many more.
Ut has documented history including the Vietnam War, Hollywood celebrities, riots, presidents and sports. He has covered it all. He says regarding photographing for 51 years, " I still feel as much today as I did when I first started." Although he was wounded three times during the Vietnam War, Ut says he is very lucky to do the job he has done. His photography will be missed not only by his family of international press, but by those who search to find the truth in the news through thought-provoking professional photography. Ut has set a standard for other photojournalist to fulfill, documenting and sharing the truth for the development of a higher consciousness of humanity. The suttle nuances, bold emotions and facts that are revealed in a well composed photograph is a unique language translated through light-writing. Ut says about the making of a great photograph, "It's not the camera, it's the photographer." He has used many cameras in his career including Nikon, Canon, and Leica.
On the day that Ut shot the "Napalm Girl" image he was using a Leica M2 camera. He shot eight rolls of Kodak 400, 36 exposure negative film. He said once the film was developed AP knew right away that frame was an award winning shot which would describe the war they were documenting.
The definitive moments of the 20th and 21st Century captured by Nick Ut that have changed the world will last forever but he and his work in the field will be missed for generations to come. Ut says he will continue to carry a camera and be ready for the shot at all times. He will be participating in workshops, exhibitions, and speaking at events as he travels the world.
Calling all HuffPost superfans!
Sign up for membership to become a founding member and help shape HuffPost's next chapter
This post was published on the now-closed HuffPost Contributor platform. Contributors control their own work and posted freely to our site. If you need to flag this entry as abusive,
send us an email
.